Are you confused about WordPress vs Wix which might be the right software to develop your website? WordPress and Wix both are powerful website platforms with many benefits.
To begin, Wix has free hosting and a simple site builder to offer for its users. It offers hundreds of free templates to build a site with an easy drag and drop method. This fits perfectly with the budget of beginners.
Whereas WordPress is a self-hosted platform in which you'll create your site on your own hosting account. Self-hosting gives you complete freedom to customize your site but it has a bit of a learning curve if you're a beginner.
We'll compare Wix vs WordPress side by side in different points below. Let's begin.
1. WordPress vs Wix: Overview
What is WordPress?
WordPress is a software that we use to build a website or blog and publish it on the internet. It's widely used all over the globe and powers more than 42% of all the internet.
The first version of WordPress was released on May 27th,2003 by Matt Mullenweg and Mike Little. Since then this has become the world's most popular self-hosted blogging tool for free.
WordPress is also called a content management system (CMS). CMS is a tool that helps you create, manage, and modify content on your website without needing any knowledge about programming.
A lot of beginners are confused between WordPress.org and WordPress.com. What is the difference between these two? Let's find it.
About WordPress.org:
WordPress.org "the real WordPress" is free and is a self-hosted WordPress. It's open-source software that can be downloaded and used by anyone however they want.
Purchase your domain name and hosting, install WordPress software on your hosting account, then you have full control over everything. A domain name is your website name whereas hosting is a type of service that helps you publish your website online. Hosting works like a storage location of your website files on the internet.
After you've installed WordPress on your hosting, you can log into your WordPress admin and start customizing your website. Here, you can customize your site unlimited without any restrictions.
About WordPress.com:
WordPress.com uses the same software as WordPress.org. But it's a fully hosted blog creation platform provided by Automattic. Here, you can start a blog by simply creating an account. It provides domain, hosting services so you can build a site without having to set up hosting or installing WordPress.
However, it has several limitations for the free version which restricts the user to freely use the software. They are:
You can't run Google Adsense or any other advertising programs which decrease earning.
Uploading plugins option isn't available, so you can't extend the functionality of WordPress.com.
You can only use themes available to WordPress.com and can't upload themes and many more.
For more information, check our full comparison on WordPress.com vs WordPress.org.
The WordPress we're referring to in this article is the self-hosted version of WordPress, i.e. WordPress.org.
Hence, you'll need to buy a domain, hosting account, and install the WordPress software to start a website. And the setup process will take some time and effort. But you'll get full customization freedom which makes WordPress worth some time in the beginning.
What is Wix?
Wix is a cloud-based software for making websites. Used by millions of people worldwide, this software doesn't require any knowledge in coding or programming. You can simply create a website using the drag and drop method.
In general, Wix is easier to use for beginners, you can simply create a website by signing up with a few steps. Go to Wix.com and click on the 'Get Started' button. After that, you'll need to provide a few details about yourself, and your site will be ready soon.
Wix platform offers a free plan to build a site free. It includes free hosting and domain name but it'll be a Wix subdomain like this: https://yourname.wixsite.com/websitename.
With the free plan, you can make a basic blog. You can use hundreds of free templates and great tools. However, if you need additional features for websites, then you'll have to upgrade to their premium plans they offer. You can pay according to your need monthly or choose a yearly plan.
One major drawback Wix has is you cannot migrate the hosting in any other hosting such as Bluehost, SiteGround, HostGator, and many more.
Wix was established in 2006 by Avishai Abrahami, Navdav Abrahami, and Giora Kaplan. It is an Israeli company.
---
2. Ownership of Your Site: Wix vs WordPress
The first thing which may strike you before starting a website may be who owns the content you post on the website?
Ownership of Site on WordPress
WordPress is open-source software; anyone can install it and use it right away. WordPress is licensed under GPL. To understand more on ownership, you need to know what GPL license benefits are:
You can use WordPress any way you like without any restrictions.
Add or remove and even customize it in your way with no restrictions.
Rebrand, repackage, or even sell the modified WordPress code without any restrictions.
In a nutshell, you're completely free to use WordPress on unlimited sites. Another key factor is hosting, a type of service that is used to publish your site online. You use your own hosting account to build a site in WordPress and therefore you've full control over your site. You can buy hosting from hosting provider companies like Bluehost, Siteground, etc.
Any website you create using self-hosted WordPress software is 100% owned by you. You as a website creator have complete ownership of content, metadata, visual design, and all the content that you and your team create and upload on the website.
Ownership of Site in Wix
Wix has its statement on data ownership, the following statement has been taken directly from the Wix Knowledgebase.
This means that the Wix company has the ultimate control over your site and content. You cannot easily move your site to another external hosting.
There is a range of third-party tools that can deliver reasonable workarounds that enables you to migrate from Wix to WordPress. Though Wix doesn't give you an easy way to perform by yourself.
Winner? From the above discussion, WordPress is the clear winner. You've less control over your content on Wix and the ultimate ownership lies in Wix. But you've full control and ownership over your site in WordPress.
---
3. Design and Customization Options: WordPress vs Wix
Before building a website, the most important aspect to consider in software is to conform to the ability that software offers to its user.
So, let's find out what WordPress and Wix offer:
Design and Customization Options in WordPress
WordPress allows you endless customization and design your website. Those are the things that WordPress prides itself on.
WordPress is flexible and you have endless possibilities when it comes to customizing a WordPress website. Theme and plugins can add new designs and functionality. WordPress gives thousands of well-crafted and highly customizable themes to select from for your website.
The good news is that you can find tons of those themes for free. To be exact, there are more than 7700 free themes available at the WordPress.org theme repository. You can use any of these themes freely on an unlimited number of sites without any cost.
And there are thousands of paid themes available in the theme provider company websites like ThemeGrill, Zakra, and the theme marketplace like ThemeForest, etc. To conclude, design and customization options in WordPress are limitless.
Design Options in Wix
You can develop your Wix website and customize everything simply by using the drag-and-drop editor. If you're technically advanced, then you can also access the code of a Wix template and customize it.
If you're planning to build an online store, then Wix has an eCommerce option. It has quite similar features like other eCommerce platforms such as BigCommerce, Shopify, Squarespace, and Weebly.
Wix pricing for eCommerce is a bit costlier than for websites. The available plans are 'Business Basic' for $23/ mo., 'Business Unlimited' for $27/mo., and 'Business VIP' for $49/ mo.
However, websites developed with Wix sometime can be similar to other sites because of limited themes available on the platform. It has more than 500+ templates available for free plan users.
If you buy a paid plan, then you can use over 510+ premium themes. However, the number of themes available in Wix is very less in comparison to WordPress.
Winner? WordPress definitely takes over Wix in terms of design and customization options.
---
4. Flexibility and Features: WordPress vs Wix
The flexibility of any software is determined mainly by its extra add-ons and extensions. Wix calls them apps and WordPress calls plugins. Plugins and apps are used to add more features to the platform you use.
Features and Flexibility in Wix
Wix has more than 200+ apps available in the Wix app market that can be added to your site. These apps have a wide range of features like contact forms, social media buttons, comments, gallery, email marketing, and many more.
Most of the apps are free or you can purchase other required apps in monthly payments which varies in prices.
Here are some of the most used apps for Wix:
All-in-One Reviews
Pricing Table
Testimonials Slider
Popup
Age Verification
FAQ
Google Maps
Instagram feed
Facebook feed
All of the above are just for your reference; you can install the apps according to your requirements.
Flexibility and Features in WordPress
WordPress has more than 50,000+ free plugins available at WordPress.org plugin repository. Plus, there are about the same number of premium plugins with additional cool features for WordPress sites.
If you think wisely, then WordPress can do good justice to your site by providing secured plugins for free. You should always keep in mind before you install on your site when it was last updated, is it suitable with the latest version of WordPress.
Here are some of the most popular plugins for WordPress:
To find out more, you can check our article on the best WordPress plugins and pick the perfect plugins for your site.
Winner? WordPress is the winner! You have several options for apps in Wix but plugins in WordPress are way a lot more than those on Wix. And, if you're a developer, then you can even develop custom plugins yourself and use on your site in WordPress.
---
5. Which is Easier to Use; Wix vs WordPress?
Both Wix and WordPress let you create a website as you desire without having knowledge of coding.
Let's find out Wix or WordPress which is easier to use for beginners and advanced users according to the setup process:
Setting Up a Wix Site – How Easy It Is?
Creating a website with Wix is easy and less time consuming, so here we have step by step guide to set up your website:
1) The first process is to sign up for your account, to do this just enter your email address and password or you can simply sign in with a Google or Facebook social account.
2) Second, you need to choose the kind of website you're creating by clicking 'I need a site for'. It can be a business, online store, or blog, according to your needs. Always choose the best option that represents your site to get the best templates to benefit later.
3) The next step is to select the template. After choosing the template, Wix will give you a preview of the design that you can edit by clicking, dragging, and dropping the different elements on the page.
4) Next, you need to update your business name, tagline, and any other elements on the page. For that click on the text and you'll see a text editor where you can change or type new text and change the font size.
5) You can also add different elements to your site. For that go to the sidebar, click the 'Add' button there you can see a list from where you can choose for example text boxes, images, slideshows, videos or shape, and many more. You can add different elements to make your site look exactly the way you want.
6) Lastly, when you're happy with your website it's time to publish. You can also preview your site by clicking the button in the top right corner. Then click 'publish' in the top right corner and your site will go live.
Most importantly if you have built a website on Wix platform, you don't need to worry about updates or security. Wix does it all for you.
Setting Up a WordPress Site – How Easy It Is?
Creating your dream website with WordPress is effortless. Let's see how to set up a WordPress site step by step.
1) The first step is to choose the right domain name for your website. It's your website name or an address where users can access your site. You can purchase your domain name on any domain name provider like GoDaddy, Namecheap, etc.
2) After the domain name, it's important to choose the best hosting for your website. The hosting you choose should be able to handle the sudden amount of traffic on your site. You can choose and host service providers like SiteGround, Bluehost, Hostgator, and many more. If you choose Bluehost, then you'll get a free domain with hosting.
3) After purchasing the domain name and the hosting you need to install WordPress. Top hosting companies like Bluehost and SiteGround have a One-Click WordPress installation option in their control panel, so you can set up WordPress within a few mins.
4) After the installation process is complete, you can log into your WordPress dashboard. Next, you have to choose a theme and plugin for your website. Always look for a lightweight and responsive theme as it makes a huge difference for example you can use Zakra, ColorMag, etc.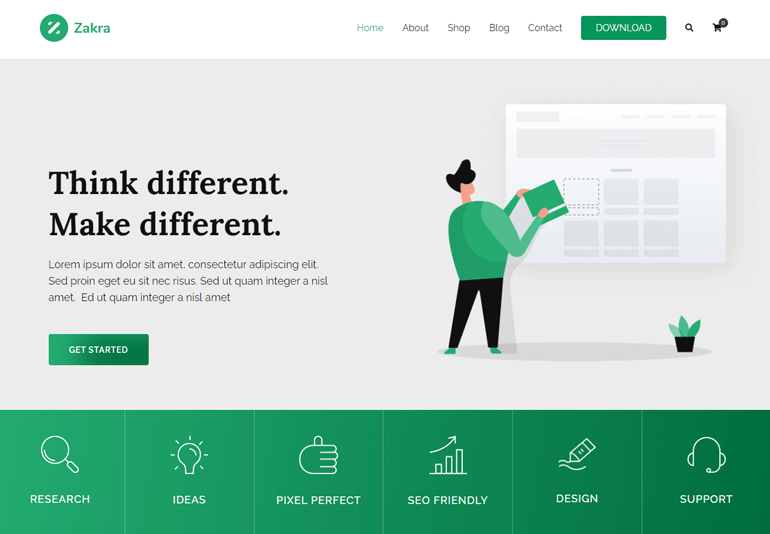 5) Next, you can pick the plugins that are best for your site. The plugins add more functionality to your website. You've to select the plugin you want to install for your site. After the installation, you should click the 'Activate' button because plugins don't work until it's activated.
6) Likewise, to create and add a page to your website go to the WordPress dashboard and click on the 'pages' menu. Select the 'Add New' button there you can create the title for your page for example home, contact us, and many more.
Once you have confirmed the name click the 'Publish' button which will make your page public and create a new page for your website.
Once your site is live, you should continue working on it, add new content, maintain its security, speed, etc. You can find most of these options in your admin dashboard and these are easy to configure.
Winner? Wix is easier to get started. As in Wix, you don't need to spend time installing the software or setting up. In WordPress, you need to install the software, and set up hosting which takes some time. But the flexibility and features in WordPress are worth it.
---
6. Which is More Secure? – WordPress vs Wix
Security is the most important aspect for any website because at last, you're the one who has to keep an eye on it to make sure if your website is well secured.
Let's be clearer on this topic by discussing the security that both of these websites have to offer you.
Security of Wix
Talking about Wix, it's a fully-hosted software so for the security of your site is the company's itself.
Wix ensures that your site doesn't get hacked, compromised and backup of your content is made.
Free SSL (Secure Socket Layers) certificate is available in all Wix sites, which means your website is secured. Visitors on your site are browsing on a secured website.
Lastly, Wix sites are most likely to be less exposed or harmed. Though if you're facing any problem with the site, then the Wix support system is there to solve.
Security of WordPress
The WordPress core software is very secure which helps you build a secured website for yourself and your visitors.
WordPress is more about updating your security manually. You can set a strong password for logging in and set strict rules for users' permission. These will prevent your site from being hacked.
You always have to be more careful while hosting your WordPress because good hosting provides extra protection to your site. It protects against common threats and monitors suspicious activity, for example, SiteGround, Bluehost, and many more.
In terms of security, WordPress has many security plugins that help in securing your site which provides features like firewall protection, malware scan, monitoring, and many more. Here are some plugins.
There are more plugins available for WordPress security. You can find most of these plugins for free at WordPress.org plugin repository. Go to the plugins page at WordPress.org and search 'security', it'll show you plugins like below in the image.
Though SSL (Secure Sockets Layer) does not come as default in WordPress, you can still enable SSL on your website. Many hosting companies offer a free SSL certificate for the WordPress website.
Winner? It's a tie. Both platforms are secure. As Wix comes with automated security in their site, your site will be secure automatically. For WordPress, you can also install different plugins, use secure hosting, and apply other security measures.
---
7. WordPress vs Wix for SEO Features?
SEO stands for Search Engine Optimization. Both of the platforms have good SEO features.
Here is the comparison between them which gives more visible results on the search engine.
Is Wix SEO friendly?
The search engine optimization (SEO) features that Wix provides to its users is generally good. Wix allows you to optimize your website in the search engines by adding your page title, meta description, alt text, editing page URLs, etc.
Very innovative and smartly Wix has "SEO Wiz" where you get help from the page.
SEO Wiz is a step by step guideline designed by Wix to help you improve your sites SEO.
Wix website will not automatically modify to different screen sizes, you need to use both desktop and mobile editor to secure your sites look on any size screen.
This makes your site responsive and helps to rank your site higher in the search engine like Google.
As most of the population around the globe use a smartphone to access the internet. Having a responsive website is a big advantage for the website.
Second, it provides hosting to your site that you don't have to purchase it separately.
Every Wix site comes with a Sitemap Index. The sitemap index is a list of all your individual sitemaps. The individual sitemaps contain information about the group of pages on your site.
The Sitemap helps your website rank higher in search engines.
Is WordPress SEO friendly?
WordPress is the most popular software that has a lot to offer in terms of SEO.
WordPress is a responsive (mobile, laptop, tablet friendly) software. That helps your website rank higher in search engines. In general, WordPress is super mobile optimized.
You can easily organize URLs in WordPress and make them SEO friendly. SEO friendly URLs mean it contains keywords that explain the article, and are easily read by both humans and search engines.
For example, https://themegrill.com/blog/wordpress-vs-wix
Not to mention, WordPress also allows modifying your code, allows its user to easily customize and optimize their site as needed.
For more SEO features, you can use a plugin like Yoast. It's one of the best plugins for SEO. If you don't know what Yoast does, this is a plugin that helps to improve the quality of your content and also suggests what needs to be improved further.
You can find more SEO plugins for free at WordPress.org. Search 'SEO' at WordPress plugins page, then you'll get SEO plugin options like below.
Winner? As per the above discussion, WordPress is a clear winner in terms of SEO.
---
8. Which has Better Support Options; Wix or WordPress?
Support Option in Wix
Wix support system is quite impressive as they provide service through phone, email, and chat in all of their paid plans. You can also get VIP support in their most expensive plan.
Wix also has a "Help Center" for free plan users, which contains video tutorials and articles which can help solve your problem.
Support Options in WordPress
WordPress being free and open-source, there are lots of resources available to help you find the solutions for your problems. Some awesome services offer WordPress specific help for free.
WordPress.org support page is one such place where you have a lot of resources, especially for those who are new to WordPress.
In addition, there are support forums for each theme and plugin on WordPress.org. If you've any questions regarding any free theme or plugin available on WordPress.org, then you can go to its respective forum page and post your question. There are a bunch of people from the company who know their product inside out and are there to answer any kind of questions.
For example, Zakra is a free theme available at WordPress.org. Here's how the support forum page for the theme looks like.
You should always keep in mind that there are a lot of people asking for help, so your questions might not be answered right away. You'll have to wait for some time to get answered by the experts.
Besides, you can find plenty of free resources and tutorials on WordPress blogs like our blog ThemeGrill blog. Also, top WordPress businesses and blogs offer dedicated Facebook groups for support. For example, the Zakra theme offers one dedicated Facebook group like that.
Winner? Wix takes the point when it comes to support options. But WordPress also has plenty of resources available, so your queries won't be left unanswered.
---
9. Which is a Cost-Effective Platform; Wix vs WordPress?
WordPress Costs
Although WordPress is free to download and install, one of the questions we frequently ask is: why is everyone talking about the cost of WordPress?
Let's clear this doubt once and forever:
There are a handful of things you need to pay for before you start developing your website in WordPress namely:
Hosting: A special computer named server which stores your content, basically a home for your website. The cost depends on the hosting brand you prefer to use.
Domain name: This is your website address, which people search in their browser. For example, themegrill.com, wpeverest.com, google.com, etc.
For example, Bluehost charges $2.95 & 5.45 per month for different plans. With any of the hosting plans at Bluehost, you'll get a domain name free. So, the setup cost will be as less as $2.95/ mo.
Next, you need a theme which you can use a free theme. You can get a free version of all our themes including Zakra, ColorMag, and Spacious. You can go to WordPress.org themes page for more free themes.
If you want more advanced features, then you can buy a premium theme. The premium version of Zakra costs you from $49 to $199 annually for different plans. ColorMag costs you from $ 69 to $ 99 annually. Zakra and ColorMag also have lifetime purchases for different plans. You can purchase according to your necessity.
All of the above costs depend on what kind of website you're building. If you want more advanced and it falls into your budget, then you can definitely go for paid themes and plugins for your website.
With a cheap and best WordPress hosting like Bluehost and free theme, you can start a WordPress website as low as $2.95/ mo.
Wix Cost
Wix is a free website platform, which comes with a package of hosting, eCommerce, themes, apps, and customer support for free. Though Wix comes with various paid plans starting from $13- $ 500 per month.
Wix free plan may not be suitable for creating professional sites, as it restricts a lot of functionality.
For Wix the more you pay, the more you get privileged to use the functionality.
However, pricing matters while deciding between WordPress and Wix but, this is not only one factor you should consider.
Winner? Winner? It's WordPress. Wix is a subscription based service starting from $4.50/mo. It also has a free plan but with only few basic features. However, WordPress cost fully depends on the services you choose. With Bluehost and a free theme, you can start a site as low as $2.75/m
---
10. Pros and cons of Wix vs WordPress
Wix Pros
User-friendly and easy site creation that is drag and drop for editing the site.
Wide range of pricing plans which suit from small to a large scale of websites.
Over 500's free templates.
Wix is responsible for your site security.
Wix has "SEO Wiz" which has guidelines for better SEO.
Dedicated support team.
Wix Cons
You'll not have full control over your website.
You can't make a unique design as it has limited designs to choose from and you can't change the design in the future once you initially select for your site.
Wix gives you limited customization possibilities.
Challenging to move the site from Wix to another hosting.
Automatically updates your themes and plugins.
WordPress Pros
WordPress is free and open-source software; anyone can install and use it right away.
It has thousands of beautiful free themes and also premium templates to make your site unique from scratch.
This platform makes your site responsive which helps your site rank higher in search engines.
You're allowed to install extra plugins and themes which Wix doesn't.
You can find plenty of the best SEO tools to improve your page quality.
WordPress is more popular then Wix as it powers more than 34% of the internet throughout the world.
Flexible to move WordPress site to any other hosting when needed.
Quick page loading time.
WordPress Cons
You need to purchase hosting and the domain name separately to launch a WordPress site.
The site owner regularly needs to update for themes, plugins, and CMS.
May be tricky for beginners for customization, plugins conflict.
---
Conclusion
From all of the above discussion on WordPress vs Wix.
WordPress is preferable than Wix as a platform to build for any kind of website. Wix has an easy drag and drop method to create websites which beginners may find easier.
If you want a powerful solution for the long run, you should probably go for WordPress. For a detailed guide, see our step by step guide on creating a WordPress site.
We hope this article helped you to clear your confusion to choose the right platform to build your website. You may also want to see our comparison article on WordPress vs Blogger – Which is Better for Blogging.
Disclaimer: Some of the links in the post may be affiliate links. So if you purchase anything using the link, we will earn affiliate commission.