Are you confused about which is the best free blogging platform between WordPress vs Blogger vs Wix? If so, this comparison article will help you select one between Blogger vs WordPress vs Wix.
Choosing a blogging platform from these popular blog hosting sites isn't as difficult as you might be thinking. This comparative review will clarify what each blogging platform offers and how to start a blog on each platform.
So, by the end of this article, you'll be able to choose the most appropriate platform for you among Wix vs WordPress vs Blogger.
Let's start with things you should know while choosing a free blog platform.
Choosing a Free Blog Platform – Things You Should Know
First of all, choosing a free blog platform is an easy but bold decision.
While some blogging platforms require you to set up a hosting and domain, others provide them free of cost; you don't need to worry about setup and hosting. However, you can't get a custom domain name (like mysamplesite.com) but a shared domain name (like mysamplesite.blogspot.com).
In fact, there are some limitations with free blog sites; they restrict you from certain types of freedom. In actual terms, you have less control over your website, fewer customization options, and you can't monetize a blog created on free platforms.
As a beginner, you may want to choose a platform that's easy to get started with, but as your site grows, you might wish to have changes in your site. Despite all, some free blogging platforms allow you to upgrade your website for professional use. You can create a custom domain name and earn money from your blog if you create consistent content.
Therefore, you must choose a blogging platform according to the type of content you create now and in the future.
You can quickly look at the summary of the three free blog sites in the table below. However, it'd be better to choose one after reading the complete review of each of them.
---
Which is the Best Free Blogging Platform: WordPress vs Blogger vs Wix
| | WordPress | Blogger | Wix |
| --- | --- | --- | --- |
| Ease of Use | 8/10 | 9/10 | 7/10 |
| User-friendly | Yes | Yes | Yes |
| Mobile Responsive | Yes | Yes | Yes |
| Hosting | Not Free (custom subdomain) | FREE (BlogSpot.com subdomain) | FREE (Wix.com subdomain) |
| Site Address | Mysamplesite.com | Mysamplesite.blogspot.com | Username.wix.com/mysamplesite |
| Custom Domain Option | Yes, Buy a Custom domain from third-party domain providers | Yes, Buy a Custom domain from third-party domain providers | Yes, On Premium Plans by Wix |
| Updates and New Features | Frequently | Rarely | Frequently |
| Support | Good | Okay | Good |
| Social Media Integration | Yes | Yes | Yes |
| Visit | Visit and start a blog | Visit and start a blog | Visit and start a blog |
1. WordPress
We're pretty sure that you've heard enough about WordPress. It's doubtlessly the most popular blogging platform, which has evolved as the best content management system for all types of websites.
That's not all! WordPress is considered the simplest and beginner-friendly platform. Anyone without coding knowledge can easily start a blog on the WordPress platform.
Yet, you might get confused with two flavors of WordPress: WordPress.org and WordPress.com. In general terms, WordPress.org is the self-hosted platform that requires you to set up and host on your own, while WordPress.com is a fully hosted platform that handles the hosting and site maintenance for you.
To learn more about the two forms of WordPress, you can read this article.
Focused on the normal users, we'll discuss only the WordPress.org platform here.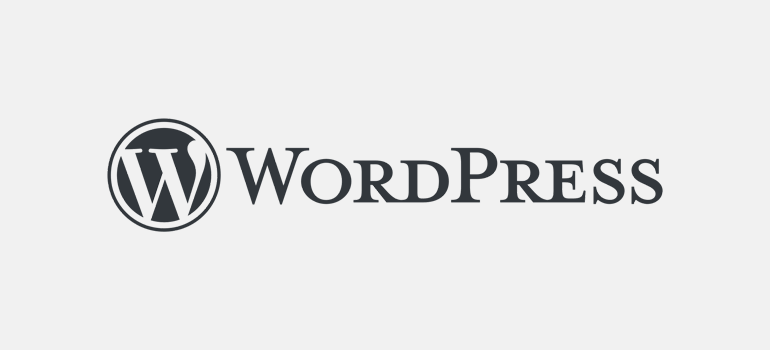 WordPress is an open-source platform for building websites of any niche. It first started in 2003, and there was no looking back after that. It now powers more than 40% of the web.
It provides all the necessary themes, plugins, and patterns for building a website. As it's a beginner-friendly platform, anyone without a technical background or coding knowledge can easily get started.
Key Features
Simple, flexible, and easy-to-publish content
Free as well as premium themes and plugins are available
SEO optimized
Allows to assign multiple user roles to have a variety of contributors
Available in more than 70 languages
How to Start Your Blog on WordPress.org?
To get started with the WordPress.org platform, you should first register a domain name and buy a web hosting service. And for your comfort, most of the hosting services provide a domain name for free. So, choose wisely.
If you're confused about how to choose hosting companies, we've got an article listing some of the best WordPress hosting services like Bluehost and SiteGround.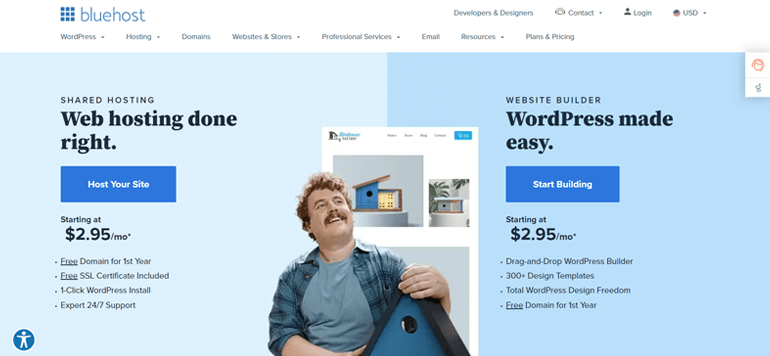 After that, you can install WordPress on your hosting account. Meanwhile, the majority of the hosting services automatically install WordPress to get you started.
Therefore, log in to your dashboard by visiting your WordPress login URL. You can log in by going to yoursitename.com/wp-admin or yoursitename.com/wp-login from your browser.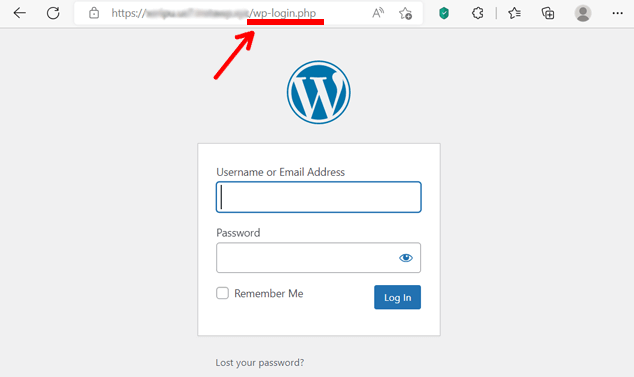 Now, you can simply set up your site, create pages or posts, customize your design and start blogging.
Besides, there're thousands of WordPress themes available. You can use them to change the visual appearance of your blog; because when you first visit your WordPress site, the front page might not look so appealing.
Zakra is a multipurpose theme that you can install to make your site look better. It's easy to use and also provides great customer support.
Besides, there are several free WordPress themes for bloggers that you can use for your site according to your need. But before choosing the theme, you may also read our article on how to choose a WordPress theme for your site.
Next, you can use WordPress plugins for your site. WordPress plugins are simply extensions that add a set of extra features that might not be available in the core WordPress.
For example, using Everest Forms, you can create a contact form and add it to your blog site.
Besides, you can also install other essential WordPress plugins on your site. But keep in mind that there're a few things that you must consider while choosing a WordPress plugin.
With WordPress, you can easily create a new blog post by navigating to Posts >> Add New.
A new page appears where you can add your content. After adding the content, simply hit the Publish button to publish it on your site.
That's how you create a blog on WordPress.
You can also read our article on how to create a WordPress site for a step-by-step guide.
Pros
Easy installation and setup
Complete control of your blog and its content
Scalability or extendability
Option for monetization
SEO-friendly
Frequent updates for themes, plugins, and WordPress itself
Cons
Requires you to pay for hosting and domain
You have to take care of security, maintenance, and backup by yourself
A bit of setup is required before getting started; however, some hosting services provide a one-click demo install
Conclusion
WordPress is a perfect platform for all users, whether you want to create a simple blogging site or create a professional blog. You can work on it with all your control without any restrictions.
---
2. Blogger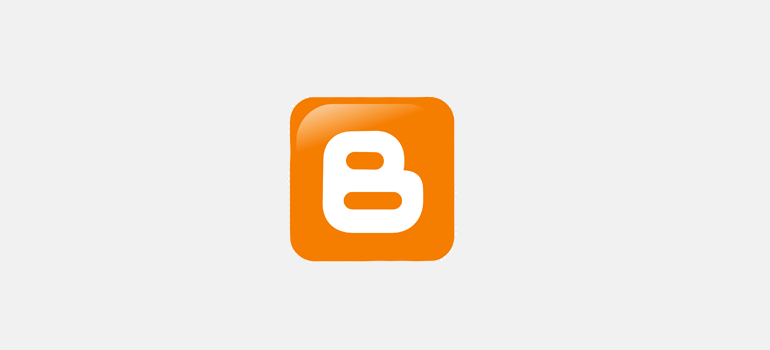 Blogger, formerly known as BlogSpot, is yet another user-friendly free blogging service that is fully hosted. It was founded in 1999 and later acquired by Google. You can instantly start a new blog site on this platform using a quick and easy integration with your Google profile.
This blogging platform provides easy-to-use templates along with flexible layouts and several images for the background. In the case of the domain name, you get a yourname.blogspot.com subdomain for free. Further, it also has the option to buy a custom domain.
As the name suggests, Blogger lets you blog only, and you can't build other websites such as eCommerce or portfolios.
Key Features
Several options for background images, Google Fonts, and unlimited colors for your site
Built-in analytics to have a detailed look at your posts and audiences' behaviors
SEO-friendly
Let you store your posts, photos, and more with Google
Integrates Google AdSense to display relevant ads automatically on your site
How to Start Your Blog on Blogger.com?
To create a blog on Blogger, visit its official site and hit the Create Your Blog button.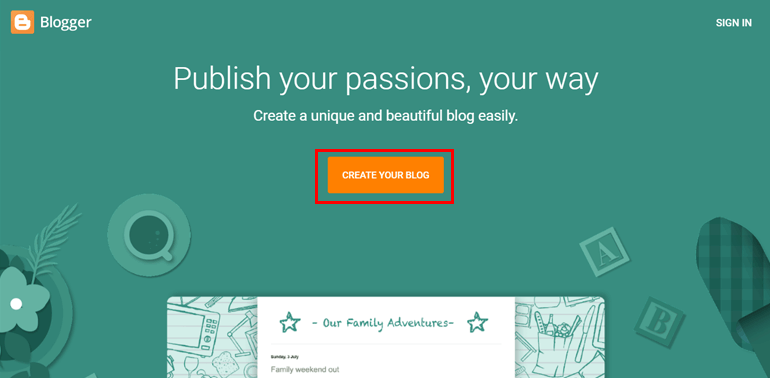 If you already have an account on Blogger, simply click on the Sign In button. Since Google owns it, it asks you to sign in using your Google account. So, choose the Google account of your preference and proceed on.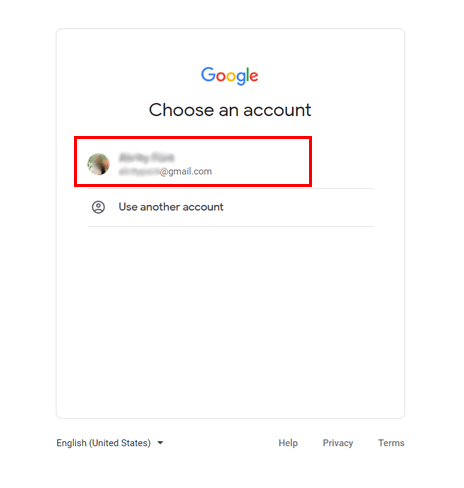 It then takes you to the new page asking for your blog name. You can fill in the title that you want to be displayed at the top of your blog and hit the Next button.
You can click the SKIP button if you're unsure about the blog name.
A new page appears, asking you to choose a URL for your blog. On the Address blank, try the URL you would want people to find your blog. If the URL is available, it says available, and you can hit the Next button.
For example, if your name is Howard and want your URL address to be howard.blogspot.com, you've to see whether it's already taken or not. If the address is available you can choose it. On the other hand, if the URL you tried is unavailable, you should change it to something else and check again if that is available.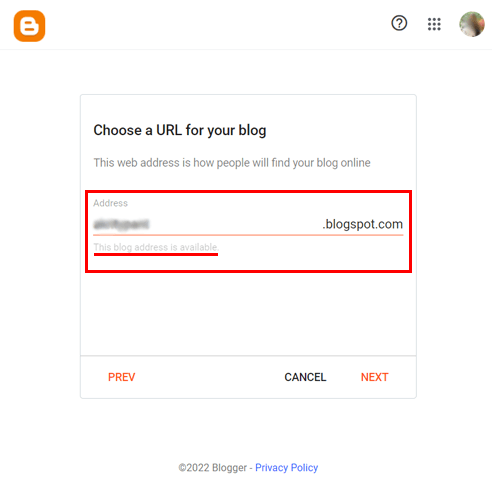 After that, you'll be directed to the page asking you to confirm your display name. It's the name that'll be displayed as an author to your readers. Enter the name and hit the FINISH button.
Then a new screen like the one below appears, which is the dashboard for your Blogger account.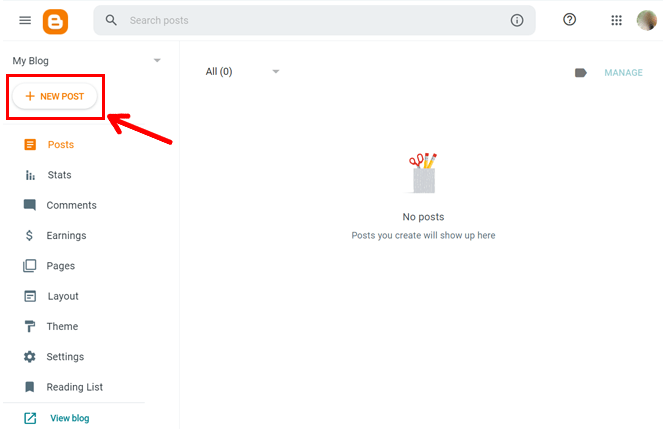 From here, you can create, manage and publish your blog post. To create a new blog post, click on NEW POST.
You can give a title to your post, add some content, and hit the Publish button to publish the blog.
In this way, you can create a blog on Blogger.
Pros
Blogger is simple – simplicity is the best thing about this platform
Easy setup with your Google account
Google provides security, so it's highly reliable in terms of security
You can earn money via Google AdSense
Cons
Fewer options for customization
Google has the right to shut down your blog if it finds inappropriate content
Limited templates for blogs
If your site grows and you want to upgrade, there are no options to upgrade –also migrating to another platform is quite confusing.
Conclusion
Blogger is a perfect platform for creating a personal blog where you want to share your stories without bigger future plans. It's simple and easy. Thus, you can get started in no time. However, if you want to expand small businesses to grow professionally, the other options: WordPress and Wix, may help you better.
Read more about WordPress vs Blogger to get more insight into the differences.
---
3. Wix
Wix is a cloud-based software founded in 2006 to empower anyone to create a website independently without coding or design skills. With plenty of easy drag-and-drop templates and free site hosting, Wix is one of the best free blog sites to start a new blog.
This website-building platform now has over 200 million users, standing out as one of the leaders in website creation. No matter which niche you belong to, Wix has specialized features that let you create professional websites and manage your business.
Some of its products, such as Ascend by Wix, help you automate your workflow. Similarly, Wix Stores makes you able to sell your products, and Wix Logo Maker helps you design a customized logo to establish your brand.
Also, a set of SEO tools are available to help you compete in organic search. Other than that, it has 100s of other powerful blogging tools to help you design and manage your site.
Key Features
Wix ADI (Artificial Design Intelligence) builds a professional website in under 10 minutes
Allows to sell services with Wix Bookings
Unlimited fonts and also lets you upload your own font
Mobile optimized
Advanced tracking tools and analytics
How to Start Your Blog on Wix.com?
Now, let's learn how to create a blog with Wix.
You can start creating a website by signing up on its official site, i.e., wix.com, and clicking on the Get Started button. You can also visit the Wix login page if you already have an account.
Then a new page appears, asking for your email address and letting you create a password for your new account. Thus, provide the necessary information required and hit the Sign Up button. Or you can even sign up using Google or Facebook account.
Now it redirects you to the page with two options: Get Started and Create for a client. The get started button lets you build your website, while the other option lets you create a website for your client. Here we're going with the Get Started button.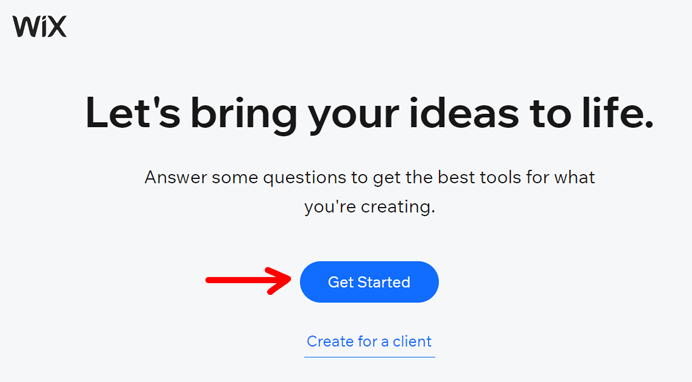 Next, choose the type of website you want to build. For now, we're showing you how to build a blog site, so we'll choose Blog.
Likewise, it then shows you the option for the type of blog site you want to create. Simply choose the blog's type, or you can proceed only by choosing Blog. Now, click on the Next button.
You'll be then directed to the page asking you to give a name to your website; enter the name and hit the Next button.
As you proceed, it displays a range of questions related to your site; keep on selecting the appropriate option and click on the Next button or you can also skip these questions by hitting the Skip button.
After this, it shows you the Go to Dashboard button, so click on it.
To add a new blog post, navigate to Blog>>Posts.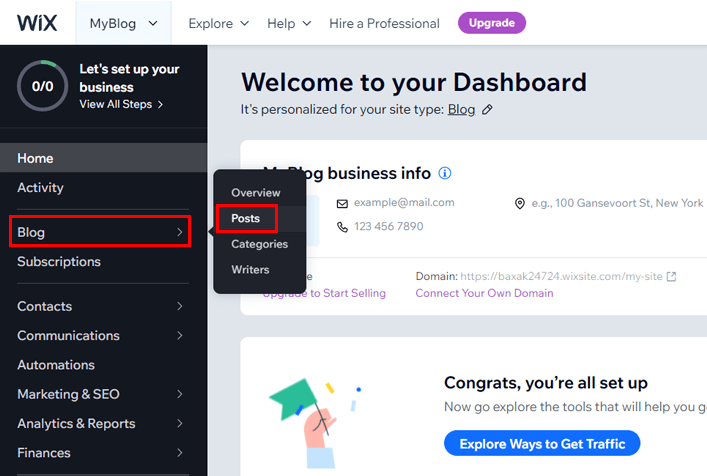 Now, you'll see Create New Post button; there're two such buttons, and you can click on any of them.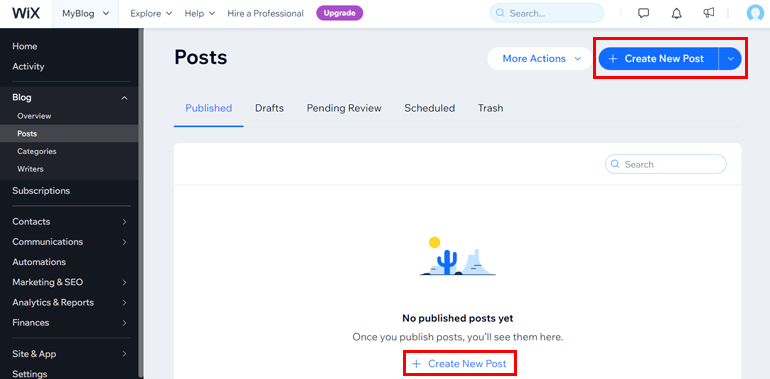 It takes you to the editor where you can add a new blog in a few minutes.
Now, you can publish the blog by hitting on the Publish button.
That's how you can create a blog on Wix.
Pros
Free web hosting
Easy to create websites with its drag-and-drop site builder
More than 500 designer-made templates
Upgradable to premium plan anytime
Cons
Limited features and customization options; you can't change the template later
A free Wix plan doesn't remove Wix ads from your site
No complete authority over your blog, which is why your blog can be suspended at any time
Quite an expensive premium plan- not suitable for those on a tight budget
Conclusion
Wix is a good platform for entry-level or medium-level users to get online. However, for advanced users who want to grow their website on a wide scale and customize it accordingly, it lacks many features.
To know whether or not Wix is better than WordPress, read our article on WordPress vs Wix.
---
Final Thoughts
After all these comparisons, we're hopeful that you're now much clearer about these three blogging platforms and their offerings.
WordPress, Blogger, and Wix are all widely used for blogging. But when it's time to choose one among these three platforms, it all depends upon your requirement and the purpose of your blog.
That being said, if you want us to pick a winner, we'll go for WordPress. We've been using WordPress since our initial days, and it has definitely made our tasks easier daily through its amazing features and services.
Like the article? Why not visit our blog page for other interesting articles like WordPress LMS vs Moodle, WordPress vs Joomla, and so on? 
Also, you can follow us on social networking sites: Twitter and Facebook.