When it comes to getting proper customer supports related to WordPress, often times the users do not get what they are looking for. While the official WordPress.org does provide their own support through forums,  and documentation, there are times when you do not know where exactly to look for answers.
WordPress is a vast open source platforms and content management system for over 25% of all the internet users. Which means there are over billions of users worldwide on a daily basis. So how do they manage to pay attention to each and every query that arise? The answer to the question is, in addition to the official WordPress site, there are also thousands of blogs and experts who are dedicated to solve the problem and provide us with a solution. A perfect example is our blog 'ThemeGrill blog', where you can find recommendations, reviews, tips, and tutorials related to WordPress.
And here we are yet again, giving you the answer to your question. Where and How can you get all the WordPress support and help that you need?
We have narrowed it down to three places where you can get your answers:
Forums WordPress Support & Help - Where to contact for the dedicated support? ThemeGrill Support Explained!! #WordPressSupport Click To Tweet
Theme and Plugin Support  
Documentation 
Support Handbooks
B. Official Plugin or Theme Page
ThemeGrill WordPress Support 
Dedicated Support Forum
Theme Instructions/ Documentation
ThemeGrill Live Chat
Email Ticketing System 
FAQs
C. WordPress blogs for Tips & Tutorials
A. WordPress.org – Official WordPress Website

The best place to get WordPress support is surely their official support forum. You can easily navigate to the page through their official site. The community-based support forums are a great place to start if you are a beginner. You can find thousands of WordPress related queries and answers to each one of them. And for the convenience of users all over the world WordPress provides all kind of supports including- Forums, documentation, and handbooks.
1. WordPress.org Forums
Just see it this way, with so many users all over the world, you might not be the only one who has come across uncertainty when it comes to a specific WordPress related problem or confusions. And there is a greater chance that the questions have already been asked so a simple search into the WordPress support forums can get you the answer in a jiffy!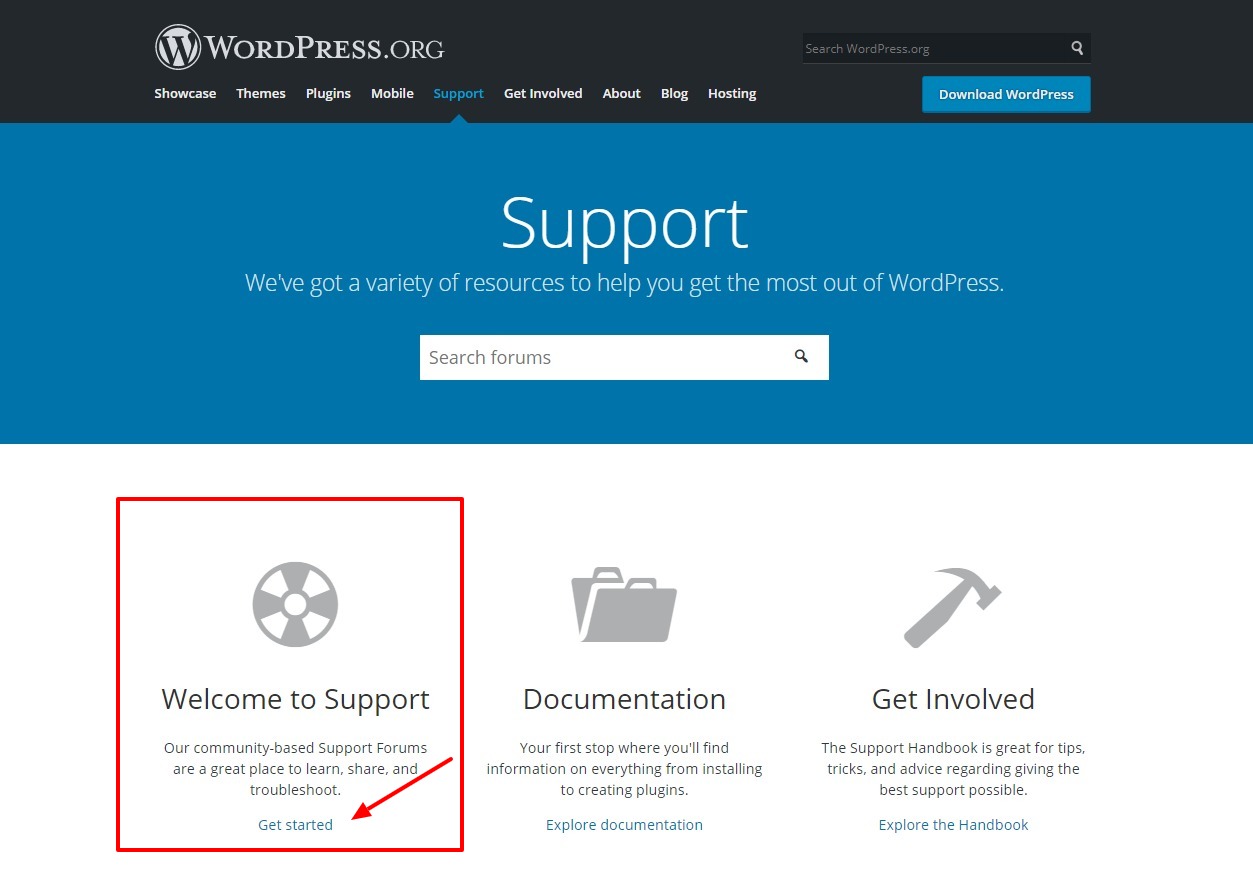 To access the support forums on WordPress, simply click on the Support Forum options on the support page and then select Forums.
You will then land on the forums that have been created and might hold the answers to your questions. You have the option to either choose the topics shown or you can select another category on the right-hand side.
If you do not find the answers to your questions, you can also create a new one. To create a topic, all you need to do is fill up the form that is on the bottom of the forum page and submit. But be sure you are logged in so that you find the form to be filled.
2. Theme and Plugin Support
If you need specific support and answers regarding any of our plugins or themes, you can easily visit their support forums through their official support forums.
You will find the option to go to their forum through their official theme or plugin page. Here to show you guys we have given the example of one of our theme- ColorMag
Once you are inside the forums, you can either open an already created topic or search for one on the search bar.
But don't worry if you do not get your answers as WordPress.org also allows you to create a new topic. But you do need to login in order to create any new topic of the query. For this, simply fill out the form on the bottom of the page and click on submit.
3. Documentation
Another major support that you can find for WordPress is their documentation. Anything related to WordPress, you can find guidelines and support here. It consists of basic like how to install WordPress and use it, to other complex matter of writing a plugin and working with themes.
You can access the documentation through their official support page and by clicking on Documentation.
After being redirected, you will find the arrays of guides and tutorials on different topics related to WordPress and the process of using the functionalities they provide.
4. Support Handbooks
This is yet another awesome support that WordPress provides for their use and you can find the best tips and tricks and recommendations for anything related to WordPress right here.
You can access the Handbook through the Support Handbook option from their support page.
Once you are redirected you will find guidelines related to different topics. You can also find information and link to the official IRC channel as well as weekly meetings and a detailed handbook for contributors of WordPress.
B. Official Theme or Plugin Website/ page
WordPress being one of the largest platforms for online content management, it is surely the combined effort of developers and designers who have contributed to the themes and plugins made available for the ease of users in mind. So when it comes to getting WordPress help and supports for a specific plugin or theme, it is best to visit their official site for help.
Giving an example, for the themes and plugins that we provide, we also have our own ThemeGrill WordPress support that we provide for our users. If you have any questions or queries related to the plugins or themes that we have provided, you can easily reach out to our support team and ask for help any-time.
1. ThemeGrill WordPress Support
Say for example you have come across an issue with our themes like- Suffice or Flash, or our plugins like- RestaurantPress, you can come to us and we will help you come up with a solution. How? Well, here is a detailed and easy-to-follow process of how to get all the WordPress help you need from our side!
2. ThemeGrill Dedicated Support Forums
The best way you can find answers to your queries is going through the support forums of the plugin or theme that you are having trouble with. Our team of dedicated developers is always eager to help out. Both the premium as well as the free users can post their queries in the support forum. However, the premium users will be given more priority. To post in the support forum is an easy procedure simply follow the steps below.
Go to our official Theme or Plugin Page i.e Themegrill official site. Once you are on the site you can see the option for Forums. Go ahead and click here.
You will be redirected to the dedicated support forums page. You will see the list of all the themes and plugins and their dedicated forums. Select the one that you need answers for or simply search for it on the search bar.
Now that you are inside a specific theme/plugin section, you can see all the previously answered queries. Select the one that will help answer your questions.
If those do not help you, then simply go ahead and create a new topic. Be sure that you are logged in and simply scroll to the bottom of the page. Fill up the form and simply submit your query.
3. Theme Instructions or Documentation
If you are looking for instructions or tutorials that deal with a specific plugin or theme by ThemeGrill, then we also have a fully documented instructions ready for our users. Each documentation explains the process of installing and how to use it on your site.
Simply visit our ThemeGrill support page and you will find a link to our documentation. Click here and you will be redirected to the next step.
There you can see the list of Themes, Plugins or Knowledgebase. If you go to  Themes or Plugins then you will see the list of everything that we provide. If you click on Knowledgebase, you will find a repository of information and articles that will help you get started on WordPress and related topics.
Once you are on the plugin/theme page, you will find the list of the themes and plugin that we provide with their full documentation.  Select the one that you need help with and you will find a detailed thorough tutorial or guide to help you use it on your website! Each one of the documentation has been sectioned for convenience and you can skip the parts if you wish and directly go to the topic you want to.
4. Live Chat
Want answers to your queries immediately? ThemeGrill also provides the users with support through live chat. This means that you can use instant messaging to contact our Customer Support team through our site. Go to our official site and find any one of our dedicated staff members eager to help you out!
5. Email Ticketing System
For those premium users of ours, we also provide email ticketing system. This means that the query ticket that you create will be prioritized and support will answer them accordingly. To create a new ticket, simply follow the steps below:
Login to official ThemeGrill site and scroll down in the footer area. There you can see the option to Submit ticket. Go ahead and click on it.
You will be redirected to the new page where you can enter the details for your ticket and add a message. Once you are done filling out the form, go ahead and click on submit.
6. FAQs
If you have any questions regarding sales of any specific products that we provide, you might want to check out our FAQ section. You can access the page directly from the support section or through the footer of our site. The section covers almost all the queries that you might have regarding the payment, renewal and license and their upgrades. But if your questions are still not answered, you can always try to contact us through other support systems. To
C. WordPress help Blogs and Websites
While WordPress is a vague topic to discuss, sometimes just going through the official WordPress support forums might not get you all the information you need. So to help out those beginners in need, many blogs and websites have also dedicated their time and effort volunteering to give out important tips, recommendations as well as tutorials to help you guide the way. While there are no less than thousands of websites, here are our picks of the most helpful and user-friendly blogs and websites that provide beginner friendly guides to WordPress!
1. WPBeginner
If you are a total beginner and not at all a WordPress and tech-savvy, well, WPBeginner as the name says it all, is probably the best place to start off. Here you will find every element of WordPress detailly explained with simple to follow instructions to get each function done on your WordPress website.
All in all, if you have any confusions regarding any topic, categories of WordPress then this is the best place to look for answers. The blog in itself is a volunteer to help out beginners and novices and thus remains on the top of our list of best WordPress help blogs and websites to check out!
2. Elegant Themes
Although when you first hear the name, you might think it is simply a theme collection themes, you cannot be more wrong! This extremely helpful blog also contributes to helping out the WordPress Novice to get things done on their site! Easy, helpful and efficient, each instruction and tutorial on their site has maintained the beginner-friendly aspect. Thus making this yet another place to learn WordPress.
While you get tutorials and tips, this blog is not limited to only that. Find great themes to go along with your site and also keep up-to-date. Find daily news and details about anything that is related to WordPress in one place!
3. Beautiful Themes
Yet another amazing site to help your WordPress needs, Beautiful Themes covers almost any topic related to WordPress. Thus find answers to your queries, get recommendations and tips on where to and how to, all in one blog! Topping it off, find amazing themes of any genre that matches your needs.
Hard to understand blogs? Well, they also feature have video tutorials that are novice and beginner-friendly and clear your confusions right away. And thus, this remains on our list of Best WordPress Support sites and websites.
Wrapping it Up!
And with these tips on how to get WordPress support that you need, I hope you have found the questions to your answers. If there are any more queries that have not been answered in the article, please leave a message down below and we will address them as soon as we can. Liked this article? Why not check out more of our helpful blog posts to give you more insight into WordPress and WordPress related topics?