Wondering which is the best custom WooCommerce user registration form plugin for your WordPress website? Then, this is just the article for you.
Simply put, registration forms are online forms the users need to fill to register and then login to a site. WooCommerce registration forms aren't any different. And to create a WooCommerce registration form for your site, you'll need a WooCommerce user registration form plugin.
WooCommerce registration form plugins allow you to add custom fields to a registration form and collect extra user information. That's why, in this article, we've listed the best 9 best WooCommerce registration form plugins.
But before exploring the list, let's discuss a bit more about WooCommerce registration plugins.
WooCommerce Registration in WordPress
WooCommerce is one of the leading eCommerce platforms today. It was first released on September 27, 2011. And since then, it has gained rapid popularity over the years.
Talking about the features, WooCommerce has taken care of pretty much everything that the clients might require for their online stores. However, the default registration form that's included with WooCommerce is simple and contains only the basic fields.
This is how the default WooCommerce registration form looks like.
While it might suffice for some, it's inconvenient when you can't add in other important fields and details while registering. Users are required to add in billing, shipping, or other additional fields every time your users try to check out. It may not be that big of a deal, it's certainly a hassle if your users visit and make a purchase on your site regularly.
So what can you do to avoid this inconvenience, you ask? Well, the answer is simple. WooCommerce registration form plugins.
---
Why Use Custom WooCommerce User Registration Form Plugin?
Here are some key reasons why you should consider using a custom WooCommerce user registration form for an online store:
Unlimited custom fields: First, you get the option to add unlimited custom fields in the registration form. You can easily add fields for your users to save their billing and shipping information conveniently.
Streamline the important details: You can streamline the user registration process, which in turn, makes the process more intuitive, while fine-tuning it to your requirements.
Collective notifications and updates: These plugins also allow you to inform all your customers collectively through bulk emails.
Easy Billing and Shipping: With custom fields for the residence area and time zone, it's also easy to run your eCommerce site. You can filter and provide conditional options that may apply to billing and shipping.
With that said, let's finally move on to the list of the best custom WooCommerce user registration form plugins.
---
10 Best WordPress Plugins for WooCommerce Registration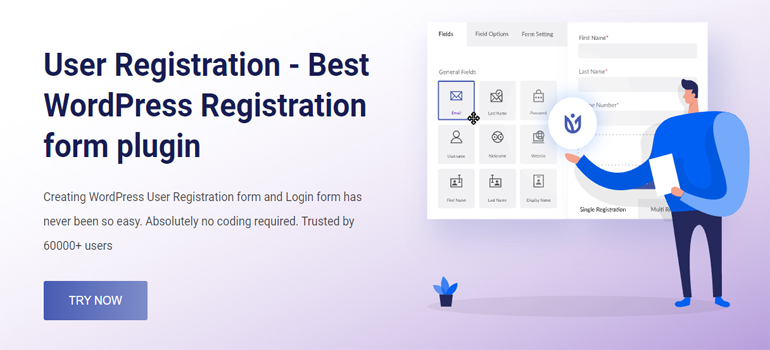 User Registration is an incredible WordPress online registration plugin. Its design is aimed to make the registration process for website owners and visitors easier. The easy-to-use drag and drop form builder alongside the user-friendly interface provides the user an easy way to build forms.
Most importantly, it's fully compatible with WooCommerce. So, you can use its WooCommerce add-on to customize the WooCommerce registration and login form with shipping and billing fields. You can then replace the default form with the custom registration form and sync it with WooCommerce in no time.
For the convenience of the users, it includes various form template designs to choose from. Additionally, the advanced options to enable/disable the strong password, privacy policy field, etc. extends the plugin's functionalities.
Key features:
Supports social login options
Supports WooCommerce subscription and membership extension
Option to integrate Orders, Downloads, and Addresses tab
WooCommerce data is added to the 'Account Details' tab
Sync billing and shipping field details with WooCommerce
Price: Free or $69/Year for a Personal Plan
---
Custom Registration Form Fields Builder for WooCommerce is a great choice for adding custom fields to WooCommerce registration forms. This powerful plugin lets you customize the default WooCommerce registration form as well as create an entirely new form.
Since the plugin uses a Gutenberg form builder, anyone with basic knowledge of the WordPress editor can build forms easily. All you have to do is add custom fields as blocks into the form. Moreover, you can edit individual fields from the block options.
You can even add WooCommerce shipping and billing address fields in the registration form. This way, your users don't need to fill out all the details during the checkout.
Key Features:
Google reCAPTCHA for spam protection
Assign role to users during registration
Add read-only fields to the form
Sync fields with checkout form
Manually approve registered users
Price: $49/year
---
WooCommerce Registration by Extendons is a premium WordPress plugin designed and crafted especially with WooCommerce websites and user registration in mind. It serves the purpose of integrating an unlimited number of custom fields on your registration forms.
Additionally, this plugin supports several types of custom fields including text box, select box, checkbox, and more. It also supports the social login options that enable the user to directly sign in using their Facebook or Twitter accounts.
The plugin also includes an option to add conditional WooCommerce registration fields. This means that the additional fields will be displayed if the particular condition applied is met.
Key features:
Option for Google reCaptcha to avoid spam and bots
Supports dropdown menu
Create custom user roles
Provides custom fields
Allows users to view and edit extra info in the 'My Account' section
Price: $29 for a Regular License
---
Ultimate Member, as the name suggests, is the ultimate WordPress and WooCommerce registration plugin meant for any type of website. Probably one of the best free WordPress form plugins, you can use it to build your audience and the overall member count.
Additionally, the frontend profile registration, login, and custom fields provide the user a beginner-friendly experience. For your convenience, you can also easily modify the user roles on your websites.
The plugin further includes custom form fields. You can even modify the fields, add or remove all of the elements to your preference.
Key features:
Member directories
User account pages
Conditional logic for form fields
Drag and drop form builder
Show author posts and comments on the user profile
Price: Free or $249/year for Extensions Pass
---
Profile builder is a highly responsive plugin that makes the WooCommerce registration form layout look great on every screen. Furthermore, you can customize your website by adding front-end menus for all your users. It provides users a flexible way to sign-up, register, and modify their profiles.
It includes a ton of shortcodes that you can implement with ease to add different custom fields. In addition to this, it also allows the user to choose and modify the user roles from their admin bar settings. More advanced features of this incredible plugin includes content restrictions, Google reCaptcha, and more.
Key features:
Drag and drop to rearrange user profile fields
Assign user-specific roles at registration
Customizable user login widgets
Frontend user profile and password recovery form
Choose between login with only Username, Email, or both
Price: Free or €69 for a Single Site License
---
If free plugins are what you're looking for, the WooCommerce Simple Registration plugin might be perfect for you. Although simple and minimal in the making, this plugin ensures quality performance.
As it's extremely user-friendly, it's fit for beginners as well as experts. Additionally, it works as a shortcode providing plugin that you can easily add to any of your pages or posts. That's right, it displays the WooCommerce registration anywhere on your WordPress site with ease.
Furthermore, the registration form is responsive and automatically adjusts to every device's screen size.
Key features:
Fast and SEO-friendly
Let users input their first and last names
Separate login and registration pages
Free support
Regularly updated
Price: Free
---
RegistrationMagic is a simple yet powerful WooCommerce registration plugin. The plugin allows you to create an unlimited number of WordPress registration forms. The same applies to custom WooCommerce registration forms as well.
Every form is unique as it can have its own set of custom fields, content, and configuration. Furthermore, with the help of this plugin, you can easily analyze every WordPress user registration form and submission using built-in graphs, charts, and tables. Not to mention, you can track your user's location, IP, browser data and OS, form conversion rate, and many more.
Key features:
Create unique registration forms
Powerful user area and frontend views
Total user control
Analyze registration forms to improve and increase conversion rate
Simple beginner-friendly user interface
Price: Free or $89 for a Single Site License
---
Formidable Forms is a popular form builder plugin that allows you to create diverse types of forms like surveys, contact forms, quizzes, registration forms, etc. And this also includes custom WooCommerce registration forms. You can add custom fields to the form and display it on your online store.
Additonally, you get flawless integration with WooCommerce orders, enabling you to build custom order forms as well. Combined with the product configurator feature, you can use advanced order forms so as to increase the total store sales.
On top of that, it fully supports PayPal, Stripe, and other major WooCommerce payment gateways. So, you can receive payments from your customers in a secure way.
Key features:
Custom profile form
Invisible spam protection
Registered users tracking
Extend the plugin with hooks and filters
Repeater fields available
Price: Free or $39/year for a Basic Plan
---
ARMember is one of the best WordPress membership plugins out there. Additionally, it won't be wrong to say that it's a one-stop solution for all the WooCommerce store owners. You can use this plugin to effortlessly create a custom registration form along with membership and user profiles.
Additionally, the plugin comes with a built-in option for creating custom registration forms. Moreover, the plugin provides pre-designed templates to help you get started without any hassle.
The plugin also offers multiple payment methods and payment cycles. Furthermore, it provides support for email notifications. With this feature, you can easily announce news and updates to all your users.
Key features:
Social login facility
Built-in security options
Single place to configure the sign-up process
Different fields to customize login forms
Create multiple membership models on your WooCommerce store
Price: $59 for a Regular Site License
---
WP User Manager is one of the most customizable WooCommerce registration form plugin. It lets you create customizable user profiles along with custom user registration, login, password recovery, and account customization forms.
Furthermore, the plugin allows you to create any type of membership website. It also enables users to edit their avatar by uploading images from the account page.
In addition, you can easily add plugin shortcodes to pages and posts, with the help of shortcode generators and editors. You can also edit user roles and their capabilities. Best of all, you can display users in directories that can be displayed anywhere on the site.
Key features:
Custom field editors
All URLs are SEO-friendly
Developers-friendly
Enable users to update password from their account page
Public profile page to display user data
Price: Free or $149/year for a Starter Plan
---
Wrapping It Up!
And that's all about the best WooCommerce registration form plugins. Keeping in mind all the eCommerce and WooCommerce website users, each of these plugins provides an easy option to add registration forms to your site.
All the plugins are unique on their own, however, we recommend User Registration by WPEverest. Simply install the plugin and set up its WooCommerce add-on to create custom registration forms with shipping and billing fields.
You can also use this plugin to add an image upload field to the registration form.
But don't stop reading here! For more on WordPress-related articles, we suggest you visit our blog. Happy Reading!