Want to know what a Learning Management System (LMS) is? Then, you've come to the right place.
LMS is short for Learning Management System. Simply, it's a software application used for building online courses. Also, it lets you document, track, report, and deliver educational courses, training, and development programs.
In this article, we've mentioned everything you need to know about a Learning Management System (LMS). Hence, let's get started.
What is a Learning Management System? (Definition)
As mentioned above as well, an LMS is a software or web-based technology. It's mainly used to provide all the necessary tools to plan, implement, and assess a learning process.
An LMS can improve the learning process by making it faster, productive, cost-effective, and most importantly trackable. Basically, it helps you to deliver study materials to various audiences online.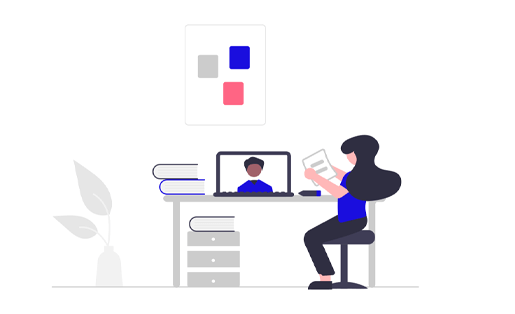 LMS was first introduced in the late 1990s. The concept emerged directly from e-learning. Initially, it was used in the higher education sector but, today most LMS focuses on the corporate market.
Moreover, approximately 83% of organizations currently use an LMS. And, the global LMS market is expected to reach a value of $23.21 billion by 2023.
An LMS mainly consists of two components – server and user interface. A server is where the system is stored and performs base functionality. On the other hand, the user interface is operated by the teachers, instructors, and students.
If you're LMS website manager, then you're responsible for managing overall all functionaries on the backend. But if you're a user (teacher or a student), then you can sign up and participate in the learning program.
---
How is an LMS Used? (Use Cases & Examples)
An LMS can be useful to a wide range of organizations, such as higher education institutes, businesses, and corporations.
a) LMS used in the educational sector
Technologies are evolving, which has provided a modern format of learning. And, that's a great thing. Because of LMS, teachers can upload courses at any time. Similarly, they can create quizzes, and track the progress of each of their students. Furthermore, they can also plan lessons and upload content accordingly.
Students can download the study materials at any time and from anywhere. Besides, they can choose instructors, and lessons according to their course. Overall, LMS has made the learning process more interactive and interesting.
For example, Coursera is one very popular educational site. Top universities like Stanford and Yale are providing some of their popular courses on this platform.
Some popular LMS software used by the educational industry are LearnDash, Schoology, Blackboard Learn, and Moodle. 
b) LMS used in businesses/organizations
When a new employee is recruited, teaching them all the office work is necessary. And if you can do that with an online course then, it's even better. Because it's available anytime and interns/new employees can learn it from anywhere.
It's not only used to teach new employees, organizations can also use it to assign tasks to the employees already working there. This helps in managing and tracking the assignments even more clearly.
Enterprises can use LMSes like Adobe Captivate Prime, Docebo LMS, iSpring Learn, TalentLMS, and eFront for employee training and onboarding tasks.
c) LMS used in the private online course businesses
Schools and universities can choose to provide online study materials for free. Whereas, there are many private online course businesses that sell their courses online and earn money. It has all features of the e-learning site plus you can integrate payment gateways. So, students can pay for the courses.
Example: Udemy is a popular online learning website. It has a wide range of subjects such as IT technologies, photography, personal development, and more. And if you're a teacher then Udemy offers you a chance to teach as well.
---
Features of Learning Management System
Some of the common features a successful LMS should possess are listed below.
Ability to create courses & enroll students: It's the most basic feature an LMS software will provide. It should allow you to create online learning materials, and register students for those classes.
Reports and Analytics: Tracking your achievements is a great way to see how far you've come. A good LMS should include all eLearning assessment tools so that instructors and students can check progress.
Certification and compliance support: This feature is important for online training programs. Instructors and admins should be able to rate students' skills and identify gaps in their performance.
Social media integration: Many LMS platforms have started including social media tools. This feature allows users to interact with their peers, collaborate as well as share their learning experience.
Gamification: Gamification helps to increase user engagement by allowing them to earn points, badges, awards, etc for certain achievements.
Geolocation: The Geolocation feature supports language translation to break the language barrier. This system automatically presents the appropriate language version of the course.
Artificial Intelligence (AI): Artificial Intelligence can suggest topics and courses to the students that suit them best. This is calculated according to the courses they've completed.
---
Advantages of Learning Management System
Moving forward, let's talk a little about the benefits of a Learning Management System.
An LMS platform supports different formats – video, text, audio, etc.
The users can access the studying material from anywhere, anytime. Additionally, the teachers can modify the content and the students can see the changes immediately.
Evaluating each student is very much easier and fair. They're evaluated based on their attendance and online quizzes.
The study materials are reusable at any time.
The LMS platform allows personalizing the online training and learning experience.
It uses automation that allows automatic distribution of certification or user enrollment. This eliminates the tedious repetitive work.
You can create different types of users such as teachers, students, parents, visitors, and editors. This can help control which content students can access. Also, you can track progress and engage students with contact tools.
Centralized learning is another one of the biggest benefits of LMSes. It allows big organizations to safely organize and store all big data in one location.
---
Types of Learning Management Systems
1) Cloud-based LMS
Cloud-based LMSes are hosted on the cloud. This simply means a network of connected virtual and physical cloud servers that hosts the applications and websites. Furthermore, cloud-based LMSes follow a Software as a service (SaaS) business model.
One of the important benefits of cloud-based LMS is that all the technical updates, upgrades, and the whole system are maintained by cloud-based vendors. And, the users can access the system from anywhere and anytime using their username and password.
An example of cloud-based LMS is Teachable. You can simply visit the site and make your course without hosting it yourself. All you need to do is create an account and you're good to go.
2) Self-hosted LMS
Unlike cloud-based LMSes, self-hosted LMSes require software to be downloaded by the users. Furthermore, the users must maintain the system themselves and often must pay for updates. The good news is, self-hosted LMS offers full control of the system and has more customization options.
One of the most popular examples of self-hosted LMS is WordPress. WordPress is a popular website creation platform that powers 41% of the websites today.
You can create any kind of website in WordPress including an online course site. This is possible because it provides thousands of themes and plugins suitable for every kind of site. And, using an LMS plugin, creating an online course is as easy as pie in WordPress.
3) Desktop Applications LMS
As the name suggests, desktop applications LMSes need to be installed on the user's desktop. However, the application can be accessed from any other device as well.
4) Mobile Applications LMS
Mobile application LMSes support mobile learning. The users can access content anytime and from anywhere via mobile devices. This LMS allows access to content on the go.
If you ask us which type would be easier to create your online course site, we suggest using a Self-hosted platform – WordPress. Since it's self-hosted you've full control of the system. Furthermore, WordPress offers amazing features like customization, page-builders, unlimited templates, and much more.
---
How to Create an LMS Website? (Easy Way)
Above we mentioned that the easiest way to create an LMS website is using WordPress. Hence, we've mentioned a step-by-step guide for you to create your own LMS website using WordPress as given below.
Step 1: Set up Your WordPress Site
The very first step while creating any type of website is to register your domain name and purchase web hosting. Fortunately, there are many great domain name registrars you can get your domain name and host from.
Among them, Bluehost has to be the most beginner-friendly and affordable. Additionally, with shared hosting plans, it offers a free domain name + a free SSL certificate.
The next step is to install WordPress. Lucky for you, Bluehost even provides a 'WordPress Auto-Install' option while you purchase a web host.
Once WordPress is automatically installed, you can log into your dashboard. Now it's time to choose a theme for your website. We highly recommend using the Zakra theme.
Zakra is a multi-purpose theme. It has 60K happy customers. Above and all, it has 65+ demos for any niche website including an online course site. Also, it's highly customizable, responsive, translation-ready, and supports all major plugins. Hence, go ahead and install the theme and finally activate it.
Here are some other best LMS WordPress themes for your online course.
Step 2: Install & Activate LearnDash LMS Plugin
Now, it's time to install an LMS plugin. LearnDash has to be one of the best LMS plugins out there. This plugin has features to create multi-layer lessons, quizzes, topics, and categories.
LearnDash is a premium plugin. So first of all, you need to purchase the plugin. Then, from your WordPress dashboard, navigate to Plugins >> Add New from the menu sidebar.
Click the Upload option located at the top left. Next, click on the Choose File button and select the zip file of the plugin you downloaded earlier. Then, simply hit the Install Now button. And finally, click on the Activate button.
Step 3: Create Courses and Quizzes With Course Builder
Another great feature of Learndash is that it provides a built-in course builder. You can effortlessly add new lessons, quizzes, new section headings with the help of the course builder.
To access the course builder, navigate to LearnDash LMS >> Courses from the sidebar.
On the next page, you can see the Add Your First Course button. Click on the button. Later, to add a new course you can select the Add New button located at the top right.
Again, you can add the Title and Content of your Course on the next page. If you're satisfied with the content then, don't forget to click on the Save Draft option on the right side.
On the Builder tab next to the Course tab, you can add New Lessons and New Section Heading of your course. Further, you can add New Quizzes as well.
Step 4: Integrate Payment Gateway
After you've added the necessary courses and lessons, you can start selling your online course. LearnDash provides PayPal as the default payment gateway. All you need to do is enable the option and you can start getting paid for your courses.
To integrate the PayPal payment option, navigate to LearnDash LMS >> Settings.
From the different setting options located at the top, choose the PayPal Settings option.
Then, on the PayPal setting page, you can add your PayPal email, currency, and other options. To save all the changes, click on the Save button located at the top. Now, you can accept payments for your online courses.
---
More LMS Plugins to Create an LMS Website
Just like LearnDash, here are some other LMS plugins for you to create an LMS website.
If you're looking for a tool to create and sell online courses without any hassle, Masteriyo is a must-try LMS plugin. Its course builder is so user-friendly that even beginners without any prior experience with LMS, will be able to build courses in no time.
Just create a course, add sections, then add lessons and quizzes to it. As simple as that!
Using this plugin to create courses for your site also guarantees a pleasant learning experience for your students. The distraction-free learning page is completely free of the page menus, sidebars, and footers to ensure that your students are focused on the lessons only.
But, that's not all. Masteriyo provides plenty of configuration options for quizzes, emails, payments, and more to help you customize the online courses as per your requirements. And you get all this for free!
---
Unlike LearnDash, LifterLMS is a free WordPress Plugin. You can easily download this plugin from the official WordPress.org plugin repository. Furthermore, it also has a premium version which later you can upgrade.
LifterLMS was founded in 2014 and today it has 10,000+ active installations. Best of all, this plugin has features such as gamification, online community, coaching, etc.
---
MemberPress is an all-in-one membership plugin for WordPress. It has built-in features to accept credit cards securely, sell online courses, control who sees your content and sell digital downloads. Moreover, you can create, manage, and track membership subscriptions with ease.
---
LearnPress is a comprehensive WordPress LMS plugin. With the help of this plugin, you can create, manage, and sell courses. Besides, you can easily communicate with your students and track their progress.
This LMS plugin supports WordPress multi-site and offers a bunch of add-ons. On top of that, it works well with your theme.
---
Sensei is a flexible and powerful LMS plugin developed by the creators of WooCommerce. Besides, it's easy to use. You can create assignments, quizzes, grade them manually or automatically, and reward your students with badges and certificates.
However, this plugin doesn't provide in-built payment gateways. To sell your courses and accept payments, you need to integrate WooCommerce Paid Courses Extension.
---
Wrapping it Up!
If you've skills and passion to teach then, the LMS platform can be a great tool for you to share your knowledge. You can teach anything, from anywhere, and to anyone. The Learning Management System has made it that easy.
Further, the decision on whether to charge or not for your online courses is completely up to you. Not only institutes, but LMS is also useful in organizations and businesses as well. Thanks to LMS, the whole learning process has become more fun and interesting.
So, if you think you're ready to start a LMS website of your own, you can use the short guide above to create one easily.
We've used the premium plugin LearnDash to demonstrate the whole process. But if you're not ready for the commitment, you can always opt for a free LMS plugin like Masteriyo.
And that concludes our article on Learning Management Systems and how it's used. Hope you enjoyed reading this article. And, if you did, please share it with your friends and family. Who knows they might get inspired to create an LMS website.
Finally, follow us on Twitter and Facebook for future updates. Thinking about creating an online store? Check out this article – how to create an eCommerce website using WooCommerce?