If you want to display unique posts on your magazine site, the Unique Post System in ColorMag is the perfect solution for you.
ColorMag is one of the most popular magazine WordPress themes of all time. And it comes with some truly amazing features, one of them being the Unique Post System. It's a must-have feature if you're planning to run an online magazine site.
Hence, in this article, we'll introduce you to the Unique Post System on ColorMag. Along with this, we'll also show you how you can use it on your magazine website.
Without further ado, let's start with a brief introduction to ColorMag.
What is a ColorMag? (A Brief Overview)
A ColorMag is an exceptionally beautiful, elegant, and modern design magazine and news-style WordPress theme meticulously designed by the developers at ThemeGrill.
This theme leaves no stone unturned to deliver amazing performance to make your magazine site succeed. Blazing fast speed, cross-browser compatibility, and SEO optimization are just its starter features.
In addition to this, ColorMag has several other unique and useful features to offer to your site. That's what makes it the best WordPress magazine theme with 100K+ happy users and 5-star ratings.
So, let's briefly discuss some of the amazing features offered by theme now.
Professionally Well-coded: ColorMag follows the WordPress security standards. Hence, you don't have to worry about stuff like slowing down your site, incompatibility with other WordPress plugins, and so on while using the theme.
Stunning Starter Demos: It has 25+ awe-striking templates that can be imported in a click to get your magazine and news site ready in no time.
Popular Page Builder Compatibility: Seamless integration of theme with the best page builders like Elementor, Brizy, Beaver Builder, etc., ensures a smooth creation of the website layouts of your choice.
Sticky Menus: It ensures that your visitors can easily navigate through your site without any confusion with sticky menus support.
Responsive Design & Translation Ready: You can effortlessly create an international news portal that adapts perfectly to any device with this responsive and translation-ready theme.
Awesome Support & Documentation: In case you got stuck anywhere, just relax and reach out to the friendly support team of ColorMag who are there to help you 24/7. Easy documentation is also available for your queries and confusion.
Besides, ColorMag offers a unique feature of the Unique Post System to prevent duplicate posts from appearing on your site. And, since it's our main topic of discussion for this article we'll discuss this feature in detail in the next section.
---
What is a Unique Post System on ColorMag and Why Use It?
ColorMag theme for WordPress is bundled with a dozen of widgets. With the help of these widgets, you can display different types of posts along with their featured images. For instance, you can display the latest posts or posts of different categories on your front page.
However, when you use many widgets on the same page, some posts that fall into different categories might repeat on different widgets. And, if your posts are duplicated on multiple sections, users might think you're running out of content. As a result, it may leave a bad impression on your visitors.
Hence, to fix such issues, the premium version of ColorMag offers an awesome feature of a Unique Post System. This feature prevents your articles from being repeated in multiple sections on your front page. In other words, it makes sure that your post is shown only once so that your page looks fresh and non-repetitive.
Therefore, the Unique Post System is important in a WordPress theme for the following main reasons.
First of all, it makes sure your website professional. That's because it doesn't let errors like repeating a post happen.
The next reason is it increases viewers' approval, thanks to the fresh posts. Ultimately, this helps to improve the SEO of your site.
That being said, it's time to know how to stop showing the same articles/posts using ColorMag in the next section.
---
How to Use the Unique Post System on Your Magazine Website?
Now that you know about the Unique Post System feature of ColorMag pro, let's get to know how to use it on your magazine site.
Step 1: Install and Activate ColorMag Pro
Unique Post System is a unique feature available in ColorMag pro. So, you need to visit its official site and purchase a premium ColorMag first.
After that, you can sign in to your user account by clicking on the Account tab of ThemeGrill's homepage.
Here, you need to enter the Email address and Password to sign in to your dashboard. These login credentials will be mailed to you by the company after the purchase.
Now, from your account dashboard, go to the Downloads tab and download ColorMag pro on your computer. It'll be downloaded as a zip file.
At the same time, a small pop-up appears that suggests you copy the license key. So, make sure to copy it as you'll need to enter the key later in the steps.
Then, from your WordPress dashboard, go to Appearance>>Themes and hit the Add New button.
Again, click on the Upload Theme, choose the zip file, and press the Install Now button.
Now, hit the Activate button.
Soon after that, you'll be asked to enter the license key.
Here, you can enter the license key you copied before. And by any means, if you missed copying the license key in the earlier step there's an alternative way as well. You can simply copy the license key from the Licenses tab of your account dashboard.
Finally, paste the license key and hit the Agree & Activate License button.
Now, the theme is ready to be used on your site.
For more information, make sure to check our beginner's guide on how to install a WordPress theme.
---
Step 2: Import a Ready-to-Use Starter Site
The next step is to import a demo for your magazine site. ColorMag offers several free and premium pre-built demos. Hence, you can choose the one that best compliments your magazine site.
To import a demo, navigate to Appearance>>Demo Importer. And, click on the Install ThemeGrill Demo Importer.
Again, hit on Run Importer button.
Then, it'll direct you to the Demo Importer page from where you can import a suitable demo with a click.
---
Step 3: Enable Unique Post System
Now, that you've successfully activated the ColorMag theme and installed a suitable demo for your magazine site. It's time to get into our main event of enabling a Unique Post System so that your post isn't repeated.
For this, head over to Appearance>>Customize.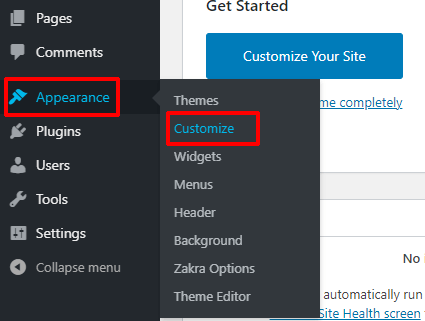 It'll take you to the WordPress customizer window. It's precisely the place from where you can customize all your theme settings to make your overall online Magazine site appear stunning and appealing to your visitors.
In that window, click on the Front-Page tab from the left sidebar menu.
Inside that tab, find the General option and click on it.
After that, you'll see the option of a Unique Post System. Hence, you can enable this feature by simply check-marking the box.
Finally, hit the Publish button to apply this change to your website.
And that's it. You've successfully prevented your posts from appearing in multiple places on your homepage.
---
Wrapping it Up
The Unique Post System is a very handy feature. Especially, for beginners who're creating a website and deciding what the front page should look like. With just a click of a button, you can make sure that your post appears only once on your front page.
ColorMag, being the best magazine theme in WordPress, ensures that small details like these don't bother you while creating your online magazine or another similar website. It's an easy-to-use theme that comes with lots of amazing features that benefit your website.
Like what you read? If you did, don't forget to share the article on socials. And do leave a comment for any feedback and suggestions.
Also, check out our article on creating an online magazine using ColorMag.
Lastly, follow us on Twitter and Facebook to stay updated for more WordPress-related articles.