Want to know what types of magazines are popular on the internet?
If you're planning to start a new magazine site, then knowing about profitable niches would help you make the right decision.
Online magazines are simply magazines published online with regular and fresh articles and illustrations. Nowadays, almost every magazine company publishes its magazine in digital or online forms.
In this article, we're about to discuss different types of magazines to publish online. We will also talk about how you can easily create a fantastic magazine.
Types of Magazines to Publish Online in 2022
Can you believe that magazines already existed in digital forms around the time the internet was just born?
Yeah, people shared magazines using floppy disks back then. But now, the internet is here, and everything happens online.
And it's easy to confuse online magazines with digital magazines. They are similar in many ways, but the key difference is that digital magazines are often digital editions of hard copy magazines. Most of the time, they exist as:
Digital Replica of Magazines
PDF Form of Magazines
Magazine and Subscription Apps
However, an online magazine is published online and mainly exists in soft copy versions on different websites. And we're about to see some incredible types of magazines your online audience will love. Let's get right into it.
1. General News Magazines
People often think magazines are similar to newspapers. In a lot of ways, they are. An online magazine about general news is a good idea as it's easy for the audience to reach the magazine.
This type of magazine is suitable for many audiences because you're not targeting a single niche. Also, if you publish news regularly, the audience is going to be loyal and engage more.
Finding content is not hard either. You can talk about significant events like the Covid pandemic, the Australian Bushfire, the stock market crash, etc., or some recent happenings. Further, trying a new perspective for presentation can help as well.
The New Yorker, The Week are some excellent examples of this type of magazine.
---
2. Cooking Magazines
If you know quite a lot about cooking and creating recipes, publishing a cooking magazine is the best option. Everyone is looking for something delicious to eat, and a cooking magazine will bloom beautifully among those people.
Most of the time, cooking magazines are about recipes on cooking something tasty and introducing a good meal of one's culture or place. Thus, it's an art that everyone needs and loves.
But you don't always have to publish recipes. You can write about the ingredients, the nutritional value in them. Or, you can post about different cooking tools and styles; just like shown in the above ColorMag Food Magazine demo.
Interestingly, ColorMag allows you to easily import the demo and create a magazine site that looks exactly like the above image and further customize it.
---
3. Art Magazines
Art is an inseparable part of a magazine. There's hardly any magazine without a picture. And there's hardly any person that doesn't appreciate good art. So an article about art is a great idea.
This type of magazine generally sees famous paintings, fantastic music and dancing styles, incredible sculptures, and many other art forms. You can also publish the news about art and artists.
Moreover, art magazines can have tutorials about how to draw, paint or sketch. They can also be about music theory and musical instruments. The point is, art is broader than many people assume it to be, and art magazines are great.
Check out these art magazines: Art in America and The Art Newspaper.
---
4. Fashion Magazines
Fashion Magazines are a huge part of the magazine world. We wake up to new makeup products, clothing styles, and fashion trends every day. And long as humans exist, fashion won't ever fade away.
So, if you're into fashion, clothing, and similar stuff, fashion magazines are an excellent option. 'What did a celebrity wear on the Red Carpet?' Or 'What brand is taking over the market?' There are so many things to talk about.
These types of magazines are also a great way to promote your product if you own a brand. It also works if you've created an online store to sell clothes, makeup products, and likewise.
Some examples of Fashion Magazines? How about Elle and Vogue?
---
5. Tech Magazines
Technology is taking over the world. We must defend ourselves. And a tech magazine shall be the medicine that immunes everyone from ignorance about technology.
Serious note, if you're the tech-loving guy, a tech magazine can be your type of magazine. And the audience is only increasing. Because new tech gets built every day, and everyone wants an upgrade.
Also, in a tech magazine, you can talk about new computing processors, hackers, security tips, gaming consoles. Moreover, you can also write on online applications like Netflix, Internet Service Providers (ISP), and more.
Want to look at some tech magazines? Check out PCMag and Macworld.
---
6. Health Magazines
Health Magazines are also very popular in the magazine world. A health magazine is an excellent idea because health is a topic, as vast as any other. There are many aspects to health like psychology, nutrition, fitness.
Moreover, the Covid-19 outbreak made the world more conscious of health. So, a good health magazine is sure to see more audiences. Further, there is also a lot of content for these types of magazines.
A health magazine can be about mental health, fitness routines, exercises, digestive health, beauty routine, and more. It can also have articles about medical systems or external factors of health like environmental changes.
Health and Women's Health are some of the popular health magazines. You can easily create such online magazines using the ColorMag Health Magazine demo.
---
7. Children's Magazines
Children have a world of their own, and that world deserves a good magazine. These magazines focus on things like sports, toys, amazing facts about animals & plants, and likewise.
Also, you can publish articles on new comics, stories, development of habits, sports, etc. And don't worry about the audience. You'll have cute kids and their parents as your loyal visitors.
Furthermore, a children's magazine can be about the best schools as well. You can also publish articles that give knowledge about the world, storybooks, countries, and so many more.
Check out SI Kids and Zoobooks, the popular children's magazine.
---
8. Business Magazines
Magazines about the business world are one of the most read magazines. From entrepreneurs to startups, these magazines cover all kinds of news in the business world.
Not only the news but the business magazines also cover marketing tips and tricks to take one's business to a new level. They even share a study about how a company became successful.
And these magazines are not for business owners only either. The magazines are also for other people since they have plenty of articles on career advice and other consumer-related stuff, such as the release of a new car.
Entrepreneur and Fortune are some great business magazines.
---
9. Travel Magazines
We love the enchanting landscapes on Earth. We all love to travel. So, a travel magazine is another great option. And one of the best things about these types of magazines is the breathtaking pictures of heavenly places.
A travel magazine mostly talks about some of the most beautiful places on Earth to visit. They also talk about the food and lodging services in those places, whether they're affordable.
Apart from these, the travel magazines may also contain stories about different people who traveled to incredible places. Or a guide to having the most fabulous travel experience.
If you want examples, then Travel + Leisure and Outside are some gorgeous magazines to read.
---
10. Cultural Magazines
There are hundreds of millions of indigenous people in the world speaking around 4000 languages. Still, many aren't able to express themselves. So, a cultural magazine will be your way of expressing positivity towards them.
And don't worry about the traffic. Many people appreciate other cultures and love reading about them. You can write about their stories, the festivals they celebrate, the traditions, etc.
Cultural Magazines can also have articles about changes in our cultures, like how technology changed our celebration and behavior. Or, they can be about new cultures rising thanks to the latest fashion styles and new beliefs.
Cultural Survival and Essence are some stunning cultural magazines to read.
---
11. Rider and Driver Magazines
Around 18% of the world knows how to drive. That's over 1.3 billion people. And we haven't even considered the riders. So, a rider and driver magazine is an excellent choice if you are a car or a motorcycle enthusiast yourself.
In a rider and driver magazine, you can publish different things. For instance, what people can do to keep their rides clean and healthy. Or about the exciting new launches like the Tesla Model S Plaid.
Alternatively, you can also talk about the fastest cars or the popular classic ones. Moreover, readers will also love the magazine if you publish about having a marvelous trip with your ride.
Want to have a look at some examples? Car and Driver and Rider Magazine are some good ones.
---
12. Pet Magazines
Love animals? Or love taking care of your pets? If you do, then a pet magazine is your kind of magazine. In a pet magazine, you can post about the best food for your pet and the best way to take care of them.
Besides these, you can also talk about people rescuing the animals or cute pet stories, like about an inseparable dog & cat. Furthermore, the magazine can also be about what a specific gesture means to a pet.
Not only that, but you can also publish some unusual pets people have, like the flying squirrel. Or you can also write on some tips and tricks about making pets more disciplined and happier.
Dogs Today and Birds and Blooms are some excellent pet magazines.
---
13. Sports Magazines
Sports Magazine is another giant in the magazine world. If you also love sports, then a sports magazine is your pick. There are tons of new events happening every day, and you won't ever run out of content.
In a sports magazine, you can post about sports news on who won a particular event or information about the sports celebrities, like when Phil Jackson was accused of being racist.
Apart from that, you can also talk about new sports that are getting popular, like 4D soccer. In addition, you can also write about the lifestyle of famous players and their achievements.
Some of the great sports magazines are Sports Illustrated and Sporting News.
---
14. Entertainment Magazine
Another hulk of the magazine world, Entertainment Magazines are a massive part of the magazine industry. This part of the magazine industry sees a lot of content and traffic every day.
Entertainment Magazines consist of posts about award shows, movies, music, songs, theatres, and much more. They can also talk about celebrities and their lifestyle, achievement, relationships, etc.
Besides these, you can also publish on new shows, upcoming superstars, and similar stuff. You can also talk about groundbreaking movies that used technology on a new level, such as the sequel of the Avatar movie.
Vanity Fair and Entertainment Weekly are some popular entertainment magazines.
---
15. Wild Magazines
No, no. We don't mean the magazines that went wild. We're talking about the magazines on wildlife. The animal world is vast, insanely large. Scientists are discovering new species, and existing species go extinct as well.
So, a wildlife magazine can be your pick if you also love the vastness of the living world. In this type of magazine, you can talk about exciting species, how and where they live and what they eat.
The magazine can also be about TV shows that bring you interaction with the wild. Or news about the animals in captivity. Moreover, you may also write about places to visit for interaction with the wild yourself.
For some wild magazines, have a look at National Geographic and National Wildlife.
Those were some of the popular types of magazines to publish online. Now it's time for us to create a magazine in just five simple steps easily.
---
How to Create an Online Magazine in 4 Simple Steps?
Well, it may not sound fair, but your audience will look at your website's aesthetics before reading your actual content. The fact is especially true for first-time visitors.
So, before we decide what to publish, we're going to need a beautiful website.
And that's what this section of the article shows you. Let's jump right into it, shall we?
Step-1: Choosing the Website Platform for Your Magazine
The easiest way to build a magazine website is by using a CMS (Content Management System) like WordPress.
It's the most popular and powerful platform. It's built for beginners and is equally flexible for developers.
Choosing a Domain Name and Hosting Service
So, the CMS is chosen. Now we need a domain name and a hosting service. Fortunately for us, we have an affordable hosting service that also provides a free domain name.
WordPress officially recommends Bluehost for hosting since it powers over 2 million websites worldwide.
And it starts with only $2.95/mo. Not only that, but Bluehost also offers one-click WordPress installation to save time and effort for beginners.
If you want to know more about Bluehost, then read our comprehensive review on Bluehost.
Thus, let's head over to Bluehost.com and start creating our website.
Choosing a Plan and a Domain Name
On the homepage of Bluehost, click on the Host Your Site button as shown in the above image. That'll take you to the pricing plans page of Bluehost.
We're going with the basic plans because we're just starting. But if other plans catch your eye, then you can choose them as well.
So, click on the select button, and Bluehost will take you to the domain page. This page is where you'll choose a domain name for your site.
On this page, enter a unique name for your website under Create a new domain option. If you already own a domain, then enter your existing domain under Use a domain you own option.
For the first-timers, Bluehost will let you know if the chosen name is available or not.
Account Information and Payment
Once you enter your domain name, click on next, and you'll travel to the signup page.
On the signup page, enter the account information. Scroll down and choose what extra packages you want.
By default, Bluehost checks the domain privacy and protection, Codeguard basic, and Sitelock security options. These options are important for the security of your website. But if you don't want them, you can uncheck them and save some money.
Finally, provide your payment information, agree to the terms, and hit the submit button.
After that, you will need to create a Bluehost account and log in to Bluehost. Bluehost will also ask a few questions to help you set up your website and the next thing you know, your website is already created and WordPress is already installed.
For a detailed look, check out this article to know how to create a WordPress website step-by-step.
---
Step-2: Choosing a WordPress Magazine Theme
We all know how painful it can be to choose and decide on a theme in WordPress. But don't worry, we've narrowed it down to just a few of the best magazine themes.
And for this article, we're going to choose ColorMag, one of the best free magazine themes in WordPress.
ColorMag is powering over a hundred thousand websites. Additionally, this theme doesn't miss out on any of the features either. Some stunning features include:
These are some features most users care about in WordPress magazine themes. If you dig a little deeper, you'll find tons of other features in ColorMag.
So, now we know which theme we want. And it's time to get it.
---
Step-3: Installing ColorMag Theme and a Starter Template
Trust this; choosing a theme is the most challenging part of WordPress. Installing a theme is a breeze.
Installing the ColorMag Theme
To install Colormag, firstly log in to your WordPress dashboard.
Then, go to Appearance >> Themes. That'll take you to the dashboard page where your installed themes reside.
After that, click on the Add New button on the top left side to go to the themes store. And don't worry, every theme there is free.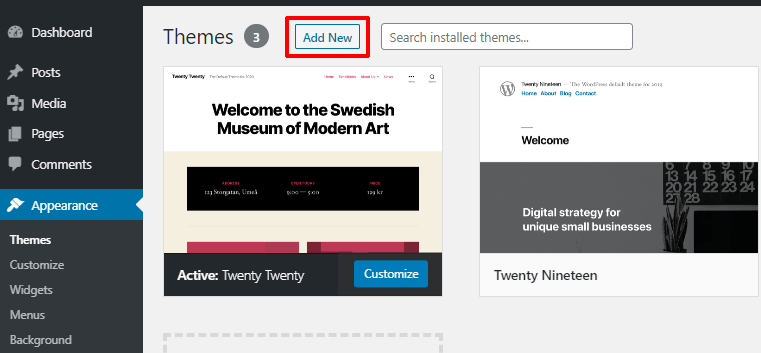 On the WordPress themes repository, type ColorMag in the search bar.
Now hover over the panel of the ColorMag theme, and you'll see two buttons there: Install and Preview. If you want to view what your website will look like with the theme, click on the Preview button.
Simply click on the Install button to install the theme to your site.
After the installation happens, you'll see the Activate button on the ColorMag's panel. Click on it to activate the theme and finally start using ColorMag.
Once the theme activates, WordPress will redirect you to your dashboard's theme page.
Importing the Starter Template
On the dashboard's theme page, you'll see on the top that a new Welcome text appears. Under that text is a button named Get Started With ColorMag.
Click on the button, and you'll enter the templates page. There are over 25 templates, including many free ones. Simply hover over a template panel and click on the Import button that'll show up.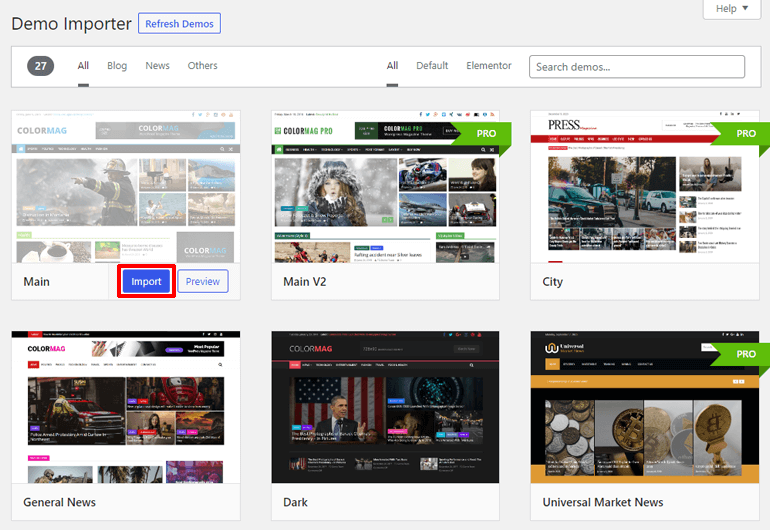 Before importing the demo, ColoMag will give you a head's up text about when to import a demo site and what changes may occur. After you've read the text, hit Confirm.
Wait for about a minute, and the demo importer will import the demo to your site. And that's it. You've successfully installed a top magazine theme and imported a beautiful template as well.
---
Step-4: Customizing the ColorMag Theme
Customizing the ColorMag theme is as easy as any other theme, but it gets better with all the features ColorMag provides. To customize the theme to fit your magazine, do the following.
First, go to Appearance >> Customize from your dashboard.
This Customize tab will take you to the WordPress live customizer. This customizer is where all the magic happens.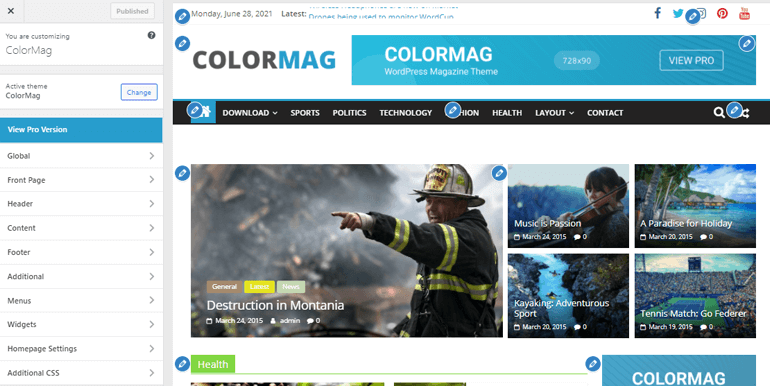 The options on the right are for corresponding sections. For example, click on the Header tab. You'll be able to customize site options like Site identity (Site logo, title, etc.), header media (images and videos), and many similar options.
Explore through these options and give your site a professional look. You can also customize some specific parts of your website using the pencil icons on the preview section on the right.
Simply click on one of the pencil icons, and the respective tab will show up on the left side of your screen.
And once you've done customizing, hit the Publish button on the top left side.
And there, your website has a professional look now. All that's left is to write awesome content and publish the content.
---
Wrapping it Up!
Magazines are a great place to publish excellent content. Some magazines may talk about vast topics, while others may choose a specific niche among those topics. But either way, magazines are trendy platforms for knowledge.
Top magazines are not only famous for their content but also their beautiful look and easy interface. So, it's crucial to have chosen an excellent magazine theme like ColorMag.
If we helped in your quest to find your type of magazine, then share this article on social media. Let us help others too. And don't forget to leave feedback if you have any comments or suggestions.
And talking about magazines, how about an article on the popular types of magazine articles.
Disclaimer: Some of the links in the post may be affiliate links. So if you purchase anything using the link, we will earn affiliate commission.