Are you looking for the best types of magazine articles to impress your online audience? Well, we're here with over a dozen of them.
Say you've just started your magazine or blog, but you're unsure what kind of articles you should write. And you want to look for some ideas that will help you decide. That's what we'll help you with through this article.
In this article, we'll show you some of the best types of magazine articles that will impress your readers. Also, we'll also discuss briefly how you can easily create an online magazine.
A. Types of Magazine Articles to Impress Your Online Audience
The best type of magazine article is the one that you enjoy writing. So try to look for an idea you'll enjoy the most.
1. Lists
People are always looking for something. They search for movies to watch, products to buy, games to play, companies to trust, and many more. And you'll surely impress your online audience with a good list of any of these.
For instance, if you're a movie freak, then you can write about the ones you found out to be hidden gems or have the best visuals. Likewise, we're WordPress lovers, so we have an article about the best plugins in WordPress.
With lists, you can also promote your products if you own a business. For example, let's say you own a headphone brand. Then, you can talk about the best headphones brand and promote your product in that article.
For instance, we have some list articles on our blog where we write about our products as well. Check them out.
---
2. 'How-to' Tutorials
Ten bucks say you've searched for a 'how-to' article at least once in your life. That's right, that's how popular these types of magazine articles are. People often look for a good tutorial online.
A helpful tutorial is one of the most popular types of magazine articles to impress your online audience and teach them new skills. On the ThemeGrill blog, we have lots of tutorials, like how to create a WordPress website.
There's a vast area for 'how-to' articles. To name a few, you can publish recipes i.e. how to cook something. Also, you can write on helpful topics like how to register for an online course, how to clear your computer's memory, and so many more.
Want to look at a how-to article? Have a look at these.
---
3. Cheat Sheet
Cheat Sheets are one of the best types of magazine articles. Because who doesn't love shortcuts? Cheat sheets are articles with the most valuable information about something intended to help people memorize.
People often visit cheat sheets to make things happen. If you help people cut corners and do something more quickly, then they'll return for more. For example, this cheat sheet for calculus will make the audience come back for a cheat sheet for algebra as well.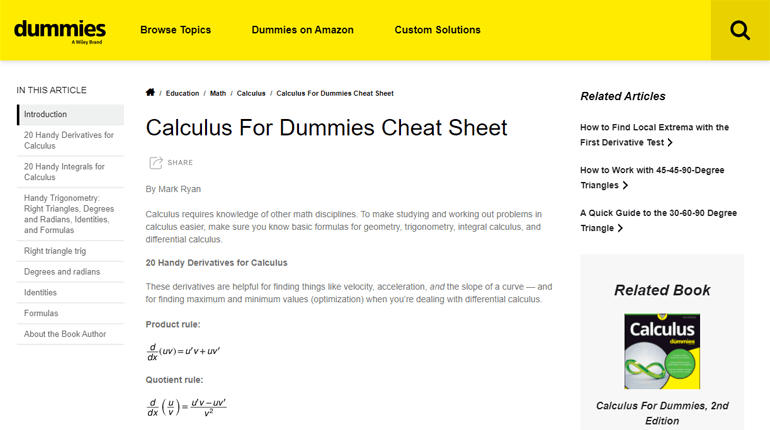 Cheat Sheets can be about many things such as programming languages like C#, HTML, software like photoshop, or even games. Apart from that, you can also go for educational cheat sheets like a list of formulae for trigonometry.
Here are some examples of cheat sheets:
---
4. Comparisons (Versus Articles)
A versus article tells why one product is better than the other. And everyone loves to hear a good argument. It works as a review as well. So it's like inviting an audience with two purposes in a single article.
These articles can be about anything. They can be about electric vs. petrol cars, Intel vs. AMD, Google Docs vs. Microsoft Word, Nike vs. Gucci, anything. Like the article on our blog about WordPress vs. Drupal – which CMS is better for building a website.
Versus articles are also an excellent and clean way to promote your product or service. Let's say you own a clothing brand. You can tell your audience why they should choose your brand over the other ones.
Check this out. We compared some of the best WordPress products side by side.
---
5. Gossips
Gossips are articles where you talk about famous people. It can be about their hobbies, lifestyle, net worth, anything. Show biz is vast and never runs out of content.
There is good competition as well. But people never stop looking up for things about celebrities, so the traffic is always good. For example, people aren't going to stop looking up about Usain Bolt anytime soon.
You can publish about the lifestyle, net worth, relationships of famous actors and actresses like Chris Hemsworth, Angelina Jolie, sports champions like Usain Bolt. The point is, there's a lot of content, and it depends on what interests you.
For an example, look at theses article on:
---
6. Product Review
While the comparison articles work for two or more products, review articles focus on an in-depth analysis of a single product.
Usually, you can review the most searched products. There, you can include newer & relevant details, and it will work for the best. Corresponding to that, we have a review article on Bluehost that includes all the important details.
For instance, you put up a good review about Domain.com, a domain registration service for websites. Then your audience will visit your website for many other website-related services and product reviews as well.
Here's an example of a product review article where we reviewed Bluehost.
---
7. Free Tools
People look up free tools all the time. Free tools introduce many people to something new & unexplored. For example, the free-to-use version of the Zakra theme introduces users to theme features and makes way to learn the premium benefits.
With a bit of research, you can find tons of free valuable stuff online. Then, you can write about them, such as the best free online tools to grow your online business, etc. For example, we have a big list of free WordPress themes on our blog.
You can also promote your magazine by giving away some free stuff. Giveaways are a great way to invite a new audience and introduce your content to them.
Speaking of free tools, here are some articles where we bring you some.
---
8. Facts and Stats
We always love to know something we don't, especially when it's something interesting. Hence, publishing facts and stats in your magazine is an excellent way to increase engagement.
If you can pile up amazing facts, then it keeps the audience engaged. Also, you can impress an intelligent group with good statistics. For example, we made an ultimate list of over 100 WordPress stats and facts to amaze you.
For example, you can write about the fastest cars with their top speed if you love cars. Maybe a statistics report on the richest women throughout recent history. Maybe some amazing facts about the past, or space, or the ocean.
Check out these articles on facts about the WordPress world and everything else.
---
9. Personal Experience
Have you ever noticed that people tend to be more interested in someone else's experience? Yes, it's true. And if it's from a famous person, then they'll jump over mountains to hear it.
This type of magazine article is easier to write. And when it's relatable, people are more likely to share it as well. Remember, instead of a long piece, short & exciting experiences tend to be more engaging, like this list of paranormal experiences.
Moreover, asking your audience to share an unusual experience can increase engagement. Perhaps even share your own experience? Other than that, you can even write about what celebrities said or experienced. It can increase your audience size.
Have a read at these exciting collections of personal experiences.
---
10. Stories
Stories are a great way to engage your online audience. Moreover, when the story is real or relatable, it goes to a newer level. As a result, your content is more likely to be shared and make people stay on your site.
You can publish someone's success stories to inspire your audience. Like the inspiring story of how Elon Musk never gave up and made SpaceX successful. Or you can publish a story by someone, like the fictional story, 'Symbols and Signs' by Vladimir Nabokov.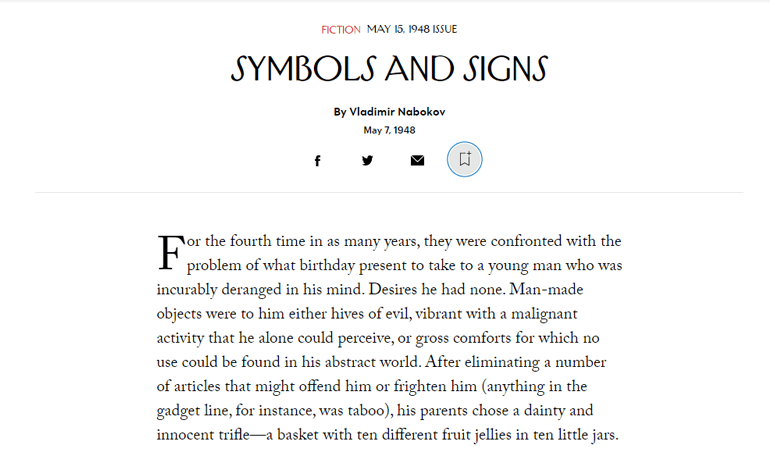 Or, if you're interested in history, then you can write about a historical event such as World War II, but from a different perspective. Conversely, bedtime stories or stories for kids can also work.
Here are some stories to read.
---
11. Wiki
Wiki is a type of article for your magazine that provides visitors with lots of information and resources. Wikipedia is the best example. That's also one of the most significant websites on the internet.
So, you know how powerful wikis can be. And sometimes, letting your users add information & resources to your site can exponentially increase engagement, such as this Harry Potter Wiki where the community can also contribute.
You can find Star Wars fans and work on a Star Wars wiki. Anime series are also popular, so an anime wiki will also do great. Furthermore, you can also talk about how things work, like how jet planes work, airplane flies, etc.
Check out these wikis, for example. They have many resources and details. Spoiler Alert!
---
12. Transparency
Transparency articles are the kinds that talk about lesser-known things. And no, we're not saying you should stalk people & organizations for transparency. Instead, you can look at public data or surf online to find a lot of things.
For instance, you can write about little-known facts about something, maybe some movies like Star Wars. Or, you can talk about data that have been revealed and provide your perspective like this data reveal that shows inequities in federal funding.
You don't even have to search elsewhere for content. You can tell your audience about things in your own business. Staying clean and transparent increases trust and grows your online business as well.
Want examples? Read these:
---
13. Discoveries
This one is like the facts article or the stories. But in this type of magazine article, you can talk about a few discoveries and elaborate on them. If you can provide your audience with amusing discoveries, then they're sure to be impressed.
Most of the time, the articles could be about scientific discoveries, outer space, the human body, or similar stuff. And they work. But they can also be about unique things that people do, such as this article on what a man did to make his daughter a princess.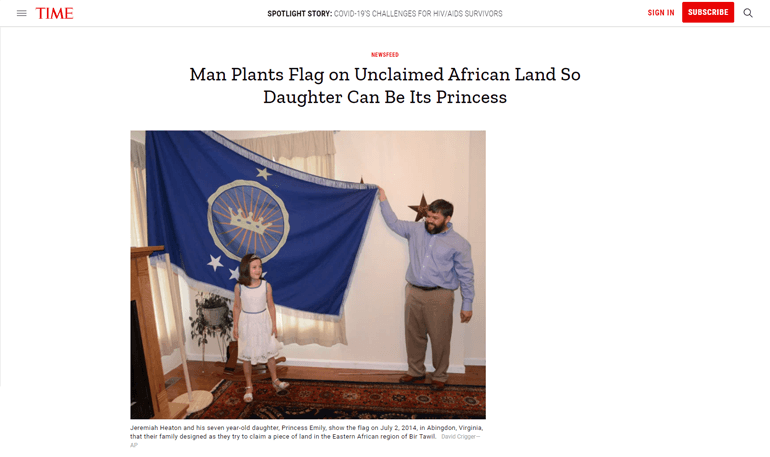 Not only the science stuff, but the article can also be about what someone found in a popular game, like the minus world on Super Mario Bros. Or, to keep it interesting, you can talk about accidents that led to discoveries like Velcro and Microwave.
Check out these articles for examples:
---
14. Daily Dose
Like the title says, this type of article is about satisfying the daily appetite of your audience. Therefore, the content needs to be published regularly. Thus, the article increases audience engagement and keeps your traffic consistent.
A good thing about this kind of magazine article is that it makes your audience more loyal. And it's better to choose a niche that'll consistently provide you the content such as someone's life stories or motivational quotes.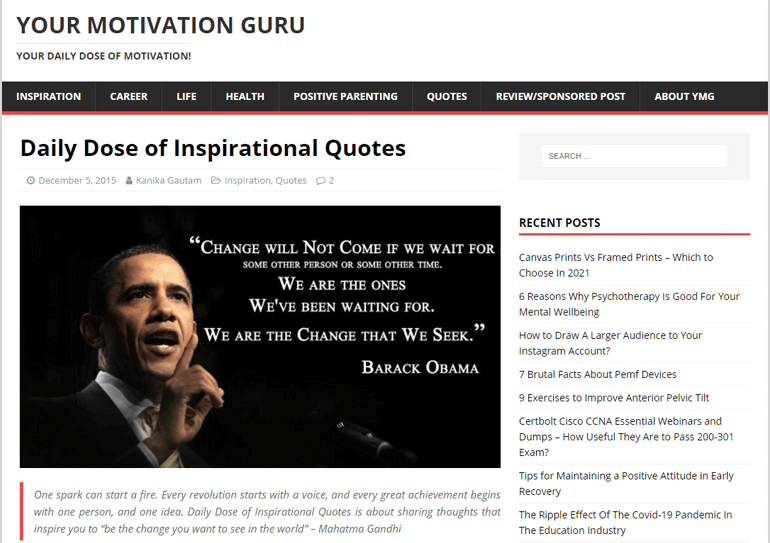 If you don't mind a good amount of media in your magazine, then you can publish a daily dose of memes. If not, how about a daily dose of amazing facts? Maybe a daily dose of inspiring stories & quotes? You choose.
Here are some articles that pack a healthy dose of inspirations:
---
15. Predictions
In these types of magazine articles, you can talk about the predictions that some famous people made.lFor instance, how great minds likeStephen Hawking and Michio Kaku have predicted for the future, or about climate change.
Articles about predictions work for all kinds of people, the religious ones, the science-headed, everyone. Your article can also be about past predictions, like this article on some 100-year predictions that came true.
Apart from these, you can also put forward your own opinions. For example, you can talk about what you think artificial intelligence will bring or what the future of agriculture will hold.
Check out these articles on some popular predictions:
---
16. Research-Based Articles
If you like to research, then you're in for a good treat. You can explore popular topics and share them with your audience. The good thing here is that these types of magazine articles have a vast audience.
Firstly, you impress your audience with your research skills. Moreover, if you publish about things you find interesting, then you'll attract a like-minded audience. For example, an article about Roman Architeture attracts architects and history lovers.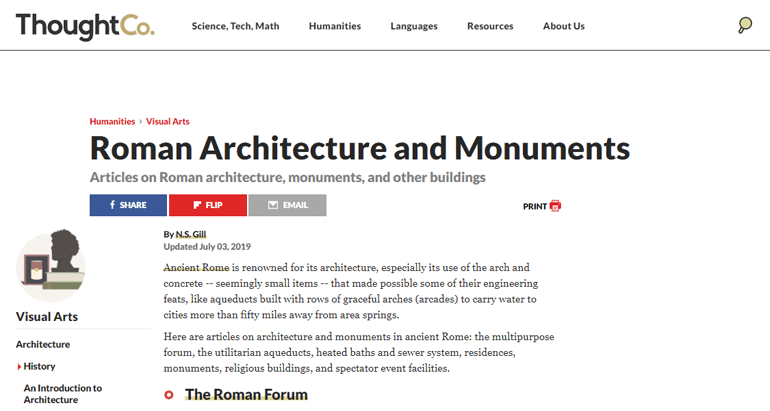 Your research can be about many things. For instance, it can be about what discoveries helped make computers shrink. Or how Google owns a considerable chunk of the internet or what chain of events led to the Cold War.
If you'd like examples, look at these articles:
---
17. Articles About Earnings
Magazine articles about how much someone made or earned can attract a large audience. In these types of magazine articles, you can also talk about platforms that help people make money online, cryptocurrencies, and whatnot.
You'll have an endless supply of exciting content with this kind of article. The article can be about upcoming entrepreneurs or how people made a huge amount of money, like an article about how Jeff Bezos became the world's richest man.
Moreover, a lot of the time, people are just click-baiting by publishing about earning platforms. Thus, if you post an honest review of money-making platforms like Swagbucks, Fiverr, then you are sure to impress your audience.
To have an idea about such content, here are some articles about:
---
18. News Articles
If you like keeping yourself updated about what's happening globally, then this is the type of magazine article for you. And, you can also grab a specific niche to communicate with your audience.
There are a lot of sectors to pick from. For example, you can post about current situations like the pandemic, or business news about stocks, or tech news. For example, check this article about Google's AI tech that can design computer chips faster than humans
You'll never run out of content, and if you publish content regularly, then you'll not run out of the audience as well. Moreover, you can provide your views on topics or give a different perspective to keep it interesting.
Examples? Here are some news articles about:
---
19. Comments and Feedbacks (Customer Response)
It's no surprise that people trust consumer reviews more than flashy advertisements. So, they're always grateful for articles that put forward the opinions of customers about a specific product.
You can also present them as statistics so that the content is more scannable. Finally, you can talk about what consumer reports show and what they mean. For example, what customers think of Ikea boycotting GB News.
Apart from these options, you can also feature some great comments and feedback that your website received. Doing so will motivate your audience to engage more in your content and the comment sections.
Here are some articles about the views of customers:
---
20. Trends
Trends are popular ideas that are developing quickly. New trends rise on the internet every day. And people like to know about those trends and follow them.
You don't have to talk about new trends either. You can talk about popular trends like the chain wallets that took over the 90's and similar stuff. Furthermore, you can talk about current trends that are hauling the internet, like the 20 trends from the last year.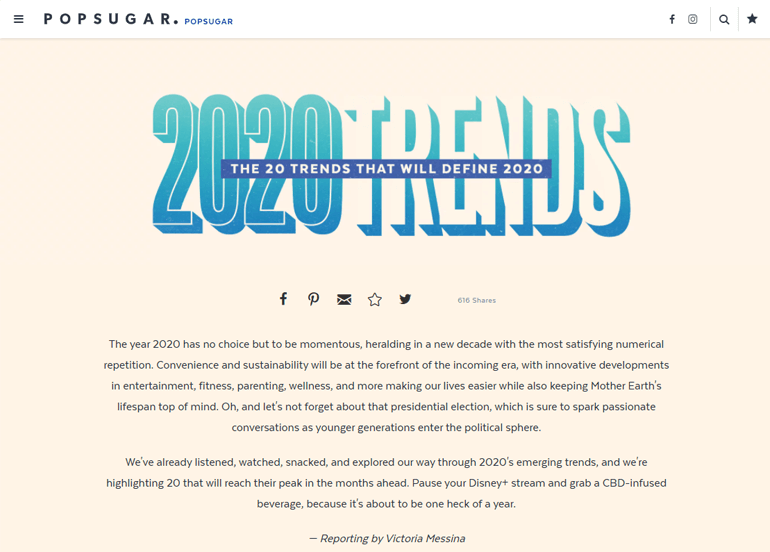 Popular styles and trends can rise from anywhere now. There are lots of platforms like YouTube, Tiktok, Instagram, Twitter for that. And there's always something, so don't worry about running short of content.
Check out these articles that talk about popular trends.
---
B. How to Create an Online Magazine Easily?
Deciding on the kinds of magazine articles to write is not the only hurdle. You also need to create a magazine. And in this section, we'll briefly talk about creating an online magazine, step by step.
So, once you've found the best domain registration and web hosting service, the next important step for your site is to choose a theme. And we've just the suitable theme for your magazine.
Presenting the top magazine-styled theme for WordPress, ColorMag is the best deal you can get for your magazine. ColorMag suits perfectly for newspapers, magazines, blogs, and more.
We recommend ColorMag because of its amazing features. Some of the significant features of ColorMag include:
And you'll find more amazing features once you start using ColorMag.
---
Step 1: Set Up Your WordPress Site
First of all, you need to purchase a domain name and web hosting service. A domain name is your website's name like themegrill.com is our site's name. We hosting is a service which provides space to put your site's files and makes your website appear online.
Choose a domain name suitable for your magazine and register it with a domain registrar. Or you can buy web hosting with Bluehost, and get a free domain for 1 year.
After you purchase a domain and hosting, you'll get access to your hosting control panel (commonly cPanel). From there, you can install WordPress with a click. Next, you'll get your WordPress dashboard from where you can manage your online magazine entirely.
To know the step-by-step process in detail, please check our article on how to create a WordPress site.
Step 2: Installing ColorMag
Now that we've chosen a theme, it's now time to install it. For that, first, log in to your WordPress dashboard.
Then, go to Appearance >> Themes. This is a place where all your installed themes reside.
Next, click on the Add New button on the top left side to access all the themes in the WordPress repository.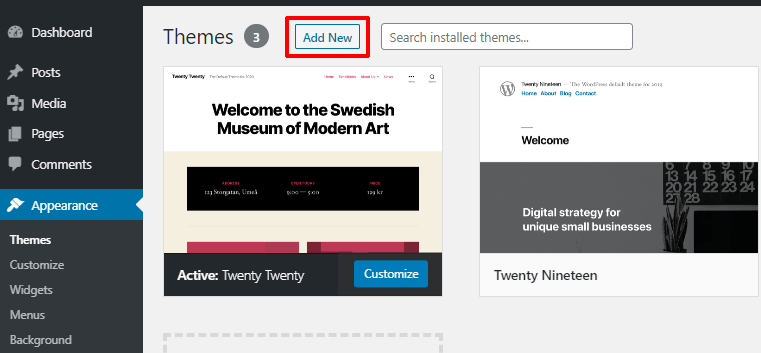 Now, in the search bar on the top right side, type ColorMag. And, as soon as you type in ColorMag, the ColorMag theme will show up.
Hover over the panel of the ColorMag theme, and you'll see the Install button. Click on it.
Once you install the theme, the Activate button will show up in the same place. Click on it.
There, you've installed the best magazine-styled theme on your website. If you want to know more about installing a theme or other ways to install a theme, then check out this article on installing a WordPress theme.
---
Step 3: Choosing a Demo
When you install ColorMag, it'll greet you with a welcome message.
On that welcome message, click on Get started with ColorMag to go to the templates library.
For now, let's go with the first demo site. Hover over it, and click on Import.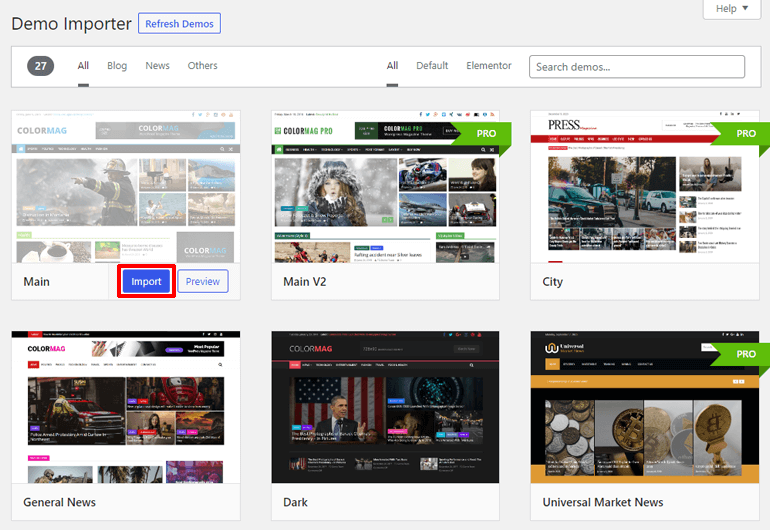 When you click on the Import button, you'll see a text about when you should import a demo site and what happens when importing one. After you read the text, click on Confirm.
Importing a demo site takes some time, but it's worth the wait. And once it's done, so is most of your work.
To view your site, hover over the panel of your template and click on the Live Preview button.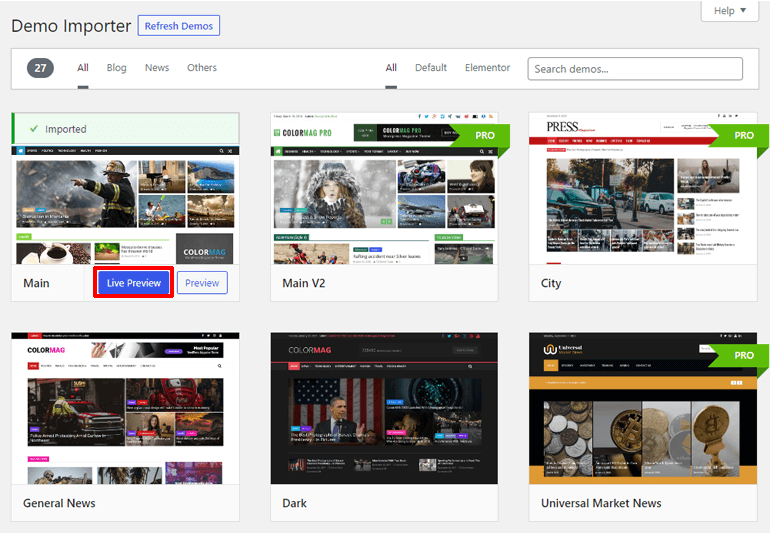 We can tell. Your website looks stunning.
---
Step 4: Customizing Your Website
If you've noticed, ColorMag replaces the default logos and texts with placeholder texts and images. So to give your website its own identity, you need to customize it.
To customize your site, click on the Customize button on the left side of the top bar.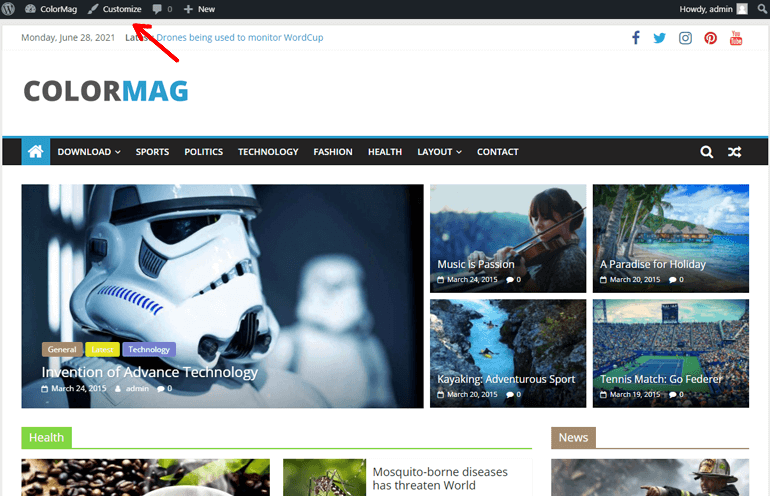 That'll take you to the WordPress live customizer. On the left, you can see different options to customize various parts of your site. And on your right is the live preview.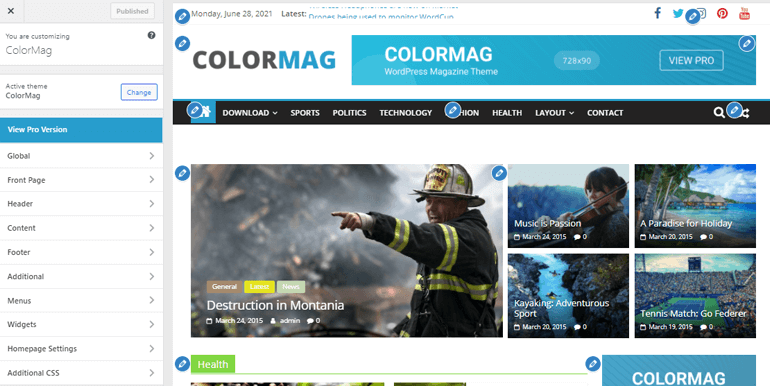 The options are very self-explanatory, and you'll have an easy time customizing your site. Moreover, you can also see the change you made on your right, so there's nothing to fear. You can also access specific customization options by clicking on the pencil icon on the right side of your screen.
Now take your time, customize your site and give the internet a professional and awesome website. And that's it. Your online magazine is ready.
Also, if you want to know in detail about starting an online magazine, then look at this article on How to Create an Online Magazine in WordPress. 
---
ColorMag Theme Free vs. Premium – Which one to use?
The free version of the ColorMag theme is powerful enough to create an impressive online magazine. You can get it for direct install from WordPress.org.
However, ColorMag Pro works perfectly with Elementor. Thus, you'll unlock a new dimension of customization possibilities with Elementor blocks and templates. You need to buy it from its ThemeGrill.com page.
With the premium version, you'll be able to sail in an ocean of features and beautiful pro demo sites. Some important features include integration with WooCommerce, payment gateways, email marketing services, etc.
So, if you want to explore the features, you can try ColorMag's premium version.
---
Wrapping it Up
There are hundreds of types of magazine articles on the internet. And the ones mentioned above seemed to impress more online audiences. So these kinds of articles are good for engaging visitors and getting higher rankings.
We spent quite some time searching for the best kinds of magazine articles. And, our key take was this: apart from the content type, you also need to have a professional website and publish regular content.
So, set your website up, choose your interest, dive into it, and impress your online audience.
We hope that this article helped you to find your type of magazine article. If it did, share it on socials, let's celebrate. And don't forget to leave us with feedback if you have any comments or suggestions.
Also, check out our article on best online magazine WordPress plugins!
Disclaimer: Some of the links in the post may be affiliate links. So if you purchase anything using the link, we will earn affiliate commission.