There is no doubt that in our world of advanced technologies and advancements, our lives are much simpler than it used to be. Thanks to the access to the internet and thousands of online platforms out there, anything we want is only a few clicks away. That too within a matter of minutes or seconds! This is also the reason why more and more people have now taken their business online. Whether you are an artist, writer, freelancer, developer, designer or anything else, owning a website has more advantages than you can imagine.
That being said, another major element of a successful venture is surely the online presence you have on the popular networking site. That's right, promoting and marketing online is so much efficient and thus has taken over most of the traditional methods. And we know exactly why? In this age of digitalization, people are more likely to read an article or ad online with more interest than in a newspaper. Anything that your potential clients need, they are more likely to search for them online.
To sum it up, a functional website to represent and what you do goes hand in hand with a great online presence on major networking sites. While most of us have managed to make it work somehow, sometimes we do come across situations when we think if there is an easy way out! Sharing contents on your website is one thing, but repeating the process several times with each social platform is just time-consuming. But what if we tell you that there indeed is a simpler way to do so? Social Media Automation for your website. We are sure you have heard of it before, but if you haven't then today we will talking all about it in brief. In addition to this, our article today also deals with the top WordPress Social Media Automation Tools and software to help you out!
---
What is Social Media Automation?
First and foremost, let's tackle the obvious question that is on everyone's mind. What exactly is social media automation and how do we automate social media for our WordPress website. The simple definition would be the process that enables the user the control over automatically sharing the contents of your personal website on the social sites that have been linked. This is how it usually works:
You Link Your Social Media Account on your websites ⇒ You Edit the Settings ⇒You Create a Post and Publish it ⇒ The Contents also automatically post themselves on your social media account ⇒ More People find the Content ⇒ More Conversion Rate ⇒ More Sales ⇒ Successful Business
But as easy as it sounds, we have come across our users having trouble getting things done their way. Even more, people have come to us with questions like what tools and software are best for social media automation? Well, fear not! Today we will be discussing exactly that!
---
When it comes to social media marketing and content management, there are plenty of options to choose from. Thanks to the third-party designers and developers, you have the freedom to get the best of the best. But to simplify the process, today we are enlisting the top ones out there. For your convenience, we have also categorized them into Free and Premium! To start, let's begin with the free ones!
Free WordPress Automation for Social Media Plugins!
1. Social Web Suite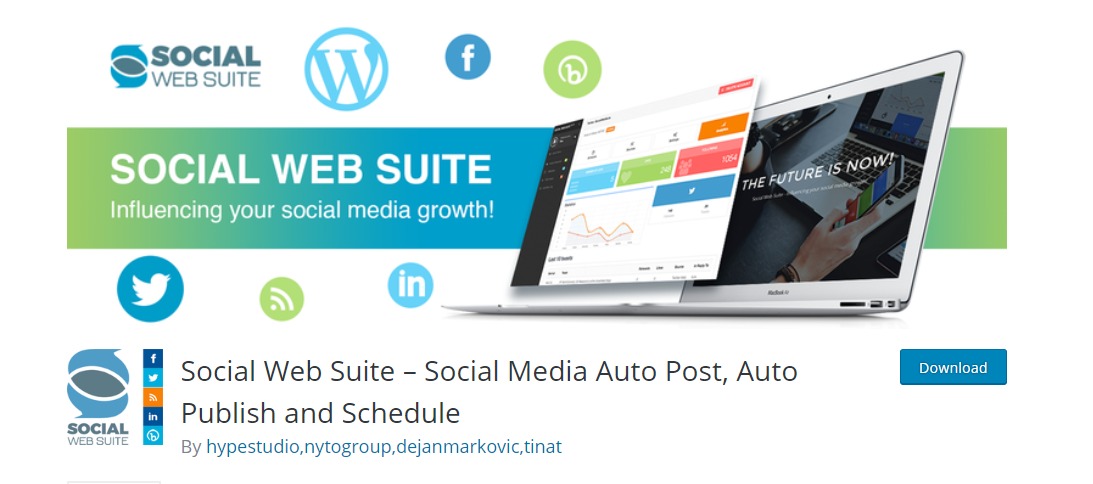 Social Web Suite is a Free WordPress social media automation tool that you can use for an efficient social media marketing. It enables the users' tons of amazing options so that they have a great online presence. Auto-post, schedule, manage, publish and customize your contents with ease.
But that's not all, this social media automation tool also gives you a detailed social analytics so that you can keep track of your progress. Simply the full package and that too Free! We definitely recommend this amazing plugin if you want to grow and promote your website!
Key Features:-
Share your posts according to the settings you have chosen automatically.
Bit.ly analytics integrated so you have all the details in check.
Add Custom messages to each of the contents you share.
Supports Custom Post Types and Custom Taxonomies.
Connect within a matter of minutes.
Option to share contents as pure links without media files.
Choose the Hashtags for each social account separately.
2. Easy Social Sharing
Easy Social Sharing is one of our in-house WordPress social media automation plugins. It is efficient and the whole package of everything that you might require for a successful venture. Including tons of popular social network integration, you can easily link and automate your contents. Additionally, the responsive design also features an Inline layout that works great with posts.
The interface is extremely easy to work with and is beginner-friendly. Choose from tons of design variation to try out. You can even view it Live to know exactly how each element looks. A great choice for beginners and even for pro marketers, this plugin features all the necessary ailments.
Key Features:
Automatically share your posts according to the settings you have set.
Get over 18 popular social media icons that you can integrate with ease.
Schedule, Repost, Share contents within a matter of minutes.
Floating Sidebar layout option for a more professional touch.
Option to display the Sharing Counts for each post.
Show the social media buttons either above or below each post.
Pro Version Available for additional features.
3. Nelio Content
This is yet another amazing Social Media Automation tool that we recommend our WordPress users. Effectively share the contents, schedule, create, promote as well as grow your social presence. Featuring one of the powerful tool- The Editorial Calendar, it enables any users the unified view of all the contents. The Drag and Drop tool included adds to the efficiency when scheduling.
In addition to this, the plugin also gives in a way for multiple social media publication. What's great is that you also get Content Assistant that analyzes the posts and recommends the best actions you can take. Share, Promote and Grow to the maximum potential with Nelio Content.
Key Features:
Share the title and permalinks of your posts when you publish them.
Analytics available to keep track of your websites progress.
Multi-user plugin option so that you can work with your team.
Suggested references for Images, Featured Images and more.
Illustrate your ideas alongside the old posts that you can link with ease.
Drag-and-drop feature for the Editorial calendar for more flexibility.
Premium Version available for more advanced features.
4. GetSocial.io
Last but certainly not the least, GetSocial.io is also an amazing option for anyone looking to get a steady online presence. It helps you increase traffic, social shares as well as conversions and sales. One of the best ways to gain online traffic, utilize your social platforms to the maximum potential.
Get amazing social share buttons with fantastic designs included. The plugin package is packed with 18 different tools that all help you to promote and grow your business. Publish, Share, Schedule, Research and get the best online social experience only with GetSocial.io!
 Key Features:
Fully responsive and amazingly designed social share buttons.
Does not impact the site loading speed in any way.
Real-time social analytics to help you keep a record.
Virality Alert so that you know which posts are popular.
Social Media Automation with ease on all popular social sites.
Variations of Share Buttons and Social Sharing.
Copy And Paste Share tracking to know when their posts are shared via copy and paste.
Premium WordPress Automation for Social Media Plugins!
1. Social Media Auto Poster
Social Auto Poster is an awesome and easy-to-use Social Media Automation WordPress plugin you can find out there. It has been developed the social media autoposter to automate the process of posting your WordPress posts to different social media channels. Get integration with all the major social media platforms and be the one to grow your online presence immensely
No matter what kind of social media service you require like likes follow, increased traffic, great views or more, this plugin helps you get it. Moreover, it is also extremely user-friendly so that even the beginners can join in. You can even grow your member or followers with interactive Sign-up and easy login system this plugin features. But that's not all, there are plenty of other features included!
Key Features:
Allows for autoposting new and old content.
Supports custom post type.
User-friendly interface making it suitable for beginners.
Easily track your clicks.
Auto reposts and scheduled posting.
Total control over social media shares.
2. PrestaShop
PrestaShop is a unique and efficient WordPress social media automation plugin that is useful while sharing your contents. The module is built with a fully responsive structure and ensure the maximum growth of your traffic. Share automatically based on the settings you set within a matter of minutes. Best suited for businesses and online shops, this plugin is the all-in-one package! 
What's awesome is that the posts are made of deferred manner which you can easily choose to publish. In addition to this, you can even randomly choose the products of the store to post. Set the exact date and time, include or exclude products, display product links and much more. More of the features are listed below.
Key Features:
Multi-store and multi-language compatible plugin.
Easily add the product name, link description, picture and more.
Option to add only new posts and` products.
Posts on Twitter alongside the Twitter Cards and a link.
Category restriction for every posts and product.
User-friendly and easy to use interface!
3. AccessPress
AccessPress social Auto Post is the perfect WordPress plugin to automate your contents and post in the easiest manner. Easily configure your social accounts and let this plugin take care of everything else. You can customize the settings so that you have the full control over what you wish to post!
There are plenty of premium features that make it one of the best out there. In addition to this, you also get integration with all major social media sites and unlimited configuration. Here is a sneak peek into what more there is!
Key Features:
Autopost option for all major social media sites.
Add unlimited accounts for each social sites with ease.
Auto Post filtering option for your convenience.
Option to shorten the long URLs for Twitter.
Logs are available to keep track of your activities.
Enable or disable the post in post screen.
Wrapping It Up!
When it comes to promotional and marketing activities, the most efficient and effective method is surely social media and online platforms. So today we have made the process even simpler with Social Media Automation for WordPress. All of the plugins for Social Media Automation we have enlisted today serves the one purpose of automatically taking care of sharing and promoting your contents. You can rely on these with ease and let them take care of it for you. We hope at this point, you have now understood the advantages of Social Media automation. With both and Free and Premium options out there for you, we hope you get the best one!
Did you like our article? We are always open for feedbacks, leave a comment down below to let us know! If you want to check out some more of our WordPress plugin collection, click on the link below!
Disclaimer: Some of the links in the post may be affiliate links. So if you purchase anything using the link, we will earn affiliate commission.