Want to know how to make an application form for a job in WordPress? If yes, you've just entered the right place.
Every business organization whether large or small needs an easy and effective way to deal with job applications. And the best solution for this is to create a job application form in WordPress.
Doing so, you pave an easy option for job applicants to apply. Further, it also helps you to manage received job applications systematically.
Hence, in this post, we'll discuss how to make an application form for a job in WordPress. Let's begin!
What is the Job Application Form? (Definition)
A job or employment application form is an official form for the applicants asking several questions about the individual and their skills related to the job. Such a form helps to collect all required information about the applicants. So that you get to select the best-suited ones for open positions.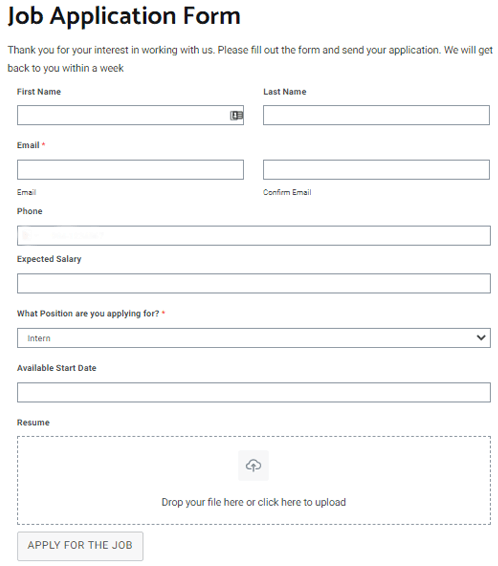 In many ways, the job application form is vital for all kinds of organizations.
In the past, businesses tend to use paper job applications. But nowadays, almost every company has its application form online. Thanks to platforms like WordPress that help to create job application forms in the simplest way possible.
---
Why Do You Need a Job Application Form?
A job application form holds distinct significance similar to other important aspects of your WordPress site like contact forms. Well, you might have not given it much thought. But having a job application form is really helpful and impacts a good impression.
More reasons to add employment application to WordPress website are:
1. Applying Online Becomes Easier: A job application form enhances an easy and straightforward application process. Thus, it lets the interested applicants apply for the job online without any hassle.
2. Make Yourself Reachable: Adding a "Careers" or "Jobs" page on your website allows attracting talented people to join your team. You make your company reachable to the best talents which will prove to be beneficial in the long run.
3. Systematic and Secured Management: Creating a job application form provides a great sigh of relief for your HR and recruitment team. No more paper, email spam, and no more manual data. You can receive the applications in the same format from a single source. It saves a lot of time & effort for managing job applications.
4. Upgrade Your Entire Job Application Process: A job application form is an advanced one in many ways. It ensures better accuracy as there are fewer chances of mistakes or severe errors. Also, you can employ automatic filtering software where the applicants must meet specific criteria.
5. Be Independent: With the "Jobs" and "Career" pages on your site, you don't have to bother through online job boards. Most of them are often costly and not useful for selecting ideal candidates. Even job seekers might feel lost on the complicated formalities of online job boards.
---
Choosing a WordPress Plugin to Create an Application Form for a Job
Now, you know the vitals of creating an application form, let's move on to know how to create an application form in WordPress. There are two ways to add employment application to a WordPress website. One is with coding and the other is without coding.
If you're looking for a simple way out, then definitely the second option is a better one. For that, you need to choose a WordPress plugin that allows you to create a job application form.
There are many beginner-friendly form plugins on the market that helps you create different forms for your business. Amidst all, our best pick for making a job application form is Everest Forms.
We recommend using Everest Forms as it's the best WordPress plugin for creating job application forms. Being a multipurpose form plugin, it can build any type of online form required on your site.
Featuring a drag and drop interface, it's totally beginner-friendly and easy to use. It also highlights the attractive design of pre-built templates and tons of customization options. You can build unlimited forms in just a few clicks with Everest Forms.
The best part is Everest Forms is free. However, if you want to work with its advanced features, you might have to opt for its pro-version that would cost only $49/year. And since it's a freemium platform, you can give it a try and test if it matches your needs or not.
With that said, let's dive into the next step where we'll discuss how to make an application form for a job in detail.
---
How to Make an Application Form for a Job in WordPress? (Step-by-Step)
Step 1: Installing Everest Forms Plugin
The very first step for making a job application form is to install and activate Everest Forms plugins.
At first, log in to your WordPress dashboard. Then, navigate to the Plugins >> Add New.
A page showing numerous plugins will appear on your screen. Then, search for the Everest Forms plugin using the bar on the right-hand side. Click on the "Install Now" button after the plugin shows up.
Right after the installation, you can press the "Activate" option to activate the plugin to your site.
You just installed and activated a free version of the plugin. What you need to understand is you'll have to start from scratch if you're creating a job application this way.
But, if you're a beginner and prefer to go with the easy & fast method, you can build a job application form from a pre-built template. For that, you've to upgrade to the premium version of Everest Forms.
You can purchase the premium version of Everest Forms from WPEverest. The purchased plugin will be downloaded as a zip archive on your computer.
To install and activate the downloaded zip file, go to Plugins >> Add New. On the top left side, you can see the "Upload Plugin" button. Click on it and choose the file you downloaded before. After you upload, click on the "Install Now" button and then activate it.
Soon after that, you'll be asked for the license key that you get after purchasing a pro-version of the Everest Forms plugin. Once you enter it, you can start creating your application form.
Note: A free version of the Everest Forms plugin must be installed and activated for Everest Forms Pro to work.
For detailed information, make sure to go through our easy guide on the plugin installation.
Step 2: Creating an Application Form for a Job in WordPress
As we discussed already, Everest Forms allows you to create an employment application in two different ways, i.e., from a pre-built template and from scratch. Now, let's be familiar with them in detail:
I. Creating a WordPress Job Application Form with a Pre-built Template
It's the easiest and fastest method to create a job application in WordPress, more feasible for beginners. For this, go to Everest Forms >> Add New.
Here, you'll see various kinds of pre-built form templates including one for the job application form.
Simply, hover your mouse over the Job Application Form template. It shows the option of "Preview" and "Get Started". You can click on the "Preview" button if you want to get an idea of how it looks like. Or else, click on the "Get Started" button.
Now, you need to give a proper name to the form. It also shows the required add-ons that will automatically download when you click the "Install & Activate" button.
Then, you can hit the "Continue" button to start. After that, a job application template will open up on your screen that looks something like below.
II. Creating a WordPress Job Application Form from Scratch
It's an alternative method where you can create and design the whole application form on your own. It may sound fascinating but the task is a little vague and requires extra effort.
However, the biggest advantage of using this method is you can add any question of your choice. It gives complete control over your form and you can utilize it to the fullest for enhancing your company/business.
To start from scratch, navigate to Everest Forms >> Add New from your dashboard.
Then, click on the "Start From Scratch", the first option on the first row.
Next, you need to give a proper title to the untitled form and continue.
The Everest Forms editor page will open up on your screen.
Now, you can start adding required form fields and customize them as per your requirement.
---
Step 3: Adding Required Fields and Customizing the Form
As the Everest Forms editor page appears, you can continue creating the job application forms. You'll see two major tabs "Add Fields" and "Field Options".
The "Add Fields" section has a variety of fields that you can consider adding to your application. It's divided into two major fields as General and Advanced.
I. General Fields
This section contains the following form fields :
First Name and Last Name: Lets you access the first and last names of your job applicants respectively.
Single-Line Text: Permits receiving one line text information from the applicants as per your need.
Paragraph Text: Allows you to receive descriptive and lengthy responses (usually a paragraph).
Dropdown: Lets you add multiple options in a dropdown menu from which the applicants can select one.
Multiple Choice: Allows adding multiple choices using radio buttons where the applicants can select the suitable options.
Checkboxes: Lets you create multiple choices using checkboxes where the applicants can select more than one option.
Number: Allows receiving phone number of your job applicants.
Email: Permits entering email addresses of your employees.
II. Advanced Fields
This section allows you to add several advanced options to your forms.
Website/URL: Allows the applicants to enter their personal or business URL.
Date/Time: Lets users to enter the requested date and time on your form.
Apart from them, with Everest Forms Pro you get access to more advanced fields as mentioned below:
Image Upload: Allows the applicants to upload images of various kinds (jpg, png, gif, etc).
File Upload: Allows the users to upload resumes, and other files on the form.
Hidden Field: Allows to add specific information to the form, to be passed through the form processor along with the data entered by the visitor.
Phone: Lets users add phone numbers in the frontend.
Password: This allows you to create a field that doesn't display what the user types.
Custom HTML: Lets you prepare the section where you can display the code entered in the backend.
Section Title: Permits you to add field section and break the fields into groups.
Signature: Allows you to receive e-signature on your WordPress job application forms.
Address: Allows the applicants to enter all address related information.
Country: Lets you list all the countries in a select box for the applicants to choose from.
Range Slider: Permits you to display a user-friendly bar slider in the front-end.
Privacy Policy: Allows you to place a 'terms & conditions' or 'site policy' on your form.
Well, you don't have to use each and every one of them. Rather, you can simply select the ones you feel are important for the form you're creating.
For instance, since we're creating a job application form here, you may use form fields like Name, Email, Phone, etc. You can also use Single Line Text and Paragraph Text to obtain essential information in a line or paragraph.
Not to mention, you can also use the Image and File Upload fields to allow your applicants to attach images, resumes, and other important files.
With the drag and drop interface of Everest forms, you can easily add the required field to your form.
Moreover, you can customize the individual fields from the "Field Option" tabs. From here, you can edit your form field label, add a description, and make the form required to restrict users to proceed without filling a particular field.
Likewise, its "Advanced Options" also let you enter placeholder text and add custom CSS.
Enabling Conditional Logic
Everest Forms also enables you to add conditional logic in your job forms. Conditional logic allows you to show and hide fields based on the previous field input.
Applying conditional logic features can help you create a minimal, user-friendly, and dynamic job application form for your website. You won't miss any essential information or details this way and the form will be simple & precise.
For example, let's say you want to know if the applicant has any experience in a similar job. If the answer is positive then you may further want to ask the number of years or so on. In such a case, you can enable conditional logic.
For this, you need to add a Multiple Choice field to your form first. Then, click it to customize the field options. You can enter the label as "Do you have any experience working in similar fields before?" and add the required choices as Yes and No.
After that, add a Single Line Text field below it and click on the field to edit it. Label it as "For how many years?". Next, scroll down to the conditional logic option and enable it.
Then, click on Show this field if "Do you have any experience working in similar fields before" is "Yes" and save it.
Now, whenever the applicants choose "Yes" for the question, another field "For how many years" will be shown. However, this field won't be displayed if the answer choice is "No".
---
Step 4: Configuring General Settings of Job Application Form
You should also configure the necessary job application form settings before you can publish it. This step lets you take control of everything that would be displayed, submitted, or disabled in your form.
To configure the form settings in WordPress, navigate to the "Settings" tab at the top of the page. You'll see two different settings tabs as "General" and "Email".
The General Settings consist of the basic form settings which we'll discuss in this step. Whereas, Email Settings are for adjusting the emails and related notifications once the applicant submits the form which we'll discuss in the later step.
Under the General Settings, you can change the options as mentioned below:
Form Name: Edit a name of your form, for eg: Job Application Form.
Form Description: Add a brief description regarding the purpose of your form.
Form Disable Message: For displaying the message once you disable the form.
Successful Form Submission Message: Displays text to the applicants after they submit the form.
Redirect To: The option to land the applicants to the desired URL after the form submission. It has three options: Same Page, Custom Page, and External URL.
Layout Design: Allows you to select from any two pre-built design: Default Layout and Classic Layout.
Form Class: Allows you to add an additional class to the created form.
Further, you have various options for the Submit button like Submit button text, Submit button processing text, and Submit button class. Additionally, you can enable or disable anti-spam form submission, ajax form submission, and storage of entry information.
After you configure these settings, don't forget to hit the "SAVE" button at the top right corner.
---
Step 5: Configuring Email Notification of Job Application Form
Here comes another important step on how to make an application form for a job, i.e., to configure the form notification. The purpose of creating a job application form becomes useless if you (the admin) or the applicant aren't properly notified.
Thus, customizing your form notification alerts you whenever the applicants submit the form. It also lets you reply to your applicants and confirm their form is successfully received.
To configure the form notification, go to Settings >> Email. By default, the Email Settings are always turned on. There, you can see multiple options related to email.
With Everest Forms, you can configure unlimited notifications. The "Admin Email Notification" is already configured by default which triggers the notification to the admin. You can also create a "User Notification Email" that would notify the users who fill-up the form.
I. Setting Up Admin Email Notification
Even though the admin email notification is already created, you need to check on its settings just to be sure that the email is delivered without any problem.
To Address: It allows you to add an email address where the email notification goes after a user submits the form. You can set the admin email here.
From Name: It enables you to add the desired name that appears while sending the form. You can grab the name automatically using smart tags.
From Address: It refers to the email address from where the forms are sent. You can again use your admin email here.
Reply To: It lets you add the email address where you want the email to be replied to when the email receiver clicks on the reply. You can use smart tags to automatically get the applicant's address here.
Email Subject: It allows you to add the subject of the email.
Email Message: It refers to any specific message you want to send along with your form.
II. Setting Up User Email Notification
Setting up a user email notification is a great way to connect with the applicants who fill the form. For this, click on the "Add New Email".
Now, type "User Notification" when it asks for a name to get started and hit "OK".
Then, start by filling up the details as mentioned below:
To Address: Use the smart tag to get the email address of the applicant who filed the form.
From Name: Enter your business or company's site name.
From Address: Add your admin email address.
Reply To: Add the email address where the applicants can reply; for instance, the admin email.
Likewise, you can fill in the "Email Subject" and "Email Message" as you did in the admin setup. After making these changes, remember to click on the "SAVE" button.
With this configuration completed, your job application form is all set and organized.
---
Step 6: Publishing Your Job Application Form
Up to now, you've crafted and saved the draft. This reserves the place of the created form in the database but still, users can't see it. So, the step of publishing your form is vital.
Now to publish the saved draft, you need to add it to the pages or posts of the WordPress website. For this, you can follow the simple steps below.
First, navigate to your WordPress dashboard and go to the "Add New" option of the "Pages" section.
The WordPress page editor screen will appear. Now, provide a proper title like "Jobs & Career". After that, click on the add block (+) button. Again, search for the "Everest Forms" block and press it.
Then, select the job application form you created before from the dropdown menus.
Finally, hit the "Publish" button right at the top corner.
Not to mention, you can also hit the "Preview" button before you publish it. Your job application forms look something like this from the front end.
Congratulations, you've successfully added an employment application to your WordPress website.
View Your Job Application Form Entries
For checking out a detailed stat of your form entries, navigate to the "Entries" option within the Everest Forms. It shows the total number of submissions along with the complete and incomplete ones.
It also shows the data range of your job application form and device breakdown. You can also easily download the form as CSV, or delete it as per your necessity. After all, the major motive of presenting these stats is to make the selection process easier and more reachable.
---
Conclusion
To wrap up, a job application form is an important document for any type of organization. They will make the job application process easier and more systematic. If you want to upgrade the entire employment-related process, you should have a job application form on your website.
Amidst all, plugins like Everest Forms are spectacular WordPress form plugins for creating an application form in WordPress. They are regularly updated and provide a secured convenience.
Likewise, you can go through our handpicked list of must-have WordPress plugins for more suggestions. Also, if you want to create a contact form for your site, we also have an easy tutorial for that.
Well, that's it for our easy guide on how to make an application form for a job in WordPress for now. If you think it helped you, please do share it. And, don't forget to add your valuable comments and suggestions in the comment section below.