Wondering how to place ads in WordPress? Look no further because this article will answer all your queries about how to put ads on your WordPress website.
Online advertising has become the new norm for businesses. So, it's high time for people who want to monetize their WordPress site by publishing ads on it. Promote a company by placing online ads on your site and get paid. Simple as that!
This article will let you in on the 3 easy ways to do this. Interested? Read ahead to learn more.
What type of Ads can you put on WordPress websites?
There are typically 3 kinds of ads that you can place on WordPress sites.
1. Banner Ads
Banner ads (display ads) are rectangular or square, image-based graphic displays placed on the top, bottom, or sides of a website. Think of them as the digital version of billboards we see in our day-to-day life.
Their purpose is to get visitors who see the ad to click on it and visit the advertiser's website. If the banner ad is attractive and gets the point across clearly, they work as a great tool to create brand awareness and generate leads.
And the publishers who host these ads on their website get paid by advertisers based on clicks, impressions, or specific actions performed through the ad. The action can be anything from buying the advertised product to downloading e-books.
---
2. Google AdSense
Google AdSense is a free ad network that lets you place ads on your website. You get plenty of ad types with AdSense, such as display ads, in-feed ads, and matched content ads.
As long as you have ad space on your website, Google AdSense will match available ads to your site based on the content and visitors. This is possible because of an online auction where advertisers bid on your ad space.
So, you get the highest paying ads on your site. Since Google AdSense pays the publisher for the ads per click, impression, or action performed, the highest paying ads mean higher profit for you.
---
3. Affiliate Ads
The way affiliate ads work is pretty simple. Publishers, also called affiliates in this case, promote a brand or product on their website as recommendations or reviews. They do so by using affiliate links that direct visitors to the advertiser's site or products.
For every successful sale through the links, the affiliate earns a commission. Moreover, they're free to use anything between banners, simple images, and text links as affiliate ads on their website.
One important point to remember in affiliate advertising is that you have to be transparent to your audience about it. You don't want the audience thinking they were manipulated into buying a product despite your honest intentions.
So, remember to include an affiliate disclosure when you place affiliate ads on your WordPress website.
You might have guessed this by now. If you're planning to make ad placements as a significant source of your income, you'll need a website with high traffic.
With more people visiting your website, the chances of them seeing the ads, clicking them, and buying the advertiser's products are higher.
---
3 Easy Ways to Place Ads in WordPress
Now, let's finally move on to the 3 easy ways you can place ads on your WordPress website.
1. Putting Banner Ads with ColorMag Theme (Easiest Method)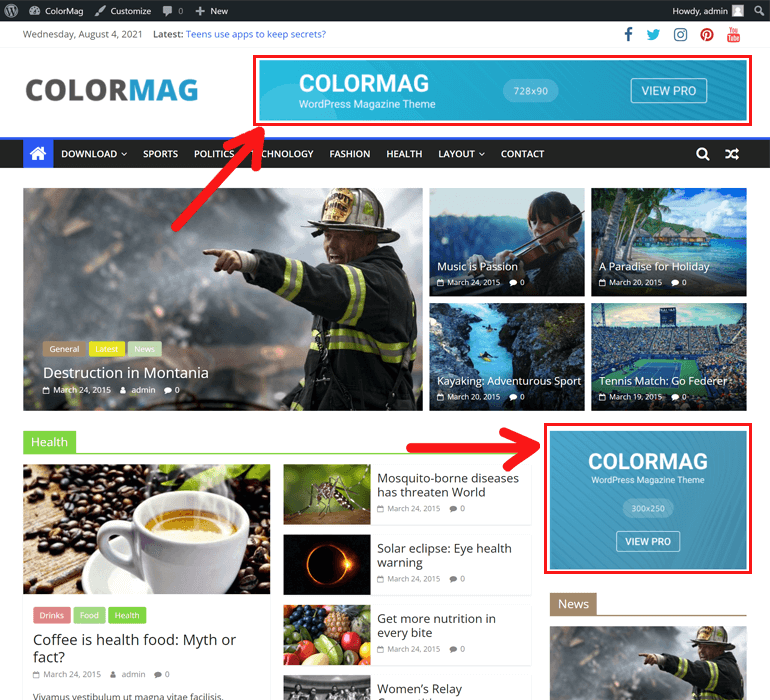 The easiest way to put banner ads on your website is with the ColorMag theme. Why? Because this WordPress theme is designed with advertising banner widgets of different dimensions. That means you can simply use these widgets to insert ads on your site and get paid by the advertisers.
For instance, the main ColorMag demo has 3 banner ad dimensions: 728 x 90, 300 x 250, and 125 x 125. Where you want to place these ads is entirely up to you.
To do this, install and activate the ColorMag theme and import the demo on your website. After you've set up the theme, go to Widgets under Appearance in your WordPress dashboard.
Here, click on the widget area you want to place any of these ads in. Then, press the plus icon, search for the advertisement widgets, and add the ad widget of your choice.
After that, give the ad a title, insert the destination link, and upload the banner image you've prepared.
Once you hit Update, you've created a new banner ad as quickly as that.
You can sell these ad spaces you created directly to advertisers. Another option you have is to use responsive ad slots from Google AdSense and sell them through this third-party platform. Remember to use responsive ad code only because anything else may conflict with the theme's responsive design.
With that said, let's take a deeper look at how you can add Google AdSense to WordPress in the following method.
---
2. Adding Google AdSense to Your WordPress Blog
With Google AdSense, all you have to do is create ad spaces on your site. The rest is handled by AdSense, like online auctions and payments from advertisers.
But how do you create ad spaces in the first place? Don't worry because we have a brief guide to help you out.
The first thing you need to do is create a Google AdSense account from here. Enter the URL of the website you want to display the ads in and your email address.
Finish the registration by choosing your country and agreeing to the Google AdSense terms and conditions.
After that, you'll be taken to your account dashboard. From here, you can either auto-generate an ad code or manually create one yourself. So, here's a walk-through of both methods:
I. Auto Ads
Click on Ads on the left panel and choose By site. Here, you can get the code for Auto ads meaning AdSense will automatically find the best space for ads and place them there.
You'll have to copy the code and paste them in the <head></head> tags of all the pages you want to display ads in.
A plugin like Insert Headers and Footers makes this process much easier by automatically inserting this code site-wise. So, you can try using that as well.
After you install and activate the plugin, go to Insert Header and Footer under Settings. Paste the code you copied from AdSense into Scripts in Header and click Save.
This will display Google Ads on all pages of your WordPress website.
---
II. Manually Creating and Adding Ads
In the By ad unit section, you can create ads of your choice and manually place them on web pages or blog posts in WordPress. Let's choose the Display ads unit for now.
The shape and size of the ad are your decision. Apart from that, we recommend using responsive ads because it adjusts according to the visitors' screen size.
As we mentioned earlier, make sure you only use this responsive ad size for placing AdSense code in the ColorMag theme.
Then, give your ad unit a name and click Create.
Now, AdSense generates HTML code that you can copy and paste into a Custom HTML widget in your WordPress website. It also provides Accelerated Mobile Pages (AMP) ad code for AMP pages.
Besides that, In-article ad units help you insert ads in between paragraphs of your blog post content. On the other hand, you can insert ads between lists and posts with the In-feed unit. Just copy and paste the generated code wherever you need them.
The ads should start displaying within a few hours of placement. But it might take as long as two weeks before your account is approved by AdSense.
And don't forget to fill in your payment details on the Payments page to enable your site's monetization. Moreover, there are detailed reports on how your ads are performing for you to analyze on the Reports page.
---
3. Using WordPress Ad Plugins
Your third option is to use WordPress ad plugins to put ads on your website. Here are a few key things that a good ad plugin offers:
It creates a space on your website to insert ads automatically or lets you choose the ad spaces. 
If you deal with many ads and advertisers, its management features come in very handy.
It allows you to sell ad slots on your own or use a third-party platform like Google AdSense.
It comes with features like geo-targeting and tracking for successful ads.
You'll find plenty of ad plugins, some free and some premium. But if you want to test the waters with a free plugin first, we have 3 excellent picks for you to get started. You can later upgrade to their pro versions if needed.
Ad Inserter is a popular WordPress ad management plugin that automatically inserts ads on your pages and posts. However, you can also pick locations you want ads to be displayed in, such as header, footer, and paragraphs.
Additionally, this plugin comes with a visual advert editor that you can use to create ads. It also offers the ad rotation feature that displays different ads in the same ad space with every page load.
---
Advanced Ads lets you place unlimited ads of various types like banners and AdSense ads in WordPress. You can serve them to people based on their location with the geo-targeting feature. You can even schedule ads and set start and expiration times for them.
Like Ad Inserter, ad rotation ensures that your ads are fresh and served from different advertisers. Moreover, it comes with the Selling Ads add-on to help automate the selling process on your website.
---
With AdRotate, you can easily add, edit, and manage all the ads on your WordPress website. Plus, it keeps track of every click and impression and calculates the Click-Through-Rate (CTR). You can view the data in AdRotate's statistics and export it as well.
This plugin enables you to group multiple ads into a grid, column, or row to publish on your site. It also disguises ads from ad-blockers to reduce the number of blocked ads. Furthermore, you can let advertisers create and manage their ads to save your time.
---
How to Create High-Converting Ads? (Key Aspects to Consider)
But wait, simply placing ads isn't enough. There are some important aspects things you must consider for a successful digital advertising campaign.
1. Location
Visibility is a crucial factor in high-converting ads. Placing ads on parts of your website that immediately catches a visitor's eye increases the chances of them clicking on the ads and performing the desired action.
So, it's best if you place them in the header section or the sidebar. You can also put them at the bottom of a page. Still, the header and sidebar have better visibility since visitors don't have to scroll to see the ad.
That's not to say any other location is terrible. For blogs, you can put ads in between the article or after an article ends as long as it's relevant to the content you're discussing.
---
2. Ad Banner Dimension
While trying to place ads on your WordPress website, you'll come across numerous banner dimensions.
But specific dimensions have been observed to perform better compared to others. According to Google, the 5 best-performing ad sizes are:
Leaderboard (780 x 90)
Large Rectangle (336 x 280)
Medium Rectangle (300 x 250)
Mobile Banner (300 x 50)
Wide Skyscraper (160 x 600)
---
3. Audience Targeting
Audience targeting personalizes ads for visitors of different demographics, interests, and habits. Displaying relevant ads this way increases the chances of the ads being clicked on.
For instance, a person who regularly visits pet owner blogs and buys pet food may not be interested in an ad about email marketing services. The right type of ad, in this case, would be for veterinary clinics.
---
4. Ad Content
The content you choose for your ad matters a lot as well. A fitting image or video, aesthetic design, brief description of the brand or product, and clear Call to Action(CTA) are what makes an ad appealing to visitors.
Besides that, you must also consider what media type you will be using. Animated gifs, static images, videos, or simple text? Keep it attractive enough but not too flashy. This ensures the ads don't distract your visitors from the primary content they were looking for on your website.
---
5. Analytics
For every ad campaign, you need analytics that tell you how the ads on your site are performing.
This helps you find out where ads perform better, what ad sizes bring more conversions, and what media types are more appealing. So, you can change things up to experiment with new locations, sizes, and content until you find the best performing ad types.
Implementing these results for future ads is sure to increase your ad income with more clicks and impressions.
---
Conclusion
And with that, it's time to wrap up this article on how to place ads in WordPress. We've detailed 3 easy ways you can do this on your website: using ColorMag theme, Google AdSense, or WordPress ad plugins.
Regardless of which method you choose, you must also consider the 5 critical factors for high-converting ads. Paying attention to details like location, ad banner dimension, audience targeting, ad content, and analytics guarantees a successful advertising campaign.
For more on this topic, check out our blogs on the best Google AdSense optimized themes and best Amazon affiliate plugins.
Don't forget to share this article if it was helpful to you. Also, follow us on Twitter and Facebook.