Looking for the best free WooCommerce themes for your online store?
Look no further!
WooCommerce is the top choice for eCommerce sites, offering an easy and affordable way to build your online shop.
The best part? Thousands of free themes are available to choose from, so you can find the perfect design for your WooCommerce site.
To make it even easier for you, we've handpicked the top 46 free WooCommerce themes and templates for you to explore.
So, start browsing and find the perfect fit for your online store!
Is WooCommerce the Best eCommerce Platform?
Creating your own eCommerce website was never an easy task. But with WordPress WooCommerce, it's easier than ever before.
WordPress is the most popular content management system out there, used by over 42% of all websites online.
And when you add WooCommerce, the most popular eCommerce solution for WordPress, you have a winning combination.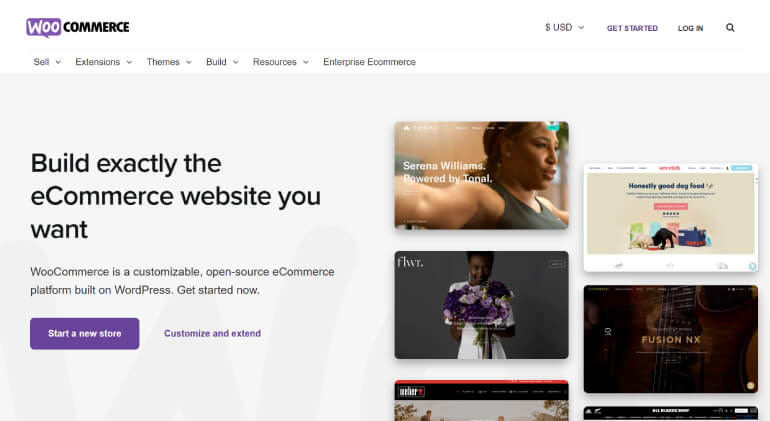 In fact, WooCommerce is a WordPress eCommerce plugin that adds eCommerce functionalities to WordPress. It adds all the features you need to sell products, like shopping carts, checkout pages, and more.
Hence, with WooCommerce, you can create a standout online store quickly and easily.
But is it the best eCommerce site builder platform on the market?
To tell you the truth, it's the #1 most popular eCommerce software used by over 20% top eCommerce sites.
5 Top Reasons Why WooCommerce is Popular
Below are some key points why WooCommerce is everyone's favorite platform.
User-friendly: The WooCommerce platform is easy to use, even for beginners who are not familiar with coding.
Flexibility: Thousands of plugins, extensions, and themes are available to add additional features and customize your online store.
Cost-effective: WooCommerce is an open-source platform that is free to use. While you may need to pay for hosting and some premium features, it's a cheaper solution overall.
Security: WooCommerce is secure and regularly updated to protect your online store and customer data. The pro team at Automattic (the company behind WordPress.com) manages it.
Strong community support: WooCommerce has a large and active community of users and developers. They contribute to its ongoing development and offer support and resources for users.
Plus, there are more benefits of using WooCommerce, like SEO-friendliness, higher scalability, variety of payment options, etc.
---
Are Free WooCommerce Themes Worth Using?
Free WooCommerce themes can be a great option for those on a budget or just starting out with their online store. But you might ask, are they worth using?
Our answer to that is: Yes, absolutely! Free WooCommerce themes are great and worth using.
The main reason for that is its WordPress base. WooCommerce is built on top of WordPress; hence you can enjoy the power and flexibility that WordPress offers.
In fact, almost all of the free WordPress themes support WooCommerce. So, you can build a WooCommerce site with any free theme among 10,000+ WordPress themes on the official theme repository.
But you don't need to dig through such a huge ocean of free themes. Below, we'll share how to choose a good theme easily.
How to Choose the Best Free WooCommerce Theme?
You can easily select a perfect WooCommerce theme from any collection by simply checking these key factors below:
Check for compatibility: Ensure the theme is compatible with the latest version of WooCommerce and other essential plugins.
Consider the design and layout: Choose a theme with a design and layout that suits your brand and product offerings.
Look for customization options: Choose a theme that offers customization options such as color schemes, font choices, and layout options. Plus, a theme with starter templates is good for beginners.
Check the reviews and ratings: Read reviews and ratings from other users to get an idea of the theme's performance and user experience.
Consider support options: Check if the theme developer offers dependable support. Timely replies on support forums and good documentation are good indicators.
Look for a theme with a good load speed: A theme that loads quickly is essential for a good user experience. It can also help improve your website's SEO.
And now, to simplify your search, we present the best free WordPress themes for WooCommerce 2023! Carefully handpicked by our expert team just for you!
---
46 Best Free WooCommerce Themes & Templates for 2023
Wrapping It Up!
And that's all we have to say about the best free WooCommerce themes for WordPress. With these WordPress themes, you can easily create an eCommerce site and sell any product.
All the above-mentioned themes are fully responsive and support full customization. Most importantly, they come with Woocommerce integration.
Nevertheless, if you're confused, choose Zakra. Other than Zakra, eStore, Spacious Store, and Ample are also themes that will help you create a robust eCommerce website.
Having said that, if you found this article helpful, then take a moment and share it on your social media as well.
You can also follow us on Twitter and Facebook to learn about future updates and exciting news.
Lastly, comment down below your experience with any of these themes or which is your favorite theme (if you've any).