Looking for the best WordPress staging plugins? Then, you've landed on the right place.
Sometimes when you make changes to your WordPress site, it might go wrong and your site might break. This is where a staging site comes in.
A staging site is a backup site that you can create to safely experiment and make changes to your live WordPress site. But how do you create a staging site? Simple, you install a WordPress staging plugin.
In this article, we've mentioned the best staging plugins for WordPress-powered websites.
How to Choose a WordPress Staging Plugin for Your Site?
There are loads of staging plugins for WordPress available so you might get confused on which one to choose. Here are some tips for you on how you can choose the right WordPress staging plugin for your site.
Easy of use: Get a plugin that is easy to install and use so you won't get lost.
Security: Make sure the plugins provide data encryption while cloning your site.
Visibility: The plugin should automatically hide your staging site from search engines. Also, it should block emails to and from the customers on this site.
Offsite staging: Setting up the staging site in your own server might slow down your production site. Hence, select a plugin that allows setting up a staging site on an offsite server.
Technical support: Running into trouble while creating a staging site is more than possible. Hence, always choose a plugin that provides technical support.
---
10 Best Staging Plugins For WordPress
And now, here are the 10 best WordPress staging plugins to make a test site. So let's begin.
Blogvault is one of the most reliable backup and staging plugins that offer free cloud storage. It has been trusted by 4,50,000 websites and has 80,000+ active installations.
Major Highlights of BlogVault
The plugin is super easy to set up. All you need to do is install and activate the plugin and you're good to go.
It comes with a built-in free staging option. You can easily customize the staging site as per your wish without hampering any features of your live site.
This plugin doesn't slow down your site.
You can effortlessly manage the live site and staging site from a single dashboard. There's no need to log in to a separate dashboard to manage your staging site.
If you run into any type of problem, BlogVault offers support 24/7.
Pricing
This WordPress staging plugin is available in free as well as premium versions. You can download the free version from the WordPress.org plugin repository. The premium versions offer three different plans.
Basic: $7.4/month
Plus: $12.4/month
Advanced: $20.75/month
---
WP Staging creates an exact copy of your entire site within minutes. Moreover, the plugin can clone your site even if it runs on a weak shared hosting server. Trusted by 60,000+ happy customers, this plugin is worth installing.
Major Highlights of WP Staging
You can easily create a clone site by clicking on the button 'Create New Staging Site'.
It allows you to clone the whole production site into a subfolder.
All the data of your site belongs to you and stays on your server. You don't need any separate accounts.
Supports all the major web servers such as Apache, Nginx, and Microsoft IIS.
Additionally, the plugin allows the cloning of WordPress multisite.
Pricing
There is a free as well as a premium version of this plugin. The premium version offers four different plans.
Personal: $105/year
Pro: $163/year
Developer: $281/year
Agency: $587/year
---
UpdraftClone is a staging plugin for WordPress offered by a popular backup plugin, UpdraftPlus. You can easily create a staging site with the help of UpdraftClone. Simply copy and paste your WordPress site and that's it, your staging site is created.
Major Highlights of UpdraftClone
The plugin is super easy to set up.
You can define the period you want the test site to exist.
It allows you to clone your site to the UpdraftPlus server for your convenience.
Offers one-click clean-up feature.
Provides security by encrypting data while transferring.
Pricing
This plugin works on a token system. You can clone your site for 24 hours with 1 token and continue to keep it active for an additional 1 token per week. Here is the price of tokens.
5 tokens: $15 for a one-time purchase and $12 for a monthly subscription
20 tokens: $49 for a one-time purchase and $39 for a monthly subscription
50 tokens: $99 for a one-time purchase and $89 for a monthly subscription
---
WP Time Capsule is a backup and staging plugin created especially for business owners, eCommerce, and agencies. Furthermore, it allows you to connect to the cloud app where you can store the backup files.
Major Highlights of WP Time Capsule
Backup your site in real-time. This way, you can revert your site to how it looked like before.
Make changes and updates on staging with just a single click.
Auto backup before every update. Furthermore, if there is any mistake during updates, it offers easy restoration as well.
Encrypt your DB backups and add an extra layer of security.
Include only selected files and database tables to your live site instead of data of the entire site.
Pricing
The premium version includes three plans. They are as follows.
Business: $49/year
Freelancer: $99/year
Agency: $199/year
---
BoldGrid is a total solution that provides an easy way to create a staging site to test new plugins or themes. Furthermore, the plugin has 70,000+ active installations making it one of the trusted WordPress staging plugins.
Major Highlights of BoldGrid
Create a fully functioning staging site with just a few clicks. You can test themes, plugins, and other site changes without fear of breaking your live site.
Furthermore, it offers selective staging. You can clone your entire site or just the selective content.
The site check features monitor your site at a specified period and notify you if any problem is detected.
The plugin offers an amazing support team. You can contact them anytime to get help if you run into any kind of issue.
Pricing
The plugin is free to install. And, you can purchase the premium version starting at $2.50/mo.
---
Duplicator, as the name suggests, allows you to duplicate your live site and create a staging site. Furthermore, the plugin provides zero downtime. That means you can duplicate your site without any interruptions.
Major Highlights of Duplicator
The plugin is multi-threaded hence, it works well even with large websites and databases.
You can connect to cPanel and make changes to your stage site without switching to your web hosting account.
It offers email notifications.
This plugin also provides migration & cloning and cloud storage to Dropbox, Google Drive.
Professional support to every customer.
Pricing
The Duplicator Pro offers four different plans.
Personal: $69/year
Freelancer: $89/year
Business: $149/year
Gold: $799/year
---
Yet another WordPress staging plugin in this list is WP Stagecoach. The plugin works on any host and doesn't overwrite your database during import.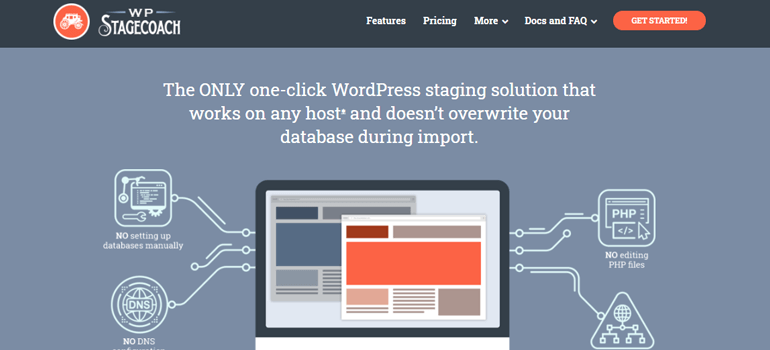 Major Highlights of WP Stagecoach
Allows you to create a staging site with just a single click.
Provides SSL support to the staging site.
You can choose to import files or databases or both.
With the help of this plugin, you can easily push your staging site to a live site with just a click.
You can merge the databases without losing your content while copying the staging site to the live domain.
Pricing
The plugin has an Enterprise (Free) version. To download the free version you need to contact the support team. The premium version has three plans. They are as follows.
Small: $99/year
Medium: $199/year
Large: $399/year
---
All-in-one WP Migration is a migration plugin however, you can create a staging site as well. This migration and staging plugin has 3+ million active installations due to its reliable services. It comes with a wide range of services, and all of them are quite useful.
Major Highlights of All-in-one WP Migration
You can export your WordPress files, including the database.
The plugin is compatible with most web hosting providers.
Doesn't require any PHP extensions and works with all versions of PHP from v5.2 onwards.
Offers true mobile experience on WordPress versions 3.3 and up.
Provides amazing support if you run into complex problems. Furthermore, the premium version includes premium support.
Pricing
Free for websites up to 512 MB. For further extension, you need to pay. Here are the plans and pricing for paid extensions.
Personal: $69/once
Business: $69/once + $29/month
---
WPvivid Backup Plugin is also a backup & migration plugin. But, it allows creating a staging site as well. Additionally, the plugin gets rid of unused images from your site. This makes your site load much faster so that's another great thing about the plugin.
Major Highlights of WPvivid Backup Plugin
Effortlessly create a staging site and push staging to a live site.
WordPress multisite backup.
Provides data encryption while migrating the site.
Create staging for WordPress multisite.
Choose to backup your entire site (database + files), or all files, or database only.
Pricing
The premium version of WPvivid Backup Plugin offers three plans.
Basic: $49/year
Freelancer: $99/year
Ultimate: $149/year
---
WP Synchro is a WordPress staging and migration plugins developed for WP developers, by WP developers. One of the unique features of WP Synchro is that it keeps the staging site in sync with your production site. Furthermore, the plugin is perfect for development, staging, and production environments.
Major Highlights of WP Synchro
Set up the plugin once and run it multiple times.
Pull/Push database from one site to another site.
Provides high security because no other sites and servers are involved and all data is encrypted while transferring.
You can move only the selected database tables or just move all.
Database backup before migration.
Pricing
The plugin is free to install but there is also a premium version. You get 5 different plans in the premium version that are discussed below.
Personal: $8/mo.
Starter: $10/mo.
Small: $13/mo.
Medium: $20/mo.
Large: $48/mo.
---
Wrapping It Up!
And that's all about the WordPress staging plugins. In conclusion, staging plugins are important to test the new updates, themes, plugins, content without breaking your production site.
If you're still confused about which staging plugin to choose then we recommend BlogVault. It's easy install and use. 
Finally, we hope you enjoyed reading this article and if you did, share it with your family and friends. Want to read more articles. Here an article that interest you – 50+ best WordPress plugins.
Lastly, follow us on Facebook and Twitter to get updates on more informative articles.