You must be living under a rock if you don't have any ideas about websites in the current world. From small to large businesses and services, people are completely relying on websites for their growth. And why shouldn't they! Websites have been proving to bring about great success for many companies, whether small or big, no matter what kind of services they provide. I'm not going to bore you with the importance of websites because if you are reading this, then it's almost certain that you already know it. However, I will be listing the next important thing for websites i.e., the best website builders.
Website builders are tools or platforms from where you can build your own fantastic websites. They can be used for multiple purposes like blogs, eCommerce, business, portfolio, and more. With the growing needs of websites, the number of awesome website builders are also growing by time. They are all good in their own ways depending on what kind of website you want to build. But here, we will be describing why and which one would be best for you. So, if you are looking for the best website builder to build or modify your website, then you have come to the right place.
But there might be one question on your head prior to which website builder you want to choose.
How to Choose the Best Website Builder?
Before you select the best website builder for your website, you also have to watch out for what you want from it. So. make sure you have an expected outcome according to the input you can provide for it. We have added some key points accordingly to help you with it.
1. Ease of Use:
A website builder is useless if it's not easy to use for you. You will be using it for building your website or websites a lot. So, you will need to make sure that you can use it comfortably without any issues. To help you with this, many website builders provide free plans and trial periods to get the initial feel of it. Do try them before purchasing it.
2. The Right Price:
If you want a great website builder to work with, you have to consider the cost as well. You will be using it for a long time in the future so make sure that it is worth the price. Most of the website builders can be used only after paying. Some are even free with limited features. For additional features, you will need to purchase them.
3. Design Options:
A major element of your website will be the design. Some website builders can provide a lot of design options whereas some have few. You also need to know how capable you are for designing your website. If you might need a lot of help for it, then go for the one with an easy interface along with plenty of design options. If you think you have enough knowledge about designing a website, you can know what kind of website builder you want from this article.
4. Scalability of Your Website:
Before choosing the best website builder for you, you also need to analyze how big your website is going to be. While you can build a big website from any of these website builders, some of them might be difficult for you to manage your big website. This is because few of these website builders are developed to build simple websites although large scale websites can be created from them.
5. Your Time and Resource for Your Website:
Depending on all the above key points, you also have to decide on how much time can you invest on your website. If you have carefully listed out your needs based on the key points given above, we guess already get an idea on this point as well. After this, you can now go ahead and select the best website builder for you.
The Best Website Builders for 2020
WordPress
There is a high possibility that you are keeping up with our blogs because you chose WordPress for building your websites. It covers 35% of the internet. So, it is obvious that it is one of the best website builders that you can get nowadays. Even us, ThemeGrill is highly dependent on WordPress and we have been using it for a very long period of time. We find it as a convenient source for building and customizing websites. So, we have been developing awesome WordPress themes like ColorMag, Flash, and Spacious too.
There is a very good reason why WordPress.org can be the best website builder for you. It has a lot of customization options to offer at a very reasonable cost. The availability of WordPress themes, WordPress plugins, and add-ons is quite ample and sufficient to build any type of website. The WordPress Customizer is also very user-friendly to use to create your website. However, don't confuse it with WordPress.com as they are completely different from each other. You can check out WordPress.org vs WordPress.com for further details.
Pricing:
WordPress.org is completely free. That is why it is one of the best website builders here. All you need to do is pay for hosting and for that, we have a lot of options for you to choose the best WordPress hosting. There are free WordPress hosting plans as well that you can use. Although, you might need to pay for some of the WordPress services, themes, plugins or addons to get them.
Pros:
Thousands of WordPress themes like ColorMag, Zakra, Flash, Divi, Spacious, Astra, Sydney with multiple pre-made templates to build any type of websites. This can save a lot of your time.
50,000+ WordPress plugins to add any functionality or features on your website. You can add a user registration form or a detailed form with just from plugins like User Registration or Everest Forms. But, you can also do extensive customizations with WordPress page builder plugins like Elementor and Divi Builder.
Support and translate a lot of languages. This can help you to create your multilingual websites without any issues.
Very good search engine optimization to help your website rank on the search engines. You can boost it even more with its wide range of WordPress SEO plugins.
With such a lot of opportunities for such great value. Perhaps, it is also one of the cheapest best website builders on the list.
Cons:
The overall management of the website must be done from you which can be a bit tedious in the beginning. You need to be properly familiarized with the new working procedures and systems of WordPress. But once you get used to this website builder, it's great to use it.
You will have to frequently catch up with the updates of the plugins, themes and other WordPress services. It can be done automatically. But some updates require your manual input and might not support other plugins or themes.
Our Verdict: WordPress is one of the best website builders to create your website with a wide range of customizations. You can create any type of website with the specific features you want in a very short period of time.
More About WordPress to Start a Website
Wix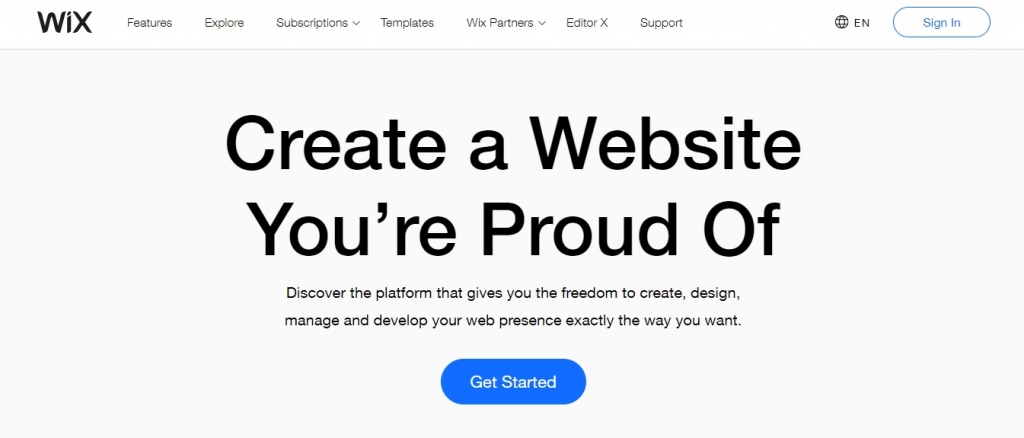 Wix is one of the simplest and easy to use website builders that you can find. It claims that they have over 100 million websites globally that use their platform. That is a huge number of websites. If what they claim is true, then Wix is also one of the best website builders. This should not be a surprise as it is packed with a lot of features that the users can use easily. As a result, its popularity is also growing rapidly.
Pricing:
Connect Domain plan – $4.50/month (1GB Bandwidth, 500MB Storage, Connect your Domain)
Combo plan – $8.50/month (2 GB Bandwidth, 3 GB Storage, Remove Wix Ads)
Unlimited plan – $12.50/month (Unlimited Bandwidth, 10 GB storage, Site Booster App, Visitor Analytics App)
VIP plan – $24.50/month (Unlimited plan with 20 GB storage, Professional Logo, Social Media Logo Files, Priority Response, VIP Support)
Pros:
Cons:
The template that you choose when building your website must be chosen very carefully as it cannot be changed later.
Limited customization options and features compared to other website builders.
The free and the basic plans display Wix ads which can be very annoying.
Our Verdict: Although it lacks little customization features compared to other website builders, they do pack quite a great package all round regarding the price that you pay. It is also one of the most favored website builders from reviewers.
More About Wix to Start a Website
Squarespace
Squarespace is another website builder which has been getting a fair share of attention when it comes to creating your website. In terms of design, this is one of the best website builders for you. It is great for starting a website for almost any type as its combination of design and ease of use is exceptional.
Pricing:
Personal Plan – $12/month (SSL security, Unlimited Bandwidth, and Storage, Mobile-Optimized websites, Squarespace Extensions)
Business Plan – $18/month (Personal Plan + Advanced Website Analytics, Fully Integrated E-Commerce)
Basic Commerce Plan – $26/month (Business Plan + Point of Sale, Customer Accounts, Checkout your Domain)
Advanced Commerce Plan – $40/month (Basic Commerce Plan + )
Pros:
Advanced features and functionalities like automatically responsive websites and an image manager. The image manager has drag and drop management, CDN, direct image editing with Adobe Editor, and more.
Squarespace has a custom WYSIWYG Editor to support several content types and multi-column layouts to enhance your customization and editing options for your website.
It also has a feature-rich blogging module with categories, tags, scheduled posts, social sharing and more. Therefore it can be great to add blogs on your website as well.
You also get a number of templates and LayoutEngine as well. These extensive design options will surely help you create an awesome website.
Cons:
For the services and features it provides, Squarespace is a bit expensive compared to other website builders. The features are pretty limited for the price you are paying.
The customization options are quite limited with the limited features and there is not much of a learning curve as well for you to work on with Squarespace.
Our Verdict: Although Squarespace might be a bit heavy for your wallet in terms of limited features, it does offer you with great designs for your websites. So, if you want a simple functional website with the design and appearance of it as your top priority, then Squarespace is definitely for you.
More About Squarespace to Start a Website
Weebly
Weebly is perhaps the easiest to use website builder on our list here. Along with the ease of use, it also has a ton of great design that can be properly visually appealing to your website visitors. With just a little input and effort from your side, Weebly can help you create a great website building tool for you.
Pricing:
Free Plan – $0/month (Free SSL Security, Advanced Site Stats, Basic eCommerce Features, Marketing Options, 24/7 Support)
Personal Plan – $6/month (Free Plan + Connect a Custom Domain, )
Professional Plan – $12/month (Personal Plan + Free Domain, Unlimited Storage, Remove Ads, Password Protection, Shipping Calculator)
Performance Plan – $26/month (Professional Plan + Additional eCommerce Features like Shipping Labels and Discounts, Abandoned Cart Emails, and Priority Support)
Pros:
Weebly is a drag and drop website builder so your customization processes are guaranteed to be smooth.
You don't need to install any packages for Weebly if you want to use it as it is a self-hosted platform.
It offers you with advanced e-commerce tools like real-time shipping, abandoned cart, currencies, and coupons
The Weebly App Center also provides you with over 200 amazing apps to increase the functionalities of your website.
Cons:
Being the easiest to use, it provides very limited customization options compared to WordPress, Wix, and other website builders.
The basic plan is quite expensive as you don't even get to connect to a custom domain with the remaining features almost as similar to the free plan.
Our Verdict: Even though Weebly is one of the website builders with great ease of use, you can be extremely impressed by the outcome you get from it. You can just invest a little of your time and effort with Weebly to create your website and the result can be quite admiring. If you have the budget, you can go for the business and pro plans. If you don't then you can easily grow your website with the free plan or by connecting the domain with the connect domain.
More About Weebly to Start a Website
Best Website Builders for an e-Commerce Store:
If you want to build a great eCommerce store, then the website builders mentioned above can also be quite enough for you. However, if you want a website builder solely focused for online stores, we do have some great options for you as well.
Shopify
Shopify is one of the best website builders designed specifically for eCommerce stores. Among the other ecommerce based website builders like BigCommerce and Magneto, Shopify is targeted for most basic online stores. Hence, it is also priced accordingly. But, it powers about half a million businesses with around a million active users even if it's designed just for basic online stores.
Pricing:
Basic Shopify Plan – $29/month (Online Store, Unlimited Products, 2 Staff Accounts, 24/7 Support, Free SSL Certificate, Shopify Shipping and Payment Options, Shopify POS App)
Shopify Plan – $79/month (Basic Shopify Plan with 5 Staff Accounts + Professional Reports, Register Shifts, 1-5 Store Locations)
Advanced Shopify Plan – $299/month (Shopify Plan with 15 Staff Accounts and upto 8 Store Locations, Advanced Report Builders, Third-party Calculated Shipping Rates)
Pros:
It's a well-optimized solution when it comes to performance and hosting. This means that you don't have to worry about installing software, updates or backups. All of it is managed by Shopify.
Advanced optimization for SEO to help your online store rank better on the search engines. It also has advanced marketing tools which can be even more beneficial for the SEO rankings.
Additional extensions are also available to provide you more features for your online store.
Shopify ensures your website security with the hack-proof options.
Cons:
The initial setup process can be difficult. But the user interface and ease of use are quite friendly later.
The pricing plans are a bit unsatisfactory as the general Shopify pricing plan itself is worth it only if you want to use all the features. Also, the basic plan doesn't provide the necessary features as well.
Very limited templates are available for you to start your online store with this website builder.
Our Verdict: If you want to set up a simple online store with very specific categories for your products, then Shopify is a great choice for you. It will help you with a big online store as well but it might be a bit difficult to manage it from Shopify.
More About Shopify to Start a Website
BigCommerce
BigCommerce is the best website builder if you want to create a very huge and advanced website builder. It has a lot of features for you if you want to create online stores with a wide variety of categories and products. Regardless, BigCommerce can also be used for small businesses with the limited reach of an online store as this website builder is also completely focused on online stores.
Pricing:
Standard Plan– $29.95/month (Unlimited Products, Files Storage, Bandwidth and Staff Accounts, Sales Channels, BigCommerce Mobile App, Professional Reporting Tools, Product Ratings and Reviews, Up to $50k sales per year)
Plus Plan – $79.95/month (Standard Plan with up to $180k sales per year+ Customer Groups and Segmentation, Abandoned Cart Saver, Persistent Cart, Stored Credit Cards)
Pro Plan – $299.95/month (Plus Plan with up to $400k sales per year + Google Customer Reviews, Product Filtering, Custom SSL)
Enterprise Plan – Contact BigCommerce (Pro plan with custom sales per year + Pricelists, Unlimited API Calls)
You can check out some more detailed information on
best eCommerce platforms
if you think Shopify and BigCommerce do not fit your needs.
Pros:
Suitable for small businesses to entire enterprises with custom field options. therefore, you can add more details to your products and categories for your online store.
Available at cheaper prices compared to other website builders. Looking at the features provided for use of eCommerce and online stores, BigCommerce is an absolute bargain.
Built-in product review features to provide you with information for your customers from your online store.
Easy to use interface and user-friendly customization options to ensure that you won't have difficulties while creating your website.
No transaction fees even if you use the third party payment methods.
Cons:
Mobile apps are not available. So your website might not be responsible enough on mobile devices.
The RSS feeds are not available with the inbuilt blog.
Our Verdict: If you want to create a huge online store with minimum cost, then BigCommerce is one of the best website builders for you. It has all the necessary features that you'll need on your eCommerce website which won't disappoint you.
More About BigCommerce to Start a Website
Bonus Best Website Builders(Honourable Mentions)
The above-mentioned website builders can be adequate enough for you. However, you can try out something out of the box as well if you want. So, we have also listed some of the popular yet unique website builders for you which might work wonders for you. These website builders might not be focused entirely for only creating websites. But it will do a great job for you.
GoDaddy
Although GoDaddy is widely known for its domain registration and hosting, it can be used as a simple website builder as well. It provides all the basic features you need to build a website. This all comes under a platform known as "GoCentral Website Builder". You can easily create an awesome professional website without the need for programming or coding. And along with their hosting, your website can run very smoothly as well.
Pricing:
Basic Plan – $10/month (SSL, Custom Domain, 24/7 Support, GoDaddy InSight, 100 email marketing sends/month)
Standard Plan – $15/month (Basic Plan + Get Found Online SEO, 500 email marketing sends/month)
Premium Plan– $20/month (Standard Plan + 25,000 email marketing sends/month)
Ecommerce Plan– $25/month (Premium plan + additional product e-commerce options)
Pros:
Easy access for great domain names and excellent hosting for your website as the website builder, hosting and domain all are managed by the same company.
User-friendly drag and drop interface to help you create a stunning website with a very less amount of time.
Cons:
Limited features considering the price you pay for the GoDaddy website builder. Lacks the necessary key features.
Our Verdict: Since this website builder is developed under the GoDaddy hosting, it is ensured that your website will have maximum security and performance updates without any issues. The GoDaddy website builder also has a lot of useful features that can be really useful for you while creating your website. So, it is a great alternative for you other than the more traditional website builders listed in this article.
More About GoDaddy Website Builder to Start a Website
Gator by HostGator
This is another website builder in this list which is brought to you by a hosting company. Gator by HostGator is also one of the best website builders that are fully hosted by itself. It is known for its simple yet incredibly user-friendly interface. And along with the hosting you get from Hostgator itself, this is one hell of a bargain as well.
Pricing:
Starter Plan – $3.84/month (SSL Certificate, Customizable Templates, Website analytics, 24/7/365 support)
Premium Plan– $5.99/month (Starter plan + Priority Support)
eCommerce Plan– $9.22/month (Premium plan + eCommerce functionality)
Pros:
The software updates and backups won't be much of a hassle as Gator is a fully hosted website builder.
The built-in stock photo library is provided by this website builder. So, if you want to add any photo or image for your website, you can save a lot of time searching for them from here itself.
Availability of 200+ website templates which makes your website building experience a lot easier.
Cons:
You can't create a new feature for your website that is not included in the Gator website builder hiring a developer or by yourself if you are a developer.
It doesn't have a free plan or a free trial period to try it out for free before you buy it. If you purchase it then you will need to use it. So, make sure you go through their website thoroughly for your needs before using it.
Our Verdict: Comparing it with other website builders built from hosting companies like GoDaddy, it is a bit more affordable than its competitors. Hence, Gator by Hostgator is also another brilliant website builder if you expect something different than the common website builders. Gator by Hostgator will also be helpful in terms of website hosting as it is itself a product brought by a hosting company.
More About Gator by HostGator to Start a Website
Wrapping Up:
If you want to build an amazing website, the initial analysis is very important. Make sure you have enough resources and need assessments for your website. Then you can select the best website builder from this list accordingly judging on what will be the best features for your website. We hope that you found this article very helpful to build or modify your website. There are some similar articles and tutorials that we have also prepared for you. It might be useful for you as well. Do check them out as well:
Disclaimer: Some of the links in the post may be affiliate links. So if you purchase anything using the link, we will earn affiliate commission.