Are you a real estate agent searching for the best real estate WordPress plugins and tools? If yes, then you're in the right place.
There are numerous free and premium real estate WordPress plugins available to build a real estate website. However, it's not an easy task to pick one from so many available options.
But you don't need to worry. We've got you covered. Here, we've carefully handpicked 15 best real estate WordPress plugins and tools that you can use for your real estate business.
Why You Need the Best Real Estate WordPress Plugins?
In the competitive world of today, it's not an easy task to make your real estate website stand out among the other competitors. Therefore, to survive and beat the competition, it's important to make your real estate site visually appealing. But that won't be enough, it should be user-friendly, powerful, and functional as well.
This is exactly why you need to choose the best WordPress real estate plugins for your real estate website. Best real estate plugins are a must to convert your WordPress website into a professional-looking real estate website.
Here are the features best real estate WordPress plugins will offer you.
Addition of specific details to your property
Displaying properties in a style suitable for your site
Support with Google Maps to enable users to select the properties in the relevant area of their choice
Advanced search to help users find any listings in no time
Easy contacting so that users can easily get to you
---
Best Real Estate Plugins for WordPress (2020)
Estatik is one of the best real estate WordPress plugins. It offers a wide range of features within one plugin. As a result, it's suitable for both real estate agencies and single agents. Most importantly, creating and managing a fully functional real estate website is easy with this plugin.
Estatik is compatible with all the standard WordPress themes. Also, it comes with a free theme and a quick demo setup feature. Moreover, this plugin allows easy customization of search widgets, categories, types, features, statuses, etc.
Features:
Assemble listings by pricing, date, location, and popularity
Multi-language support to connect with more customers
Packaged with a mortgage calculator
Social sharing options (Facebook, LinkedIn, Google, Twitter)
Field Builders allow easy addition of new fields to your listings
Slideshow widget
Cost: Free
---
Real Estate Pro is the popular WordPress real estate listing plugin. Configuring pages, templates, and settings can simply be done in a few clicks. Moreover, it enables your users to easily add their listings, submit a listing claim, sell properties, and many more. Also, it allows users that visit your site to bid for the properties.
Real Estate Pro supports Mailchimp to store emails for new customers. In addition to this, it's a fully responsive plugin. So it supports all kinds of devices like mobile phones and tablets.
Features:
Supports online payment methods like PayPal and Stripe
Translates into 13 languages
Integrated with Visual Composer (allows making your website in a simple and attractive manner)
Allows configuring subscriptions
Clean listing modules
Offers a beautiful photo gallery
Cost: $39
---
IMPress Listings is an excellent WordPress plugin for real estate websites with a fantastic management system. It's suitable for beginners to advanced users to build a powerful real estate website. Furthermore, this plugin allows displaying listings in various taxonomies like property type, location, status, etc.
IMPress Listings is mobile responsive and works great with any WordPress themes. In addition, it's integrated with a contact form. As a result, it allows buyers to contact you easily.
Features:
Automatic map insertion
Integrated with MLS (Multiple Listing Service)
Add listings with images and videos
Transfer AgentPress listings over to IMPress Listings
Grid layout allows listings to be displayed beautifully
Easy customization of property listings
Cost: Free
---
WP Amortization Calculator is a professional real estate WordPress plugin. It's a high quality yet simple and easy to use plugin. Most importantly, it allows adding a custom calculator web app onto any page of your site. In other words, it can be used to calculate mortgage loans or any other property financing online.
WP Amortization Calculator has a responsive design that looks great on any device. Besides, this plugin supports the lead capture tool and provides email notification to the leads.
Features:
Compatible with all standard WordPress themes
Share PDF reports with your clients
High quality and modern design
Translation ready
Highly customizable settings
Supports various currency format choices
Cost: $27
---
Easy Property Listings is a powerful real estate WordPress plugin. It's a beginner-friendly plugin where no coding is required. Listing management is very easy with this plugin. Besides, grid format allows your listings to be displayed beautifully on your website. Similarly, it offers multiple listing types (building, rentals, residential, etc).
Easy Property Listings is packaged with hundreds of free WordPress themes. Also, it works with any theme. Above all, it's a fully customizable plugin for your real estate website.
Features:
Works with popular themes like Genesis, iThemes Builder, and Headway
Multilingual support
Integrated with Google Maps
Reports listings tracking
Mobile-friendly property listing
Supports currency
Cost: Free
---
Essential Real Estate WordPress plugin is a full-featured real estate plugin. This plugin offers multiple listing options for your ease. For instance, Listing Properties (features, types, statuses, etc of properties), Listing Agent and Agency (allows you to show top agents and agencies in your sidebar), Listing expiration date, and many more.
With Essential Real Estate you can easily customize and set up a real estate website. Additionally, it offers a flexible search for visitors so that they can easily find listings. Moreover, it's compatible with the Visual Composer plugin.
Features:
Backend and Frontend support for property listings
Supports PayPal, Stripe, and Wire Transfer
Add custom fields for property
WPML (WordPress Multilingual Plugin) compatible
Automatic geolocation insertion
Support Google Captcha
Cost: Free
---
WP Property is a highly functional WordPress plugin for real estate agents. Adding property listings and managing is super easy with this plugin. Besides, it's easy to add detailed information on property listings like the number of rooms, bathrooms, area, parking, and many more.
WP Property enables you to showcase almost anything you want. For instance, livestock, cars, properties, and products. Further, it offers you free add-ons that allow easy management of taxonomies for your property.
Features:
Supports Google Maps
Advanced search features with filters
No coding required
Customizable widgets
Translated over 12 languages
Cost: Free
---
WPCasa is a popular real estate WordPress plugin. With this flexible and extendable plugin, you can create a powerful real estate website without the need for coding. Moreover, it has special search features that allow your clients to find listings quickly. Above all, the drag and drop widget makes it easy to edit any screen or theme settings.
WPCasa offers numerous customization options. As a result, you can easily customize the background and the components of the header. Also, you can add property details, photo galleries, location, etc using the WPCasa listing editor.
Features:
Compatible with all WordPress themes
Several layout options
Translation ready
Fully responsive
Integrated with smart map
Developer friendly options
Cost: Free
---
WP Real Estate is a comparatively new real estate WordPress plugin. But it offers countless superb features for your real estate website. You can rent your properties or sell them or do both with the help of this plugin. Since it has a list or grid view layout visitors can choose any of the viewing styles as per their convenience.
WP Real Estate enables you to manage Real Estate Listings, Real Estate Agents, and Listing Enquiries easily. Besides, it's integrated with advanced search options so that your visitors can quickly find the required listings.
Features:
Contact form integration
Supports all WordPress themes
Integrated with Google Maps
Developer friendly options
Fully responsive design
IDM/MLS integration
Cost: Free
---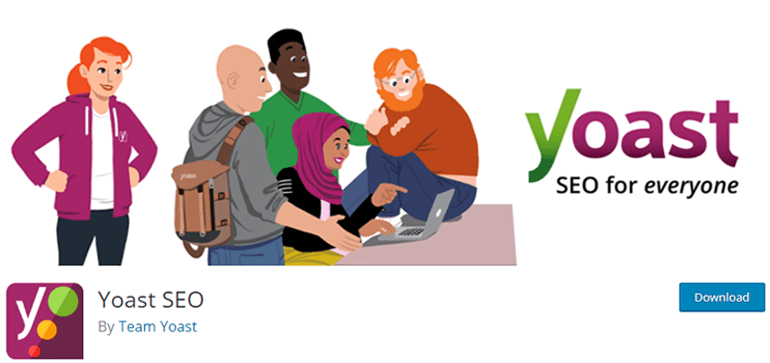 Yoast SEO is the number one WordPress Search Engine Optimization (SEO) plugin used by millions of users worldwide. SEO is the act of optimizing your content to help it rank higher in search engines like Google, Bing, Yahoo, etc. From blogging to business, SEO is a vital component that just can't be ignored.
Yoast SEO is the perfect plugin to make your real estate business site's SEO optimized. As a result, your business website can stand out from the crowd of other similar real estate sites with ease. In other words, this plugin benefits you with more traffic to your business website.
Features:
Allows creation of title tags and meta description
Canonical URLs to prevent duplicate content issues in search engines
Allows adding breadcrumbs to help visitors navigate your site and help search engines figure out how related your site is to a particular keyword or topic
Implementation of Schema markup to allow search engines to produce more informative results
Automatically generates XML Sitemaps upon installation of Yoast SEO plugin
Premium Yoast SEO available (adds several other functionalities)
Cost: Free
---
AgentPress Listings is an open-source real estate plugin. It's the best WordPress plugin for real estate listings. This plugin allows the creation of the perfect listing management system using custom post types, custom taxonomies, and widgets. Similarly, it permits using a taxonomy creation tool to arrange the listings uniquely.
AgentPress Listings has several customization options. For instance, it offers several layout options, custom background, header, and menus. Further, it has got a responsive design so that listings look great on any device.
Features:
Integrates with AgentPress Pro real estate theme
SEO-friendly
Flexible property search
Translates into 3 locales
Lead capture features
Unlimited support and updates
Cost: Free
---
BirchPress Scheduler is an appointment booking and scheduling plugin. This plugin adds an extra feature to your real estate website. Most importantly, it helps you to manage meetings between you and your clients.
Besides, BirchPress Scheduler also supports the addition of booking forms on your site. For your ease, an online payment gateway like PayPal is also available.
Features:
Online appointments
Integrates with online payment system
Customizable bookings forms
Email notifications and reminders
Synchronize your calendar with iPhone, Google calendars, Android, etc
Supports WooCommerce to easily sell your properties
Cost: $99/$199/$249
---
Everest Forms is a lightweight plugin that allows easy creation of any kind of form including contact forms. Contact forms make it super-easy to make effective communication with your clients for business purposes. In addition, you can create unlimited forms without any restrictions with this plugin.
Everest Forms offers a drag and drop field that allows you to create forms easily in a few clicks. Besides, built-in templates and designs layouts allow you to create beautiful forms. Also, it supports both single and two columns layout on the form.
Features:
Edit email settings
Smart tags for email messages, subjects, and many more
WPML compatible
Spam protection
Supports Google reCAPTCHA
Fully mobile responsive
Cost: Free
---
User Registration allows creating any type of frontend user registration form and login form. This plugin offers the profile account page that enables a user to edit profiles, change password, logout, and so on. After registration, users can also visit their account page and view details they filled or even make necessary changes.
User Registration is an extremely useful plugin for realtors. Because it not only contributes to the user-friendliness of your real estate website but also increases the engagement of users. So, the active engagement of your real estate website with users improves your business marketing.
Features:
Unlimited registration form creation
Integrated with Google reCAPTCHA
Translation ready
Instant email notification to notify upon new user registration
Auto-login option
Profile picture upload
Cost: Free
---
Easy Social Sharing permits displaying popular social sharing buttons without any problem. This plugin comprises 18 popular social sharing buttons that allow users to share the content easily with the people they want. Besides, it features a social share count option.
Easy Social Sharing has a responsive layout that is compatible with all types of devices. Moreover, multiple layouts, designs, color schemes allow easy customization of your website. Additionally, this plugin consists of a user-friendly dashboard.
Features:
Translates into 1 locale
Simple and beautiful buttons
Multiple designs for buttons
Cache instant load
Unlimited support
Backend live preview
Cost: Free
---
Final Thoughts
We hope this article helped you to choose the best real estate WordPress plugin for your website. If you're still confused, we recommend using the Estatik plugin. That's because Estatik offers many features within one plugin without even having to spend a penny. Further, you can also upgrade to the premium version of this plugin if you want to get access to additional functionalities.
Similarly, you can use other essential plugins like Everest Forms, Yoast SEO, User Registration, Easy Social Sharing, etc. on your real estate site for more traffic and better communication with your clients.
With a functional real estate plugin, you can build a real estate site using any business theme. But it's always better to use them with themes specifically created for real state sites. We also have a handpicked list of the best real estate themes for WordPress and also a separate collection of free real estate themes.
Let us know if you have any feedback or suggestions via the comment box below. If you like the article, please share it on your social profiles.
Disclaimer: Some of the links in the post may be affiliate links. So if you purchase anything using the link, we will earn affiliate commission.