Don't know how to allow users to register in WordPress? Then, this article is just the thing for you.
It's quite simple and easy to allow users to register on your site, yet it can be confusing if you're new to the WordPress world. No need to panic. We've got your back after all.
Our article includes a detailed guide on how you can enable user registration on your WordPress site. But, before jumping into it, let's first understand why it's necessary to allow users to register on your site.
Why Allow Users to Register on Your Site?
It's vital for any site to allow users to register from the front-end. Why?
Well, one of the main reasons is that when you allow the users to register themselves from the frontend, the admin can avoid the hassle of creating a new user and profile for each one manually. Because it's not possible for an admin to indulge themselves to register each user especially when the site has millions of users.
Not just that, with user registration forms, you can also ask for all the necessary information from your users to create a particular account and more. Further, your users will also be able to easily personalize their profile after registration.
Also, it's a known fact how crucial data integrity is for any business or site. So, with user registration, you can create a safe gateway to various applications.
Further, the registration system can support tools like CAPTCHA spam preventions, email verification, password reset, management, etc. So, it's efficient to allow users to register to your site without much hassle.
---
How to Allow Users to Register in WordPress Site? (Step-by-Step)
Now, let's get to the key section of this tutorial. We've prepared a step-by-step guide you should follow to allow users to register on your site. Make sure you read till the end to get the whole picture!
Step 1. Enable the Membership Option
It's super easy to allow users to register on your site. Thanks to the default membership option provided by WordPress. You can begin by opening your WordPress dashboard. Then, navigate to Settings >> General.
Under General Settings, you'll see the Membership option. Now, all you need do is check the box that says "Anyone can register" and save the changes.
It's turned off by default so that random people can't access your registration forms and register from the front-end. By turning this option on, you're enabling your users to register themselves on your site.
Also, below the Membership option, you get more options to select the default role, which will be assigned to any new users that register on your site.
That's it! With these few simple steps completed, you've made it possible for your users to register through the front-end.
Sure, you get the default WordPress registration form. But this form comes with only a few form fields and needs coding for customization. Not quite the ideal solution for the non-tech savvy.
And this is where the User Registration plugin comes in. This registration form builder plugin lets you create beautiful registration forms with custom fields and place them on your site for users to register. Even better, it comes with an in-built My Account page and a login form.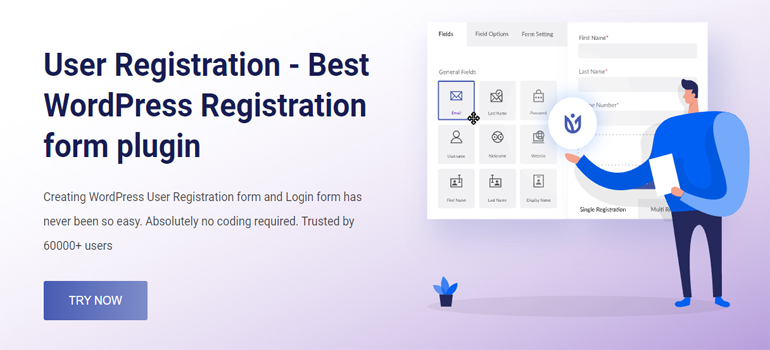 Want to learn how to use this plugin to create custom registration forms? Well, continue reading and a build custom registration form along with us.
---
Step 2. Install & Setup the User Registration Plugin
So, your first step is to install the User Registration plugin, which is available for free, but you can always switch to the Pro version for more add-ons and features.
Next, from your WordPress dashboard, go to Plugins >> Add New.
Then, an Add Plugins page opens up where you can search the User Registration on the search bar. Once the plugin displays click on the Install Now button.
Now, activate it by clicking on the Activate button.
After you activate it, a message will pop up at the top telling you either to Install User Registration Pages or Skip setup.
If you click to choose Install User Registration Pages, then My Account and Registration pages will be automatically added to your site. Doing so eliminates the need to create an account and registration pages from scratch.
With these steps completed, you're now ready to use the plugin to build a custom registration form!
---
Step 3. Create and Customize the User Registration Form
Your next step is to build the form and customize it as per your requirements.
Now, if you navigate to User Registration >> User Registration, then you'll see that the Default Form is already created for your ease. So, you can either choose to customize the default form as per your need or, you can also build a new one.
Here we'll show you how to create a registration form from the scratch. So, go to User Registration >> Add New.
Then, you'll be directed to the form builder interface where you can see Fields, Field Options, and Form Setting tabs on your left. You'll also see that two mandatory fields User Email and User Password are already added in the form builder.
At first, you can start by naming your form. For instance, here we've named it Registration Form but you can name the form as per your need.
Now, click on the Add New button to create a new row. Then, drag the required field from the left-hand side and drop it on the right side.
You can easily add required fields like First Name, Last Name, Confirm Email, Confirm password, etc. to your form and even reorder it by simply dragging and dropping it. Once you add all the required fields to your registration form, click on the Create Form button.
Likewise, you can also customize your individual form fields by clicking on the Field Options tab. It includes General and Advance Settings for your form.
Under General Settings, you get to edit the label for form fields, add a description, placeholder text, hide the label, and do much more.
Similarly, from the Advance Settings, you can add fields' custom classes, allow special characters, etc.
Further, you can configure the general settings for your form by navigating to Form Setting >> General. From here, you can set various options like Default User Role, User Login option, Enable Strong Password, add Form Submit Button Label, etc.
Moreover, if you wish to customize more form settings or want to extend its functionality, then you can always switch to the Pro version of the plugin.
Once you're done with the customization and configuration of your form, you can go to the next step.
---
Step 4. Display the Registration Form on Your Site
After you're done creating the custom registration form, you need to add it to your site. This allows users to find the form and register through it.
It's pretty easy to do so; you need to create a new post or page in WordPress, or you can even update your form on an existing page/post.
Click on the Add block "+" icon, find the User Registration block, and click it.
Next, select the form you've created through the drop-down menus and add it to your page.
Another alternative way to add the form to your site is to copy and paste the form shortcode on your page/post. For this, copy the shortcode of your form first.
Now, paste it to the required pages or posts. After that, provide a suitable form title and hit the Publish button on the top right.
Your registration form looks something like this from the front-end.
And with that, you've now allowed your users to register on your site through a front-end custom registration form.
---
Conclusion
This wraps up our step-by-step guide on how to allow users to register in WordPress effortlessly. Our easy guide has covered everything you need to know from the initial process of enabling membership options to create registration forms and set them up for your users.
And, User Registration is among the best tools to do so. It's a feature-rich plugin to build any kind of registration and login forms for your WordPress site in a smooth manner.
With that said, if you're looking for similar guides, then you can also go through our articles on changing your WordPress login page URL and creating a WordPress form with repeatable fields.
We hope you found our article helpful, and if you did, please don't forget to share it on your social media.
Happy Reading!