Wondering how to add custom fields in user registration WordPress form? Then, you've just landed at the right webpage.
Adding custom fields to your user registration form allows you to gather important details about your users during registration. Further, it can also help you make your forms more interactive resulting in more sign-ups and higher conversions.
And therefore, this article aims at walking you through different steps to add extra fields to your WordPress registration form.
But before anything else, let's briefly discuss why do you need to add custom fields to a WordPress registration form.
Why Add Custom Fields in the WordPress User Registration Form?
As you all might have noticed, the default WordPress registration form comes with two basic fields, i:e Username or Email and Password. However, it might be quite limiting if you want extra information about your users such as an address, contact, etc.
Hence, here are the benefits of adding custom fields to your site's user registration form:
Custom fields let you collect more information about your users before you can register them on your site.
Adding extra fields like the image upload field allows your users to upload their profile picture which can enhance the credibility of your site.
Custom fields addition can make your registration form much more interactive hence encouraging users to sign-up for your site.
With that said, let's get an insight on the best method to add a custom user registration field on WordPress now.
---
Best Method to Add Custom Fields in User Registration WordPress Form
As discussed previously, the default WordPress registration form is very restricting with Username or Email and Password fields only. So, if you want to build an in-depth profile of your user and get extra information from them, you can use the incredible WordPress plugin like User Registration.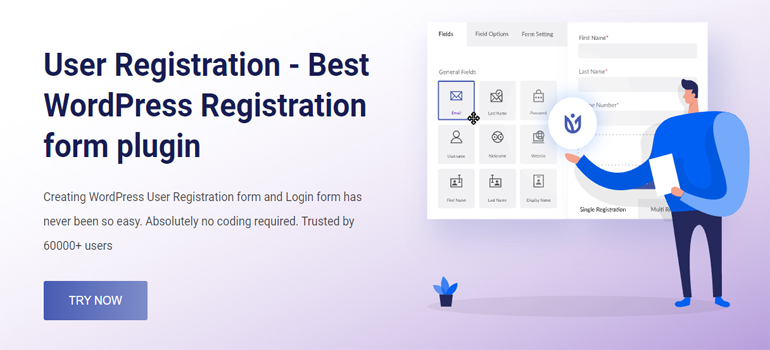 User Registration allows you to build a registration form and add unlimited custom fields with a drag-and-drop interface. Thus, with this plugin, you don't have to limit your site's registration form with default WordPress fields.
In fact, this plugin allows an array of custom fields like country, dropdown, multi-choice, checkboxes, phone, and more. Further, it allows you to customize it as per your requirements.
So, to create custom fields for the registration form with the help of the User Registration plugin, first and foremost, you need to turn on the Membership option from your WordPress dashboard.
Actually, this option allows users to register with your website's front-end registration form. First of all, log in to your WordPress dashboard by entering your Username or Email Address and Password.
After you're logged in, click on Settings from the left-hand side of your WordPress dashboard. Then press General Button, which will direct you to the General Setting page, and there scroll down and tick the Membership box.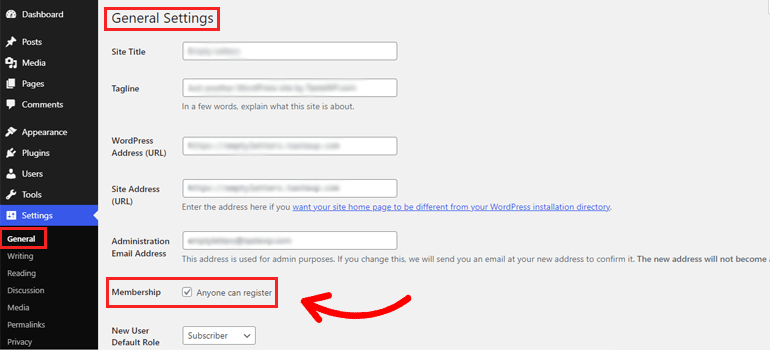 Now, let's understand the step-by-step process to add custom fields in WordPress.
---
How to Add Custom Fields in WordPress User Registration Form? (Step-by-Step)
Step 1: Install and Activate User Registration Plugin
To install the plugin, you need to open your website's dashboard and click on the Plugins menu.
It will redirect to your Plugins page, where you can see Add New option.

Thereafter on the Add Plugins page, you'll see a list of WordPress recommended plugins. Plus, you'll also see a Search bar on the right-hand side of the page. In that search field, type User Registration. Once the plugin appears in the search result, click on the Install Now button.
After the installation is completed, you must press the Activate button. And, there you go, you have now successfully installed the plugin.
---
Step 2: Create User Registration Form
Now the plugin is activated, you can see the pop-up message on the top with options like Install User Registration Pages and Skip setup.
The Install User Registration Pages option lets you activate the default registration form. The default form comes with fields like Username, User Email, User Password, and Confirm Password.
However, these fields are not enough to accumulate information from your users. Therefore, if you want to start building a form from scratch by adding a custom field then follow the steps below.
Start by clicking on the User Registration icon shown on the right side of your dashboard and click on Add New.
Then, give your form a name.
Once you have named your form, start adding fields you want simply by dragging and dropping the widgets from the left sidebar to the right.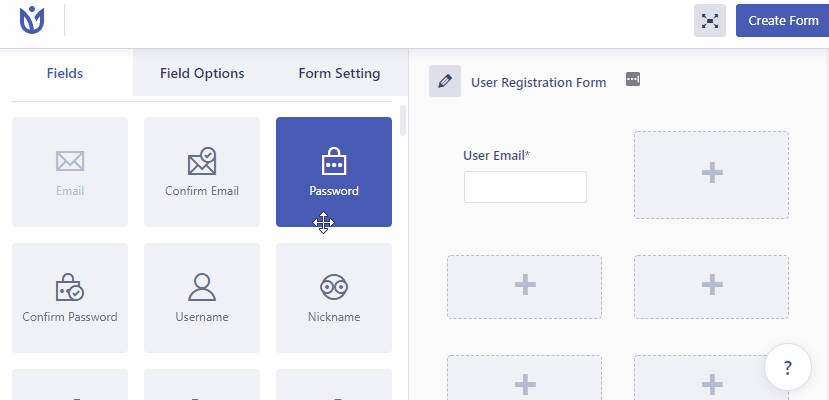 ---
Step 3: Add Custom Fields to Registration Form
With the User Registration plugin, you get several widgets like Confirm Email, Confirm Password, Country, Display Name, and a lot more.
So, adding a field like the Country, lets you know where your users are from. Similarly, fields like Confirm Email and Confirm Password decrease the chances of an error because of typos.
And, with fields like Userbio and Website, you'll get to know your user a little bit deeper.
After you add the fields of your desire, User Registration offers different Field Options to configure. Further, this option provides settings like General and Advanced.

With the General Settings, you can edit Label, Description, Placeholder, etc.
Similarly, with Advanced Settings, you can add Custom Class. Some fields like Username offer extra Advanced Settings like Limit Username Length, Allow Special Character, etc.

Explore the Field Options by yourself to learn more. And, if you face any problems feel free to contact the User Registration's support team.
Once you're done adding fields to your form, you can press the Create Form button.

Besides these custom fields, User Registration also offers some advanced custom fields. However, to get access to those fields you need to upgrade to the pro version of the User Registration. The premium version provides multiple add-ons as well.
Here are some of the advanced fields that the premium version of User Registration has to offer.
Extra Fields: This allows you to add premium fields like File Upload, Mailchimp, Invitation Code, etc.
Advanced Fields: Using advanced fields, you can allow your user to add a Profile Picture, Phone Number, Section Title, etc.
WooCommerce Billing Address: This field is for an eCommerce website that lets you add sections like Town/City, Postcode/Zip, Company, etc.
WooCommerce Shipping Address: Similarly, this field is also for an eCommerce website that allows adding fields related to the shipping address.
Payment Field: Lastly, you can add fields to receive payment from your customer or users in this field.
To buy User Registration Pro, go to the WPEverest website and buy the plan which fits your budget.
---
Step 4: Configure Settings of User Registration Form
The next thing you got to do is configure the registration form settings from the From Setting.

In the Form Setting tab, you can see different options like the User login option that allows you to set manual login, admin approval, automatic login, and email confirmation.
Similarly, you can set a redirect path after successful registrations, enable reCaptcha, and so much more.
After your configuration is done, click on Preview. Also for your information, here we have used the Zakra theme. Feel free to use this feature-rich and full-fledged theme for your website as well.
Further, if you want to add or remove fields in your form then make the necessary changes and hit Update Form.
---
Step 5: Publish User Registration Form
Now your form is ready with custom fields for your website, you can showcase your form on any page or post.
Therefore, to deploy it, all you need to do is copy the registration form shortcode and open the page or post where you want to place the form.
Then, paste it into a Shortcode block and hit Publish.
Or you can also add your registration form from the dropdown. Just click on the plus button shown in the image, and there in the Search bar, type User Registration and add it.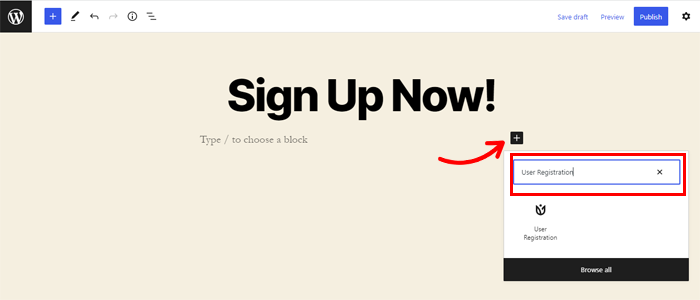 Then, select the Registration Form we created earlier from the dropdown menu. Don't forget to select the Publish button at last.
---
Wrapping It Up!
So that's it for our article on adding custom fields to the WordPress user registration form. We hope reading our article has helped you build a registration form with custom fields.
Well, with our recommended plugin User Registration, creating a registration and login form with the custom field is a piece of cake.
If you have an eCommerce site, then with this plugin, you can add custom field forms for shipping, payments, registration, sign-ups, newsletter, and more.
Besides, you can also check out our website's blog if you want to create an application form for a job or create a survey form in WordPress.
Lastly, you can follow us on Twitter and Facebook accounts to remain updated.